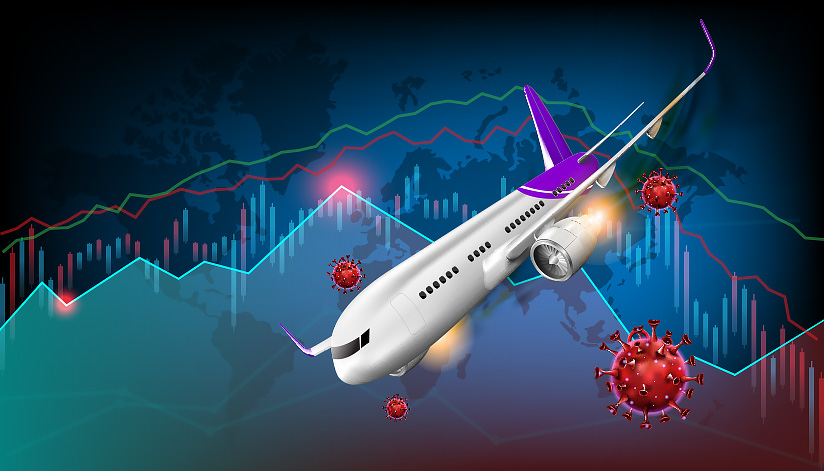 The COVID-19 pandemic is continuing its unprecedented assault on the airline industry, with thousands of workers laid off, thousands of flights canceled and projections of revenue losses of up to $300 billion or more. Industry experts predict a long road to recovery.
"This is not business as usual," Stephen Creamer, director of the International Civil Aviation Organization (ICAO) Air Navigation Bureau, said during a Flight Safety Foundation webinar in early April.
Creamer and other international aviation specialists agreed that, although air traffic has historically been vulnerable to external factors such as the 2008 recession and the 2003 severe acute respiratory syndrome (SARS) epidemic, the effects of the COVID-19 pandemic are extreme.
ICAO offered two basic scenarios, which it emphasized were "not forecasts of what is most likely to happen" but "merely indicative of possible paths or consequential outcomes out of many."1
In one scenario, if the first signs of recovery occur in late May, indications are that, in the first nine months of 2020, the pandemic could cause a reduction of between 41 percent and 56 percent in the number of seats offered by passenger airlines, a reduction of between 705 million and 963 million passengers and a potential loss of between $160 billion and $218 billion in airline gross operating revenues.
The second, more pessimistic scenario, was based on a restarting of the economy in the third quarter of the year or later and called for a reduction of 57 percent to 67 percent in seats offered, a reduction of between 961 million and 1.1 billion passengers and a potential loss of $218 billion to $253 billion in airline gross operating revenues.
ICAO data also showed a decline in March air cargo shipments of 19 percent in comparison with March of 2019; a 31 percent decline in goods shipped in cargo hold of passenger airplanes was partially offset by a 9 percent increase in the amount shipped in all-cargo freighters.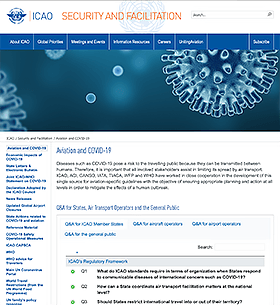 ICAO has worked with six organizations ─ the International Air Transport Association (IATA), Airports Council International (ACI), the Civil Air Navigation Services Organisation (CANSO), the International Air Cargo Association, the U.N. World Health Organization (WHO) and the U.N. World Food Programme ─ to develop guidelines aimed at limiting the spread of COVID-19 through air travel.2
The document outlines a range of topics, from recommended aircraft disinfection procedures to airport entry screening and the protocol for reporting a suspected case of COVID-19 in an aircraft.
Job Losses
In addition to the canceled flights and lost revenue, Gilberto Lopez Meyer, IATA senior vice president for safety and flight operations, said that his organization is predicting that the pandemic will endanger 25 million jobs associated with the airline industry worldwide, including not only jobs with airlines but also those in other sectors of the travel and tourism industries.
David Gamper, director, safety, technical and legal affairs for ACI, said that airports around the world stand to lose $76 billion in revenues because of the pandemic, which "represents an existential threat for the industry as a whole."
Michelle Bishop, director, programmes for CANSO, said that global flight movements and flight hours plunged in March and early April to about 32,000 flights on April 4, down from a daily average of about 100,000 flights in January, before the pandemic began. CANSO data also show that daily flight hours were off 78 percent in early April from global averages recorded in January.
Flight Safety Foundation, in a 25-page "roadmap" for dealing with non-medical safety aspects of the pandemic,3 noted the "unimaginable" impact of the pandemic on the industry.
Nevertheless, the Foundation added, "the global aviation system is still functioning. Air traffic control towers and en route centers continue to guide aircraft to their destinations; airports are open and operating, albeit at much reduced capacity; and pilots and flight attendants continue to operate airplanes that maintenance engineers ensure are airworthy."
In addition, amid the crisis, "safety must prevail," the Foundation said, introducing its roadmap as a compilation of "condensed safety-related considerations" intended to help workers in all parts of the industry maintain safe operations during the pandemic.
Among the points singled out by the Foundation: "Consider all operations as non-normal and, therefore, a threat to safety."
Operators should continue using their safety management systems, ensure the internal and external communication remain effective and consider using down time for training and safety education, the roadmap said.
Participants in the early April webinar agreed that the industry-wide priority is to protect the health of employees and passengers by following guidelines for social distancing and cleaning.
Lopez Meyer added that as the viral outbreak ebbs, the industry presumably will begin a slow return to normal traffic, coupled with efforts to change "negative perceptions of travel" in the pandemic's aftermath. Gamper added that when recovery efforts begin, they will involve coordinating the gradual resumption of routes and reopening of facilities.
CANSO has said that, meanwhile, it aims to keep routes open, despite the decrease in traffic.
CANSO Director General Simon Hocquard said in a statement, "We have to continue to keep our operations running safely, to keep our sectors manned to ensure the safe transit of aircraft including cargo flights delivering vital medical supplies and food. We cannot close our airspace; we still have flights to manage, albeit at a reduced level."
In setting out general considerations for re-establishing normal operations after a lengthy period of cutbacks, the Foundation's roadmap recommended "a progressive and coordinated restart" while still considering all operations as "non-normal and therefore a threat to safety."
Limited In-Flight Transmission
As of April 26,4 the WHO reported about 2.86 million cases of COVID-19 worldwide and 196,000 related deaths.
Aeromedical specialists who participated in a mid-April Flight Safety Foundation webinar said that few cases have been transmitted during flight. They based their conclusions on an informal survey of airlines.
Dr. David Powell, medical advisor to IATA, said the organization had received reports from airlines of "three or four cases" in which there was suspected transmission of the disease between passengers and crewmembers; in two other events, one pilot apparently infected the second pilot in the flight crew, he said.
He also noted reports of a flight that carried 12 passengers who failed to disclose their COVID-19 symptoms; subsequent testing of other passengers found that, of 296 results that had been returned, all 296 were negative.
Dr. Ansa Jordaan, chief of the ICAO Aviation Medicine Section, agreed that exposure to COVID-19 would be considerably less in an airplane than in a baggage claim or customs area where people would be closer together.
Dr. Paulo Alves, global director for aviation health at MedAire, said that, over time, flight attendants have reported observing different symptoms that have been associated with COVID-19 as well as other ailments. Reports of coughing, for example, increased from week to week to a high in about the 13th week of the virus's spread, then dropped off the 14th week. There was no explanation for the change, Alves said.
Financial Relief
Governments around the world have pledged funds to help sectors of the aviation industry that have been most affected by the pandemic.
Salvatore Sciacchitano, president of the Council of ICAO, praised a statement by the G-20, which is made up of both industrial and emerging-market nations, in which the organization called for "strong financial commitments" to aid in recovery from COVID-19.
"International air transport is clearly suffering very acutely as personal and global mobility continues to be curtailed, and in light of its instrumental role in worldwide response in times of crisis, I am greatly encouraged that relief may soon be on the way," Sciacchitano said.
In the United States alone, airports were to receive $10 billion in relief funds from the federal government to help pay for continued airport operations. Billions more have been designated to aid U.S. airlines.
Confidence-Boosting Efforts
IATA said its surveys of recent travelers found that 60 percent expect to begin traveling again "within one to two months" after containment of COVID-19 while the remaining 40 percent said they could wait six months or longer; 69 percent said they could delay traveling until their personal financial situation was stable.
IATA cited survey results in calling on governments to work with the airline industry in boosting the confidence of would-be travelers.
"Passenger confidence will suffer a double whammy, even after the pandemic is contained ─ hit by personal economic concerns in the face of a looming recession on top of lingering concerns about the safety of travel," IATA Director General and CEO Alexandre de Juniac said. "Governments and industry must be quick and coordinated with confidence-boosting measures."
IATA said domestic demand in China already has begun to recover, propelled by the decline in the rate of new COVID-19 cases in that country. In Australia, however, domestic demand decreases even as the rate of new infections has continued to fall, IATA said, adding that its data showed no sign of recovery.
Notes
---
Featured image: © RSVector | Shutterstock
Airplane personnel wearing masks: © Leyasw | VectorStock
Broken Covid-19 symbol and suitcases: © Brillianata | VectorStock