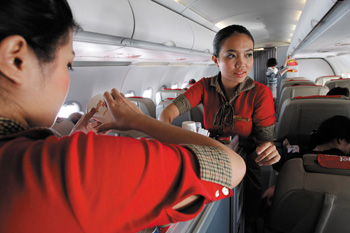 Dutch researchers may have found a connection between frequent work on short-haul flights and an increased risk of on-the-job accidents involving cabin crewmembers.1,2
Conversely, frequent assignments to long-haul flights may have a negative association with occurrences of occupational accidents, according to the study, published in the December issue of Aviation, Space, and Environmental Medicine.
The researchers noted that studies of workers in other industries have identified an increased rate of work-related injuries among those who work long hours or irregular schedules — two situations that are common in the airline industry. Other studies also note a connection between irregular schedules and fatigue, poor sleep quality and quantity, and a disruption of circadian rhythm — also situations common among workers in the airline industry.
The researchers said that their work suggested a similar link between short-haul scheduling of cabin crewmembers and work-related accidents.
"Because cabin crewmembers fly fewer short-haul hours compared to long-haul hours on average per year, the presumable increased incidence of accidents during short-haul flights may be explained by the specific characteristics of the short-haul operation," the report said. "Short-haul is quite different from long- and medium-haul because the operation is characterized by a relatively high workload: a high frequency of on-board services (e.g., serving beverages or meals) and short turnaround times between flights."
The report was based in part on data gathered through the Monitoring Occupational Health Risks in Employees (MORE) cohort, an expansive study designed to analyze the occupational health risks facing the employees of a large airline. The MORE cohort data included all medical and human resource records, as well as work schedules, for airline employees since Jan. 1, 2005. The occupational accident study reviewed the MORE records of 6,311 cabin crewmembers — all of the cabin crewmembers who were working for the company on Jan. 1, 2005, except for female cabin crewmembers who became pregnant after Jan. 1, 2009, and were excluded.
The occupational accident study also reviewed reports of all occupational accidents that involved cabin crewmembers in 2009 and that were reported to the airline's occupational health service. A total of 289 cabin crewmembers had reported at least one accident that year, the report said, calculating an annual accident rate of 4.5 per 100 cabin crewmembers. The report also noted a mean number of accidents of 0.012 per 100 flight hours.
Of the 6,311 cabin crewmembers included in the study, 81 percent were women, 54 percent were 41 years old or younger, 56 percent were unmarried, and 60 percent had children. Almost all — 95 percent — lived in the Netherlands. Twenty-seven percent were full-time employees, and 12 percent had more than one employer.
Results showed that male cabin crewmembers had "significantly fewer" accidents than female crewmembers per 100 flight hours, that younger cabin crewmembers were more likely than their older counterparts to report an occupational accident, and that those with children were more likely to report than those without children.
The report said that this study was the first to investigate links between exposure to flight schedules and the occurrence of on-the-job accidents. Its conclusion was that "the number of short-haul flights proved to be predictive for the occurrence of accidents. … The more exposure to short-haul flights, the higher the risk to cabin crewmembers of experiencing an occupational accident, and the more exposure to long-haul flights, the lower their risk of experiencing an occupational accident."
These accidents were primarily falls, slips and tripping, and the resulting injuries typically were sprains, strains, bruises and burns, the report said.
Data did not show what type of flight each crewmember was working on when an accident occurred, the report said. Nevertheless, the report added, "It can be hypothesized that they predominantly occurred during short-haul flights."
Data showed that 71 percent of the involved employees said that their accidents were related to on-board customer service. Other causes were reported as "the landing or taking off of the airplane (6 percent) and turbulence during the flight (3 percent)."
In addition, other workload factors, "such as time on task, lack of rest breaks and stressful work," were identified as contributing to an increased risk of on-the-job accidents.
"Since the results of this study indicate that the risk of experiencing an accident increases with increased exposure to short-haul flights, it can also be hypothesized that the cumulative exposure to short-haul flights might lead to more fatigue accumulation, compared to cumulative exposure to long-haul flights," the report said.
At the airline that was the focus of the study, the long-haul schedule for cabin crewmembers involved several duty days, including at least one layover, followed by several days off. Short-haul schedules involved three or four duty days, followed by one or two days off.
"It is known that the components of the short-haul duty days (up to four flights a day, long working hours, early starts and late finishes) trigger fatigue among the crew," the report said, citing earlier research on fatigue in short-haul operations. "It is, therefore, possible that the days off in between are not sufficient to recover from the days on duty, thereby inducing a cumulative fatiguing effect and increasing the risk of accidents over successive duty days."
The researchers said their study had several limitations, including the voluntary nature of reporting on-the-job accidents, which may have allowed for underreporting; and the scarcity of information about circumstances surrounding the reported accidents.
"Information on which type of flight the accident happened and at what time during the flight it occurred was not available," the report said. "Further, although the characteristics of the short-haul operation might have played a role in the reported accidents, there was no objective information available about the involved workload (the number of on-board services or the number of rest breaks during these flights)."
The report said additional research is needed to determine what types of changes in short-haul scheduling — such as a reduction in duty times or numbers of flights or an increase in the number of days off — might reduce the number of accidents. Research also should examine gender and other factors to determine whether they might explain differences in accident occurrence.
Because so many of the accidents occurred while cabin crewmembers were involved with on-board services, accident-reduction efforts should be focused on that area, with goals of developing more specific accident-prevention strategies, the report said.
Notes
Van Drongelen, Alwin; Boot, Cecile R.L.; Pas, L. Willemijn et al. "Flight Schedules and Occupational Accidents Among Cabin Crew: A Longitudinal Study."

Aviation, Space, and Environmental Medicine

Volume 84 (December 2013): 1281–1285.
The report defined short-haul flights as lasting less than four hours, medium-haul flights as lasting at least four hours but less than eight hours, and long-haul flights as lasting eight hours or longer.
Further Reading From FSF Publications