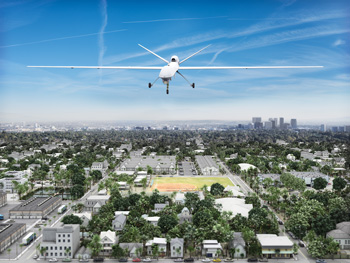 Flights of unmanned aircraft systems (UAS) are likely to outstrip those of manned commercial aircraft in the United States by 2035, with projections calling for expanded UAS roles in new areas such as the transportation of cargo, package delivery and flight crew augmentation.
Those roles, however, will only be possible after the industry deals with numerous challenges, including crowded skies and other safety concerns; regulatory and policy issues; privacy and related social considerations; and environmental issues such as noise and emissions.
A collection of reports issued in recent months by the U.S. Department of Transportation (DOT) John A. Volpe National Transportation Systems Center, the U.S. Joint Planning and Development Office (JPDO) and the U.S. Federal Aviation Administration (FAA) describe the tasks likely to be taken on by UAS and the challenges that the industry must overcome.1,2,3
Historically, UAS have been military aircraft, used primarily in war zones and in restricted airspace, and U.S. Department of Defense (DoD) data indicate that, by 2035, the armed forces expect to have 14,000 UAS, along with 5,000 additional aircraft equipped with UAS technology that will allow for "pilot augmentation or optional pilot replacement." Unmanned aircraft will represent 70 percent of the U.S. military's fleet in 2035, up from 25 percent today, the Volpe report said.
The report forecast an even more sweeping expansion in non-military use of UAS by federal, state and local governments (Figure 1).
Today, federal agencies — including the Central Intelligence Agency, Department of Homeland Security, and National Aeronautics and Space Administration (NASA) — operate about 125 UAS. As the FAA resolves its existing regulatory challenges within the coming months, other federal agencies — including those within the Department of Agriculture, Department of Commerce and Department of Energy — will begin acquiring UAS, pushing the federal fleet to about 10,000 by 2035.
By 2015, U.S. states and territories probably will operate a few hundred UAS, but those numbers will expand to 10,000 by 2035, and municipalities — especially their police departments and other first responders — will add about 34,000.
The greatest surge in UAS numbers, however, is forecast in the commercial market, which by 2035 is expected to be fielding 175,000 unmanned aircraft.
"The majority of these vehicles will be low-cost and dedicated to specific new and emerging tactical market applications," the Volpe report said. "The source of supply of these vehicles will come initially from the radio controlled (RC) type vehicle makers, as opposed to the suppliers of DoD and public agency aircraft. After an initial surge or upswing in commercial sales, reduced growth is expected, as needs for early adopters and innovators are met. As UAS usage becomes more mainstream, DoD suppliers are expected to seriously enter the commercial market, which will encourage changes in business models … . These changes should again accelerate market growth through 2035."
Many of these public and commercial unmanned aircraft will be among the smallest UAS vehicles — from the nano, micro and small categories — weighing anywhere from less than 1 lb (0.5 kg) to 55 lb (25 kg, see "UAS Categories").
Laying the Groundwork
UAS Categories
Globally, civil aviation authorities have not agreed on how to classify unmanned aircraft systems (UAS), but a report by the U.S. Department of Transportation's (DOT's) John A. Volpe National Transportation Systems Center recommends several categories that it says are consistent with those used by U.S. military and research personnel.1
Three of these recommended categories are expected to be covered by the notice of proposed rulemaking (NPRM) that the U.S. Federal Aviation Administration plans to issue later this year:
Nano

refers to the smallest UAS vehicles, those that weigh less than 1 lb (0.5 kg) and are less than 1 ft (0.3 m) long. They would fly below 400 ft above ground level (AGL) at less than 25 mph (40 kph) and have an endurance of one to two hours. Nano devices could perform surveillance in urban areas, transmitting video or images of camera views to an operator.

Micro

UAS vehicles, weighing between 1 lb and 4.5 lb (2 kg) and less than 3 ft (0.9 m) long, would have speeds up to 25 mph and could be flown below 3,000 ft AGL. They, like nano UAS vehicles, also could be used for surveillance.

Small

UAS vehicles, weighing between 4.5 lb and 55 lb (25 kg) and less than 10 ft (3 m) long,  can fly higher (up to 10,000 ft), faster (50 to 75 mph [80 to 121 kph]) and longer (one to four hours) than nano and micro UAS vehicles. Besides surveillance, they could be used for product deliveries.
Heavier UAS vehicles — in several categories ranging up to 12,500 lb (5,670 kg) or more — will be the subject of later NPRMs.
— LW
Note
DOT, John A. Volpe National Transportation Systems Center.

Unmanned Aircraft System (UAS) Service Demand, 2015–2035

, DOT-VNTSC-DoD-13-01. Report prepared for the U.S. Air Force. September 2013.
The FAA continued laying the groundwork for the eventual merger of UAS into the National Airspace System (NAS) with its selection in December 2013 of six UAS test sites to be used for research into certification and operational requirements (ASW, 2/14).
The sites — which will focus on a range of research topics, including standards for unmanned aircraft categories, necessary changes in air traffic control operations, UAS sense-and-avoid capabilities, failure mode testing and system safety requirements — were selected because of their ability to provide "valuable information about how best to ensure the safe introduction of this advanced technology into our nation's skies," U.S. Transportation Secretary Anthony Foxx said.
The FAA's near-term role will be to aid in the establishment of a safe testing environment and to provide safety oversight for operations in the test sites.
Crew Augmentation
As UAS move into the commercial fleet, they will take on a number of new roles, some of which have their roots in military operations.
For example, Kaman's Unmanned K-MAX has been used to resupply U.S. troops in Afghanistan, and is operated remotely, picking up and delivering slinged cargo pallets, the Volpe report said, adding that, in commercial civilian operations, such aircraft could be used in making deliveries to remote locations, logging operations and some types of lifting and hauling.
Routine power line and pipeline inspections, crop dusting and livestock tracking and herding all are potential uses for UAS, along with augmented flight assistance — a field presenting a range of possibilities, from "transfer of technology from UAS experience to the cockpit to provide the pilot with a pilot's assistant, to optionally piloted aircraft (OPA) where the aircraft is capable of human-piloted and autonomous flight," the Volpe report said.
"Using an automatic flight control system, UAS technology can be integrated into existing manned aircraft. Servos manage the throttle, control flight surfaces, raise and lower gear, apply braking and tie all of these functions into a navigation system and autopilot."
General aviation aircraft presumably would be the first civilian aircraft to undergo these modifications, the report said, adding, "The addition of a UAS operating package capable of autonomous landing will create a significant safety capability change, not unlike adding a parachute to the [Cirrus] aircraft line. With a UAS safety package, the pilot and passengers can enjoy the confidence of assistance in the case where the pilot is incapacitated. Likewise, if the pilot can shift from manned operations to UAS, the workload can be significantly reduced and the pilot becomes the safety observer."
Eventually, the report said, "two-person flight crews could be reduced to single-pilot operations … . In this concept, the automatic flight control system augmentation provides the necessary redundancy and can assume greater workload than the second manned pilot."
Expanding Uses
The first use of unmanned aircraft came during World War I, and UAS have played an increasingly prominent role in military operations. Public, non-military UAS, however, have operated on a limited basis in the NAS since the early 1990s, gradually taking on missions in such areas as agricultural monitoring, border surveillance, search and rescue, and disaster response.
With a combination of technological advances, increased interest in using UAS and a 2012 law that included provisions for the phased expansion of UAS operations, the FAA and other government agencies have begun working toward developing a complete picture of what will be involved in integrating UAS into NAS operations.
Comprehensive Plan
That complete picture is presented in the JPDO's Comprehensive Plan — a collaborative effort involving the Departments of Transportation, Defense, Commerce and Homeland Security, NASA, the FAA and industry representatives.
"The continued safe integration of UAS in the NAS and increased NAS access for UAS will be driven by incremental advances in research and development … (including test ranges), rulemaking (including operational approval and airworthiness standards) and development of UAS-related technologies," the plan said. "Safe integration will lead us from today's need for accommodation of UAS through individual approvals to a time when standardized/routine integration into the NextGen [the Next Generation Air Transportation System, the ongoing upgrade of the NAS] environment is well defined."
The plan outlined six goals aimed at facilitating the safe integration of the smallest UAS vehicles into the NAS.
Two of these goals call for routine operation of small — less than 55 lb — UAS vehicles in visual line-of-sight flights. Public UAS — those operated by various non-military federal, state and local government entities — would be the first to begin operations, followed by civil UAS. The FAA expects to issue a notice of proposed rulemaking later this year concerning regulations.
Two additional goals call for routine operation of larger UAS vehicles, again with the public UAS beginning operations before their civil counterparts. Another goal calls for establishing acceptable levels of automation in UAS, and the sixth goal calls for fostering U.S. leadership in UAS capabilities and in standards development.
The Comprehensive Plan said that, although it sets forth "the overarching interagency goals, objectives and approach to integrating UAS into the NAS," each department or agency involved in development of the plan will work toward those goals and some may develop complementary agency-specific paths toward achieving the common goals and objectives.
The FAA's Integration of Civil UAS in the NAS Roadmap is one such individual plan, discussing the agency's proposals for achieving its goals in connection with UAS development.
"Ultimately, UAS must be integrated into the NAS without reducing existing capacity, decreasing safety, negatively impacting current operators or increasing the risk to airspace users or persons and property on the ground any more than the integration of comparable new and novel technologies," the roadmap said, noting the FAA's key roles in developing regulations, guidance material and training requirements.
"The process of developing regulations, policy, procedures, guidance material and training requirements is resource-intensive," the roadmap said, calling on government agencies and industry stakeholders to support the continuing evolution of UAS operations.
The FAA said that its plans call for an incremental approach to implementing the regulations that will guide the industry.
"The FAA expects to gain experience in applying the existing airworthiness regulations during the type certification process with early UAS adapters," the report said. After that, the agency will revise airworthiness regulations as necessary for UAS safety.
Sense-and-Avoid
The FAA will focus research on sense-and-avoid systems, control and communications, and human factors, the report said, adding that this research will aid in establishing performance limits and in evaluating technologies and procedures for NextGen.
Sense-and-avoid research is directed at developing ground-based and airborne systems, although actual use of an airborne system is considered a long-term goal.
Human factors research involves both pilots and air traffic control (ATC) "and how they will interact to safely operate unmanned aircraft," the FAA report said. "In the near term, data will be collected to permit analysis of how pilots fly UAS, how controllers provide service involving a mix of manned aircraft and UAS and how pilots and controllers interact with each other, with the goal of developing pilot, ATC and automation roles and responsibilities concepts."
On the same subject, the JPDO report suggested research topics that included effective human-automation interaction and UAS operational and technical risks such as inability to avoid a collision and/or maintain positive control of a UAS vehicle.
'Early Adapters'
Overall, the Volpe report said, commercial market use of UAS will begin after the regulatory policies are implemented, perhaps sometime in 2015, with micro UAS vehicles — similar to the RC vehicles now used by hobbyists — being deployed by "innovative users and early adapters."
As noted, the second accelerated influx of UAS into U.S. airspace is not likely until around 2022, as manufacturers that have been accustomed to producing devices for the military expand to the commercial market.
By then, the FAA and others will have conducted further research on risks associated with very small UAS vehicles, including the risks of collision in the air or on the ground.
"A Micro vehicle of foam and balsa construction weighing less than 4.5 lb [2 kg] traveling less than 20 mph [32 kph] poses little, if any, collision risk to airborne aircraft or persons or property on the ground," the report said.
Early Incidents
In their early years, however, UAS have been involved in a handful of incidents and non-fatal accidents investigated by the U.S. National Transportation Safety Board (NTSB).
The NTSB issued its first investigative report on a UAS crash in 2007, combining its findings on the April 25, 2006, accident involving a General Atomics Aeronautical Systems Predator B with 22 safety recommendations (ASW, 12/07).
Changes in accident investigation procedures as more UAS enter the NAS — and as more of them are involved in accidents — probably will be minimal, NTSB Member Robert Sumwalt said.
"There will be differences, but the methodology used is essentially the same," he said, noting that — just as in investigations of manned aircraft accidents — the most frequently cited probable causes of the early UAS occurrences involve human factors.
Notes
DOT, John A. Volpe National Transportation Systems Center.

Unmanned Aircraft System (UAS) Service Demand, 2015–2035

, DOT-VNTSC-DoD-13-01. Report prepared for the U.S. Air Force. September 2013.
JPDO.

Unmanned Aircraft Systems (UAS) Comprehensive Plan: A Report on the Nation's UAS Path Forward

. September 2013. The JPDO's members represent several U.S. government departments and agencies involved in development of NextGen.
FAA.

Integration of Civil Unmanned Aircraft Systems (UAS) in the National Airspace System (NAS) Roadmap

, First Edition. November 2013.