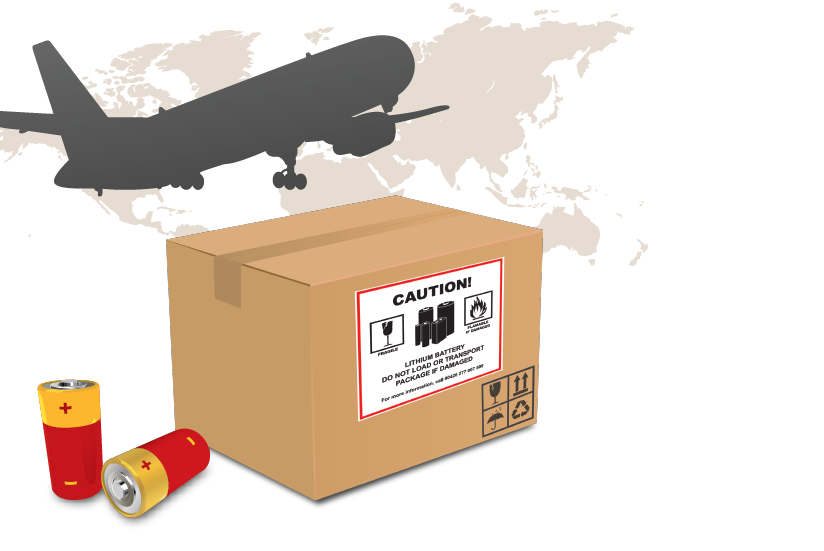 Billions of lithium-ion and lithium-metal batteries1 are shipped by air every year, with that number likely to increase in coming years with worldwide demand.2
The increase in numbers may well be accompanied by an increase in fire risks associated with mishandling of the batteries as they are packed for shipment.
An online guidance document, published by the International Air Transport Association (IATA), is aimed at reducing those risks by explaining international requirements for the safe transport by air of dangerous goods and describing methods of complying with the requirements as they relate specifically to lithium batteries.
"Lithium batteries are safe to transport, provided that they are designed, tested, manufactured and packaged in accordance with the global transport safety standards," said Kevin Hiatt, IATA senior vice president for safety and flight operations.
When those safety standards are ignored, however, IATA said in its document, Lithium Batteries Risk Mitigation Guidance for Operators, the results can be catastrophic. The document cited three cargo aircraft that were destroyed by fire since 2006 (see "Battery-Related Aircraft Fires").
"It is known that all three aircraft were carrying lithium batteries as cargo," the document said. "However, the degree to which the lithium batteries were involved in these incidents (i.e., whether they were the cause or aggravated the fire) could not be determined."
Battery-Related Aircraft Fires
Three on-board fires in cargo airplanes in the past nine years have been repeatedly cited as examples of the destruction that can follow when lithium batteries are not properly stored.
The first fire broke out in a UPS McDonnell Douglas DC-8, which landed safely in Philadelphia on Feb. 7, 2006, and subsequently was destroyed by a fire that had begun during the descent. All three crewmembers were treated for smoke inhalation. The U.S. National Transportation Safety Board (NTSB) said the fire's source was unknown but that it probably originated inside one of the airplane's cargo containers that was loaded with electronic devices with rechargeable lithium batteries (ASW, 4/08). 1
The second fire occurred in a UPS Boeing 747 that crashed near Dubai International Airport in the United Arab Emirates (UAE) on Sept. 3, 2010, killing the two flight crewmembers and destroying the airplane (ASW, 11/13). The final report on the accident from the UAE General Civil Aviation Authority (GCAA) said that investigators could not determine conclusively how the fire began but that a sizeable number of lithium batteries in the forward cargo deck had not been declared as hazardous material. The report said it was "possible that a lithium type battery or batteries … went into an energetic failure … and auto-ignited, starting a chain reaction which spread to the available combustible material."2
The third fire occurred July 28, 2011, in an Asiana Airlines Boeing 747 that crashed into the Yellow Sea west of Jeju Island, Republic of Korea, after the crew reported a fire to air traffic control and attempted to divert to Jeju International Airport. Both crewmembers were killed. At press time, the accident investigation by the South Korean Aircraft and Railway Accident Investigation Board (ARAIB) was continuing.
— LW
Notes
NTSB. Accident Report No. NTSB/AAR-07/07, Inflight Cargo Fire; United Parcel Service Company Flight 1307; McDonnell Douglas DC-8-71F, N748UP; Philadelphia, Pennsylvania; February 7, 2006. Dec. 4, 2007.
GCAA. AAIS Case Reference 13/2010:

Uncontained Cargo Fire Leading to Loss of Control Inflight and Uncontrolled Descent Into Terrain — Boeing 747-44AF, N571UP; Dubai, United Arab Emirates; 03 September 2010

. July 24, 2013.
ARAIB. Interim Report No. ARAIB/AAR1105,

Crash Into the Sea After an In-Flight Fire; Asiana Airlines, B747-400F/HL7604; 130 Km West of Jeju International Airport; July 28, 2011

. Sept. 17, 2012.
The United Nations has declared lithium batteries to be "dangerous goods," and the International Civil Aviation Organization (ICAO — an agency of the U.N.) has set forth specific requirements for their safe transport in both cargo and passenger airplanes.
In the last few years, requirements have been strengthened to limit the number of lithium batteries per package and to require more notices of lithium battery shipments to pilots-in-command, IATA said.
Despite these controls, problems persist, the association said. Although some people intentionally ignore the requirements, the "ubiquitous nature" of the batteries "means that people who are completely unaware of the dangerous goods regulations and the requirements for lithium batteries are shipping them as cargo and in mail," the IATA document added. "Many passengers are similarly oblivious to the potential hazards of lithium batteries. The result is that there are safety risks from lithium batteries in baggage, cargo and mail."
Risk Assessment
IATA's guidance begins with the recommendation that operators conduct a risk assessment, as described in the ICAO Safety Management Manual, to identify all risks associated with transporting lithium batteries. Senior-level representatives of cargo, safety and flight operations departments should identify all potential hazards and then rate their severity, on a scale of 1 to 5, as well as the likelihood that they will occur, on a scale of A to E. The resulting risk index — ranging from "negligible" to "extreme" — should then be examined to determine shipment tolerability.
As an example, IATA describes how the operator of a passenger airplane might assess the risk of carrying portable electronic devices (PEDs) in the cabin, using this reasoning:
Severity level — If a PED catches fire in the cabin, fire extinguishers will be readily available to cabin crew, who will have been trained in their use. Additionally, water, which is necessary to cool lithium batteries involved in an accident, will be at hand. Therefore, on the basis that an abnormal flight operations incident procedure would be applied (firefighting by cabin crew), with few other consequences, it may be appropriate to assign a severity level of 3 'moderate.'
Likelihood — Given the propensity for … PEDs to be carried by passengers, it would be reasonable to assume that such an incident might occur at some time, and so the likelihood would be Level C [possible/remote].
The risk index would be calculated by pairing the severity (3) and the likelihood (C) to conclude that the risk would be 3C, or "moderate."
The operator's next step would be to examine preventive controls that would prevent a hazard such as a lithium battery fire from developing into an unsafe event such as an aircraft fire, escalation factors that could weaken the effectiveness of the preventive controls and escalation controls that could block the escalation factors.
In the example, a preventive control might be a prohibition against carrying spare lithium batteries in checked baggage, an escalation factor might be a passenger's ignorance of the requirement, and an escalation control might be that the operator "has a robust process to ensure that all passengers are made aware of the requirement (e.g., by questioning at check-in)."
The guidance material added, "Despite preventive controls being in place, there is always the possibility that an unsafe event (in this case a lithium battery fire) can occur. Consequently, 'recovery measures' must be considered. … As with preventive controls, recovery measures can also be weakened by escalation factors that need to be controlled."
In the example, a recovery measure might be having halon fire extinguishers and water available to the cabin crew, an escalation factor might be that the fire extinguishers are out of date or that insufficient water is available, and an escalation control might be implementing a process to ensure that aircraft always have current fire extinguishers and adequate water.
Awareness
The guidance material emphasizes the importance of increasing awareness of lithium battery safety, often through the involvement of battery manufacturers, freight forwarders and postal operators; with warning notices at airport check-in desks; and in videos, social media and other publicity material.
Both IATA and ICAO require lithium batteries and other dangerous goods to undergo an "acceptance check" to ensure that they have met shipping requirements — and document and labeling requirements associated with such shipments — and stipulate that operators must take steps to ensure that the goods are not damaged during transport.
Among the requirements are provisions specifying that packages must be secured to prevent movement and must be protected against damage that could result from the shifting of other cargo. IATA's guidance suggests that operators consider loading lithium batteries in a Class C cargo compartment with a smoke detector or fire detector to warn the flight crew of problems. There also should be an approved built-in extinguishing system that can be controlled from the flight deck; methods of keeping hazardous smoke, flames and extinguishing agent away from crew and passengers; and methods of controlling compartment ventilation to ensure that the extinguishing agent can control the fire, the guidance says.
ICAO does not require separation of lithium batteries from other dangerous goods, but the IATA guidance suggested that operators "consider segregating packages of fully regulated lithium batteries from packages of other dangerous goods" with some exceptions.
The guidance material also suggested that operators take extra steps to detect the presence of undeclared lithium batteries through "enhanced cargo acceptance processes and training to better detect noncompliant shipments." Increased scrutiny of the paperwork accompanying cargo shipments is recommended, the guidance says, suggesting that items described as "electrical/electronic equipment" might include lithium batteries.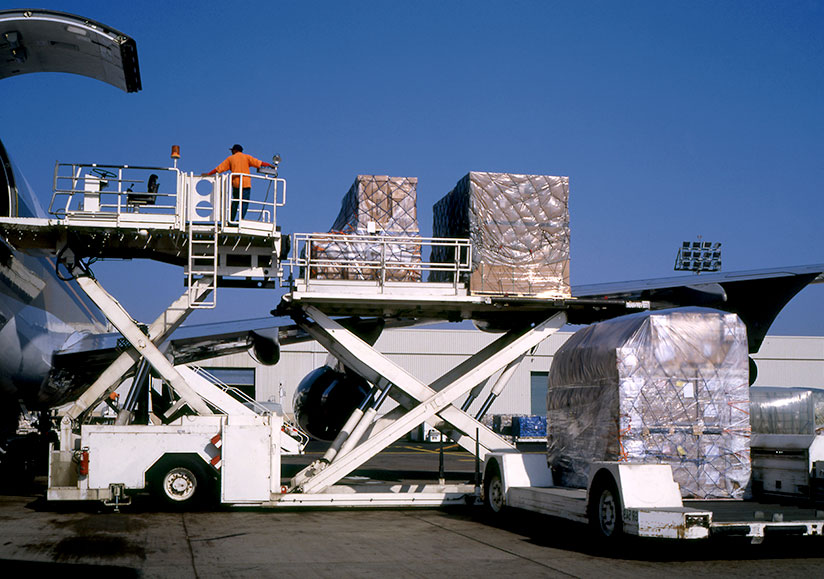 PEDs and Lithium Batteries
Because of the proliferation of  PEDs, large airplanes could be carrying hundreds of lithium batteries, IATA says, noting recommendations that the devices be in carry-on baggage whenever possible. When this is not possible, steps must be taken to prevent short circuits or other unintentional activation.
Spare lithium batteries are prohibited in checked baggage, and must be protected against — that is, they should remain in their original protective packaging or exposed terminals should be covered with nonconductive tape.
The guidance material also suggests that operators incorporate into the preflight briefing a request that passengers stow cell phones and other PEDs safely when they are not in use to prevent them from falling into a seat mechanism. The material cites a number of incidents in which cell phones that had fallen into seats were crushed when the seat was moved.
Training
Appropriate crew training is the greatest mitigating factor in preventing incidents involving lithium batteries, the guidance says, specifying that there are two types of training:
Preventive training, which concentrates on detecting damaged packages and situations in which lithium batteries are not in compliance with requirements; and,
Reactive training on how to respond to an incident involving smoke, fire or fumes.
In any cargo fire, "there is always the possibility of undeclared lithium batteries," the guidance material says. "Flight crew should be trained to respond to an emergency suspected of involving lithium batteries carried as cargo by following the standard operating procedure for smoke or fire events, the most important aspect of which is land as soon as possible.
In addition, the material recommends emergency training on the problems of retaining aircraft control if smoke enters the flight deck.
In the Future
Research has turned up new methods of containing and suppressing fires in cargo compartments, the guidance material says, citing as an example cargo containers built of fire-resistant material.
Tests are in progress on other devices, including cargo containers equipped with self-contained fire-suppression systems that activate automatically if smoke or fire is detected, penetrators that automatically pierce the roof of a cargo container to inject fire extinguishant if excess heat is detected, and quick-donning oxygen masks that can be used along with smoke-displacement systems to provide a space of clear air through which pilots can see both their flight instruments and the view outside the windscreen.
Notes
Lithium-metal batteries — sometimes called primary batteries — are typically non-rechargeable batteries such as those used in watches, calculators, high-power flashlights and emergency locator beacons. Lithium-ion batteries — also known as secondary batteries — are rechargeable batteries typically used in cell phones, cameras, tablets and laptop computers.
IATA.

Lithium Batteries Risk Mitigation Guidance for Operators

, First edition, effective Jan. 1, 2015–Dec. 31, 2015. Montreal. 2014.