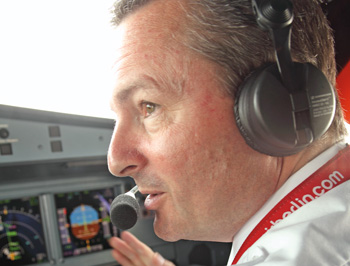 Non-standard phraseology and local pilots' use of languages other than standard aviation English "routinely" cause misunderstandings in radio communication between pilots and air traffic controllers — difficulties that raise concerns even though they are rarely cited as causal or contributing factors in aviation accidents and incidents, according to a study of aviation phraseology.
The study — conducted by the International Air Transport Association (IATA) in collaboration with the International Federation of Air Line Pilots' Associations (IFALPA) and the International Federation of Air Traffic Controllers' Associations (IFATCA) — cited "ambiguity in general aviation language" and the use of slang instead of standard phraseology as leading factors in increasing the likelihood of communication errors.
Other problems included the "rate of speech delivery" — typically, a pilot or controller speaking too quickly to be understood — and the accents and pronunciation difficulties of non-native English speakers, the report on the study said.
The document characterized the use of non-standard phraseology as "a major obstacle to pilots' and controllers' effective communications. Standard phraseology helps significantly by reducing any ambiguities of spoken language and hence promotes a common understanding among people of different native languages or of the same native language but who use or understand words differently."
The report, published by IATA in late 2011, was based on the anonymous responses of 2,070 airline pilots and 568 air traffic controllers around the world to similar questionnaires that were devised for members of each group.
Of the participating pilots, 55 percent were airline captains and 40 percent were airline first officers; the remaining 5 percent held a variety of other positions, including those as managers, safety officers or instructors. Ninety-two percent of questionnaire respondents were jet pilots, 6 percent were turboprop pilots and 2 percent were helicopter pilots.
The geographical distribution of respondents was considered "adequate" from all regions, with 40 percent based in Europe and 22 percent in North America. Nevertheless, the report said that pilots in North Asia and the Commonwealth of Independent States "did not participate in the numbers originally expected" and therefore were subsequently asked to complete questionnaires that had been translated into Chinese and Russian.
Of all pilots responding, 56 percent worked on international flights, and 30 percent were scheduled on a combination of international and domestic flights.
Sixty-two percent said that, when they were operating in countries where English was not the native language, they spoke to controllers in standard aviation English, while the remaining 38 percent used the country's native language at least part of the time.
"It is almost certain that pilots in other aircraft with little or no knowledge of the local language operated in the same airspace and on the same frequencies as these pilots, leading to a potential degradation of situational awareness," the report said.
Forty-four percent said that they experienced "a situation where ICAO [International Civil Aviation Organization] standard phraseology is not used" at least once during each flight. Forty-two percent said that they never reported those lapses, and a majority said that they filed a report "only when safety is directly affected".
Episodes of non-standard phraseology were most frequent in North America and Europe, the report said.
Pilots reported that they most often experienced non-standard phraseology while operating in their home regions, the report said. The report's findings also indicated that 27 percent of pilots participating in the questionnaire said that their encounters with non-standard phraseology occurred most often in North America; of that group, 40 percent were pilots based in North America.
Two Languages
Forty-eight percent of pilots identified specific airports where standard phraseology is not used. At the top of the list was Charles de Gaulle Airport in Paris, where the most frequent complaint involved not phraseology but the use of both English and French. John F. Kennedy International Airport in New York received the second-largest number of complaints, with pilots citing the use of "local phraseology, or a term other than ICAO standard."
Fifty-four percent of pilots reported specific procedures or practices by pilots or air traffic control (ATC) that resulted in misunderstandings or errors. Among the most common were "the use of mixed languages with international crews speaking English with ATC and the local crews speaking the country's language," the report said, identifying this as the most frequently mentioned complaint.
"Pilots indicated that this resulted in their situational awareness being reduced," the report added. "They had difficulty deciding when to make a radio call without interfering in another crew/ATC communication. This issue was compounded by frequency congestion and may have led to crews 'stepping on' each other's transmissions."
Also among their complaints was a "lack of standardization in communications" — including use of slang, improper use of the phonetic alphabet and the failure to use ICAO's standard terminology when repeating aircraft call signs. "This condition was most commonly noted in communication within the [United States]," the report said.
Some also cited confusion in references to "to" or "two," and the report noted, "When using altitude, the use of the word 'to' could be very problematic." As an example, the report said that a controller's statement of "cleared to seven thousand" could be interpreted by a pilot as "cleared two-seven thousand."
Other pilots complained of "similar [flight] numbers on different airlines," "usage of native language with all domestic traffic" and mistaking a flight level clearance for a heading.
Another told of situations at "large U.S. airports … [where] controllers talk too fast, so you can't quite get all the clearance, but you don't want to ask for a readback because they are so busy. Area of most trouble is with ground control, then tower. It gets progressively better as you go to terminal, then center."
Eighty-seven percent of pilots said they had experienced no communication problems using controller-pilot data-link communications (CPDLC), and 2 percent indicated that they were unaware of the system. However, 13 percent offered specific complaints about CPDLC, most frequently citing the "number/length of free text messages, unknown abbreviations and use of non-standard phraseology" and "conditional clearances for a specific time or location that can be ambiguous."
Common Complaints
The most common observation by pilots on international routes was the use of a local language instead of standard aviation English in exchanges between local pilots and ATC.
"The fact that a local language was used … was felt to reduce the situational awareness of non-native pilots," the report said. "Pilots believed that the use of a single language (English) would help to improve their situational awareness and avoid other communication problems."
Other respondents discussed the rate of speech, complaining that in many cases, controllers spoke too quickly to be easily understood. The report cited an earlier study by the U.S. Federal Aviation Administration (FAA) that found that controllers' rate of speech was the biggest problem for U.S. pilots (ASW, 10/10, p. 48).1
In response to a question on the IATA survey, one pilot said, "Most controllers in Australia speak too fast and in a slang that is very difficult to understand. … Also, in the USA, they often speak too fast and with a very strong accent. It is funny to see (hear) that most problems arise in so-called English-speaking countries. Also, India is a big problem, as they often seem to think that the faster they speak, the better they know the language."
Pilots also said that they were more likely to misunderstand when controllers grouped several instructions into a single radio transmission — and that their difficulty intensified when controllers delivered multiple instructions while speaking quickly.
"Too much information in a single message," one pilot complained. "Speed, headings and altitudes are not given in a standard and logical way, sometimes in different order. A logical order … could help a lot."
IATA recommended that ATC instructions be given with "an even rate of speech not exceeding 100 words per minute." In addition, the radio transmissions should be "short and include concise instructions, and not be given during critical phases of flight (e.g., at high speed during landing rollout)," the report said.
Pilots also said that they sometimes believed that controllers were not listening during readbacks of their instructions, that controllers sometimes failed to detect mistakes in readbacks and that they "needed an acknowledgment to their readback to close the communication loop," the report said.
"At times, they were told not to read back the clearance but to just listen, and this was not acceptable, in the opinion of the survey respondents."
Controller Responses
In responses to a similar survey, however, the air traffic controllers said that the lack of proper readbacks — including failure to include an aircraft call sign — by pilots constituted their greatest concern.
"Not using a call sign in the readback happens hundreds of times a day," one controller said. "Sometimes it is more critical than others. Nevertheless, it should not be acceptable."
The responding controllers also complained of pilots' failure to request a lower airspeed when company procedures preclude them from flying at the speed assigned by ATC, and their comments indicated that standard instrument departures and standard terminal arrival route procedures "routinely create issues for controllers," the report said.
Responses to the ATC survey came from 568 air traffic controllers, 55 percent of whom were based in Europe, 30 percent in North America, 11 percent in the Asia Pacific, 2 percent in South America and the Caribbean and 1 percent each in Africa and the Commonwealth of Independent States.
Thirty-four percent worked in area control centers, 28 percent in air traffic control towers and 27 percent in approach control, with the remainder in a variety of other jobs.
Forty-six percent said that they used languages other than English in at least some of their communications with pilots.
A majority of controllers said that at least once a day they encounter situations in which ICAO standard phraseology is not used. Twenty-five percent said the problem occurs "at least weekly," and 11 percent said it occurs "at least monthly." Twelve percent said that they never encounter the situation.
Fifty-eight percent said that they have formally reported events involving a lack of standard phraseology "only when safety is directly affected," and 35 percent said that they have never submitted such a report. Two percent said that they have reported every event. Five percent said that they worked in systems that had no formal reporting mechanism.
North American pilots were singled out more than others for not using ICAO standard phraseology.
In both surveys, pilots and controllers from North America were singled out most often for not using ICAO standard phraseology, the report noted, adding that the trends "should be acknowledged and acted upon by the appropriate authorities."
This article is based on Phraseology, a pilots/air traffic controllers phraseology study, conducted by IATA, in collaboration with IFALPA and IFATCA, and published by IATA.
Note
Prinzo, O. Veronika; Campbell, Alan; Hendrix, Alfred M.; Hendrix, Ruby.

U.S. Airline Transport Pilot International Flight Language Experiences, Report 3: Language Experiences in Non-Native English-Speaking Airspace/Airport,

DOT/FAA/AM-10/09. May 2010.