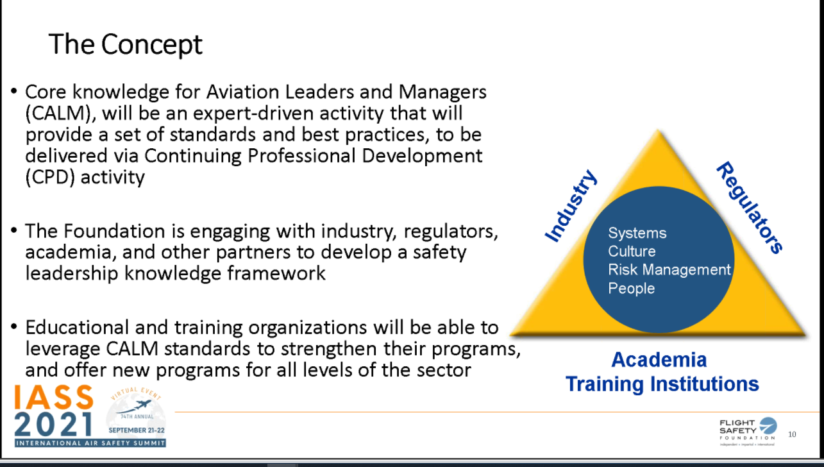 The COVID-19 pandemic has tested the resilience of the aviation industry and made more obvious safety issues that existed even before the viral outbreak, safety leaders said today (Sept. 21) during Flight Safety Foundation's 74th annual International Air Safety Summit (IASS).
Dai Whittingham, chief executive of the U.K. Flight Safety Committee, told the virtual session that the pandemic has exposed "deep fractures and vulnerabilities" in the industry's handling of safety issues while also causing extreme financial hardship for airlines and airport operators, among others.
He cited one European airline, which he did not identify, in which the safety director was returned to line flying because some managers believed that his director's salary was too high. "That finance director threw away 19 years of safety experience," Whittingham said.
Such attitudes could be mitigated through efforts to provide aviation leaders and managers with more information about safety through the Core Knowledge for Aviation Leaders and Managers (CALM) program, he said. CALM is an exploratory project in which the Foundation is involved.
Whittingham described CALM as an expert-driven activity that will outline standards and best practices and be delivered through continuing professional development activities.
"We're talking about giving them the knowledge to balance operations, safety and business risks," he said, adding that the goal is to create a resilient global aviation system with leaders who can manage risks within a safety-based culture.
Mark Searle, global director of safety for the International Air Transport Association, said an organization's safety DNA "all comes from the top," and aviation leaders must also be safety leaders in an effort to establish a just culture and open reporting of potential safety issues, which in turn will contribute to safety improvements and add to business value.
Christopher McGregor, flight safety officer at ATR, said the industry must continue the safety initiatives that were in place before the pandemic, including safety management systems (SMS).
The greatest threat to safety will be in the future, especially for regional aviation, he said, adding that there's concern, in the wake of the pandemic and its impact on the industry, about asking regional operators to invest in new products, even safety products.
In the midst of a financial crisis, it's difficult to make demands, he said.
In another presentation, Capt. Stewart Harro, FedEx Express vice president, safety and airworthiness, said safety must be embedded as deeply as possible into airline operations, as an integral part of the operations, not as an add-on.
He called for increased training in human response to startle, especially when distraction is involved or when automation does not function as expected. If pilots know how automation "thinks" and what it is going to do, they can figure out how to respond in an unusual situation, he said.
In a separate series of presentations, Aer Lingus pilots and a safety specialist described their airline's implementation of recommendations contained in the Global Action Plan for the Prevention of Runway Excursions (GAPPRE), developed by an international group whose work was coordinated by Flight Safety Foundation and Eurocontrol.
"We see runway excursions as a clear and present danger," said Capt. Seamus Cooke, an Aer Lingus base captain, adding that GAPPRE provides a blueprint for addressing the problem. That blueprint includes developing a positive, proactive safety culture; operational experience; knowledge; and teamwork.
Capt. Barry O'Connor said a study of GAPPRE recommendations resulted in 140 items for the Aer Lingus team to analyze. Team members identified priority items and developed guidance for focus areas, he said.
Other operators that want to implement the recommendations should consider joining safety information-sharing networks or other relevant organizations, safety specialist Declan Doherty said, adding that they also should consider using industry best practices on flight data monitoring
IASS will continue through Wednesday.