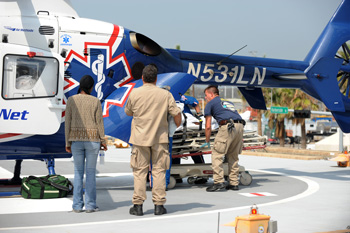 Authorities in the United States and the United Kingdom, in unrelated actions, are taking a series of steps they say will strengthen safety requirements for helicopter operations.
In the United States, the Federal Aviation Administration (FAA) issued a final rule in late February ordering operators of helicopter emergency medical services (HEMS) flights and other operations to adopt stricter procedures, to install additional safety equipment and to improve communications and training. The FAA said the action represented "the most significant improvements to helicopter safety in decades" (ASW, 3/13).
In the United Kingdom, the Civil Aviation Authority (CAA) moved to prohibit helicopter flights over the North Sea when sea conditions are severe, to improve pilot training and checking, and to require the installation of new safety equipment to aid passengers in emergencies.
In announcing the FAA's new rule, Administrator Michael Huerta said the changes will "help reduce risk and help pilots make good safety decisions through the use of better training, procedures and equipment."
Helicopter operators have until April 22 to begin using the rule's "enhanced procedures for flying in challenging weather, at night and when landing in remote locations," the FAA said. Within three years, EMS helicopters must use "the latest on-board technology and equipment to avoid terrain and obstacles," the FAA said, and within four years, the helicopters must be equipped with flight data monitoring systems.
The FAA said most of the changes prescribed by the rule would apply only to HEMS operations and other commercial operations conducted under U.S. Federal Aviation Regulations Part 135, which regulates commuter and on-demand operations.
Part 91 Weather Minimums
One change, however, establishes new weather minimums for helicopters being flown under Part 91, which sets forth general operating and flight rules.
Under that change, Part 91 helicopter pilots operating under visual flight rules and below 1,200 ft above the surface in Class G uncontrolled airspace — currently required to remain clear of clouds and "at a speed that allows the pilot adequate opportunity to see any air traffic or obstruction in time to avoid a collision" — will be permitted to operate "clear of clouds in an airport or heliport traffic pattern within ½ nm [0.9 km] of the runway or helipad of intended landing if the flight visibility is ½ statute mi (0.8 km) or more."
The FAA said that its review of U.S. National Transportation Safety Board (NTSB) accident data from 1991 to 2010 showed that, if the rule had been in place, it might have prevented 49 helicopter accidents that resulted in 63 deaths.
Radio Altimeters
Among the changes for all Part 135 operators is the requirement that each helicopter be equipped with a radio altimeter, which the FAA said can "greatly improve a pilot's awareness of height above the ground during hover, landing in unimproved landing zones and landings in confined areas where a more vertical approach may be required." Radio altimeters also increase situational awareness in low-visibility conditions, including inadvertent flight into instrument meteorological conditions (IMC).
Other provisions call for:
Helicopter occupants to wear life jackets when a helicopter is being flown over water and beyond power-off glide distance from the shore and for the aircraft to be equipped with a 406-MHz emergency locator transmitter;
Higher weather minimums to be observed when designating an alternate airport in a flight plan; and,
Helicopter pilots to be tested on their handling of flat-light, whiteout and brownout conditions, and on their ability to recover from inadvertent flight into IMC.
HEMS Considerations
Among the changes that apply specifically to HEMS operations is a requirement to equip HEMS helicopters with helicopter terrain awareness and warning systems (HTAWS), which the FAA said would "create a safer environment for emergency medical services flight operations by preventing controlled flight into terrain at night or in bad weather."
The rule noted that the NTSB has praised HTAWS as a key piece of safety equipment that might have prevented numerous accidents in recent years if HEMS operators had been required to install the device.
The FAA similarly said that its review of HEMS accidents from 1991 through 2010 showed that 62 crashes "could have been mitigated" if the HTAWS requirement and other provisions of the new rule had been in place. Those crashes resulted in 125 fatalities.
Other provisions directed at HEMS operations say that:
All flights with medical personnel aboard must be conducted under Part 135, which has more stringent requirements than Part 91 in several areas, including weather requirements and flight crew duty time limits and rest requirements.
Operations control centers must be established for air certificate holders with 10 or more EMS helicopters. Center staff members will communicate with pilots, provide weather information and flight monitoring, and help in preparing preflight risk assessments, thereby providing "an additional measure of safety for complex operations," the FAA said.
EMS helicopters must be equipped with a flight data monitoring system to "promote operational safety and … provide critical information to investigators in the event of an accident."
Pilots-in-command must hold instrument ratings.
Preflight risk-analysis programs must be established; pilots must, before departure, identify the highest obstacle along their planned flight route; and flight crews must comply with applicable weather-related flight rules.
Safety briefings or training must be provided for medical personnel.
Offshore Operations
At the same time the FAA was publishing its new rule, the U.K. CAA announced a series of actions to increase safety in offshore helicopter operations (ASW, 9/13).
Deirdre Hutton, chair of the CAA, said the actions "will result in significant improvements in safety for those flying to and from offshore sites."
Hutton added that helicopter operators, the oil and gas industry and the European Aviation Safety Agency (EASA) were expected to "move forward with recommendations to them as soon as possible. For our part, the CAA is already taking forward actions directly under our control."
The changes followed a review conducted in conjunction with the Norwegian Civil Aviation Authority (N-CAA) and EASA in the aftermath of five crashes of North Sea helicopters between February 2009 and August 2013.1 Two of the crashes were fatal, with a total of 20 deaths.
The U.K. CAA report on the review noted that three of the last five crashes of U.K. helicopters in the North Sea had involved the failure of a critical part of the main gearbox transmission, adding, "The process of preventing accidents starts by establishing high technical design standards that enable safe products through a robust certification process with high production and maintenance standards."
The CAA said that it will implement measures "prohibiting helicopter flights in the most severe sea conditions, so that the chance of a ditched helicopter capsizing is reduced and a rescue can be safely undertaken."
Another measure says that passengers "will only be able to fly if they are seated next to an emergency window exit to make it easier to get out of a helicopter in an emergency (unless helicopters are fitted with extra flotation devices or passengers are provided with better emergency breathing systems)." A related provision requires improved emergency breathing equipment for all passengers "to increase underwater survival time, unless the helicopter is equipped with side floats."
In addition, the U.K. CAA said that it would make "important changes" in pilot training and checking requirements and begin examining each offshore helideck "ensuring they meet strict safety standards."
The CAA said that it expected operators to take steps to upgrade their helicopters and survival equipment, with the installation of side floats, automatic flotation equipment and hand holds next to push-out windows, and the use of improved life rafts and life jackets.
The agency also issued recommendations to EASA on improving helicopter safety; "establishing a review of offshore helicopter accidents and incidents with national aviation organisations, such as the CAA, to highlight safety issues and develop remedies; and developing standardized helicopter operating information for pilots."
In response, EASA said the review would "play a significant part in improving the safety of offshore operations in Europe" and pledged to study the recommendations contained in the package and deliver a progress report in early April.
The N-CAA said the "thorough review … identifies and assigns many important actions and recommendations which we believe will strengthen the safety of offshore operations in the U.K., Norway and, potentially, worldwide." 
Note
U.K. CAA. CAP 1145,

Civil Aviation Authority — Safety Review of Offshore Public Transport Helicopter Operations in Support of the Exploitation of Oil and Gas

. February 2014.