LOC-I, Weather Cited in U.K. Fatal Crashes
Loss of control–in flight (LOC-I) and weather-related issues were the most frequently cited causal factors in fatal aviation accidents in the U.K. in 2017, the U.K. Air Accidents Investigation Branch (AAIB) says.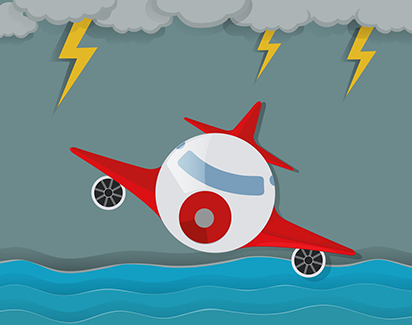 In its Annual Safety Review, 2017, released in March, the AAIB said 708 occurrences were reported in 2017, including 16 fatal accidents that resulted in 28 fatalities. Most of the fatal accidents involved general aviation aircraft.
The report noted the worldwide absence of fatal accidents involving passenger jet airliners in 2017, but Crispin Orr, the AAIB's chief inspector of air accidents, cautioned that two fatal crashes in February of this year provided a "reality check" that fatal crashes "are not a thing of the past."
Those two accidents were the Feb. 11 crash of a Saratov Airlines Antonov An-148 near Stepanovskoye, Russia, that killed all 71 occupants and the Feb. 18 crash of an Iran Aseman Airlines ATR 72 near Yasuj Airport in Iran that killed all 66 passengers and crew. The report was prepared before the March 12 crash of a US-Bangla Airlines de Havilland Canada Dash 8 in Kathmandu, Nepal, that killed 51 of the 71 people on board.
---
Charter Operator's Certificate Revoked
The U.S. Federal Aviation Administration (FAA) has issued an emergency order of revocation against a Puerto Rico charter operator that was involved in a fatal 2017 crash in San Juan.
The FAA accused Air America of Carolina, Puerto Rico, of using an unqualified pilot, using a pilot who had received inadequate rest, operating aircraft that were overweight and improperly loaded, and failing to turn over pilot records.
Air America has surrendered its air carrier certificate, the FAA said in a statement in early April.
The agency said Air America's director of operations "falsely recorded that he had provided required ground and flight training to a new pilot, when he had, in fact, not provided that training." Because the new pilot had not received the training, he was not qualified to serve as pilot-in-command (PIC) for Air America; nevertheless, he acted as PIC on at least eight passenger-carrying flights between April 23 and June 3, 2017, including the June 3 accident flight, the FAA said.
The FAA added that the unqualified pilot incorrectly calculated airplane weight and balance on three flights and that, "consequently, the aircraft were overweight and improperly loaded."
The U.S. National Transportation Safety Board (NTSB) said in its final report on the June 3 loss of control–in flight accident that, in addition to the fatality, two other passengers in the Piper Aztec PA-23-250 were seriously injured and the pilot received minor injuries.
The probable causes were "the pilot's failure to maintain adequate airspeed, properly correct for left yaw, and his exceedance of the airplane's critical angle of attack during initial climb, which resulted in an aerodynamic stall and subsequent uncontrolled descent into water," the NTSB report said.
The FAA also said that Air America's director of operations served as PIC on passenger-carrying flights in March and June of 2017 when he had not received the required amount of rest, and that Air America was unable to provide pilot flight and duty records requested by an FAA inspector in June 2017. The records had not been provided by February 2018, the FAA said.
---
FAA Halts Some Helicopter 'Doors-Off' Flights
U.S. helicopter operators have been ordered to end all "doors-off" flights if occupants are wearing restraints that cannot be released quickly in an emergency.
The U.S. Federal Aviation Administration (FAA) issued the order in mid-March, and said it plans a review of existing rules governing doors-off flights in helicopters equipped with supplemental restraints.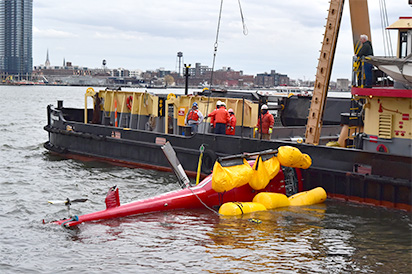 The agency's order came in response to a March 11 accident in which an Airbus Helicopters AS350 B2 struck the East River in New York City during an autorotation maneuver and rolled inverted. All five passengers were killed, and the pilot was injured.
The U.S. National Transportation Safety Board (NTSB) was continuing its investigation of the accident, but said that the preliminary investigation of the Liberty Helicopters aerial photography flight revealed no evidence of anomalies involving the helicopter's engine, its structure or its flight controls.
The NTSB said the helicopter's passenger seats were equipped with harness systems consisting of "a nylon fall-protection harness tethered via a lanyard to the helicopter." Passengers were briefed before the flight on how to use a provided cutting tool to remove the harnesses in an emergency, but none of the passengers was able to escape from the helicopter.
The pilot told authorities that a passenger's bag might have been positioned in a way that activated the emergency fuel shutoff.
---
Fighting Airspace Infringement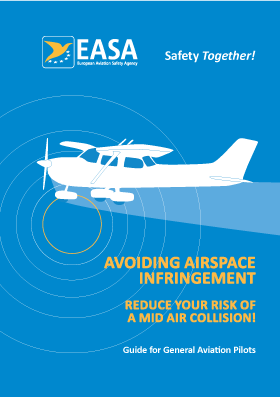 The European Aviation Safety Agency (EASA) and the European Union's national aviation authorities have begun a safety promotion campaign urging general aviation pilots and flight instructors to avoid airspace infringement, which EASA says has been an increasing problem over the past decade.
The campaign is addressing the general aviation community through websites, videos and other informative materials produced by EASA and national aviation authorities in Belgium, Finland and the U.K. EASA said in mid-April that the videos "take a more country-specific look at the subject, while underlining the common European safety issues, rules and recommendations with regard to airspace infringement."
Advice on the airspace infringement page of EASA's website <easa.europa.eu/airspace-infringement> includes recommendations to plan flights by using "modern flight planning and navigation software, identify controlled or restricted airspace and turn on your transponder."
During flight, pilots should "keep good situational awareness, obtain a clearance before entering controlled airspace and report if you are lost or enter controlled airspace without clearance," the website says.
---
Review Sought of Smoke, Fumes Procedures
Air carriers should review their procedures for handling odor, smoke and/or fumes to ensure that crewmembers appropriately address "benign odor events" and toxic smoke, odor and fumes anomalies to limit exposure of passengers and crew, the U.S. Federal Aviation Administration (FAA) says.
In Safety Alert for Operators (SAfO) 18003, issued in late March, the FAA said air carrier reviews should pay particular attention to methods of identifying and mitigating odors, smoke and/or fumes in a cabin or on a flight deck.
"In-flight odor, smoke and/or fume events can occur without overt visual and/or olfactory cues," the SAfO said. "To mitigate adverse health consequences to passengers and crew, prompt and decisive action is critical."
The SAfO said operators should review International Civil Aviation Organization Document 9481, "Emergency Response Guidance for Aircraft Incidents Involving Dangerous Goods," which recommends emergency responses for more than 3,500 specific dangerous goods.
Operators also should review their existing policies; collaborate with original equipment manufacturers, other operators and regulators to continuously improve their mitigation procedures; and develop appropriate guidance for crews, the SAfO said.

---
Guidance for Drone Rules
The International Civil Aviation Organization (ICAO) says it is laying the groundwork for establishment of low-altitude traffic management guidance for unmanned aircraft systems (UAS), also known as drones.
The goal is to develop an agreed-upon global approach to "greatly assist businesses and others in launching their UAS services with suitable levels of investment confidence and operational safety," ICAO said in its April announcement of a global conference on drones to be held Sept. 13–14 in Chengdu, China.
The event will focus on coordinating the development of UAS activities and the safe integration of UAS traffic management systems and conventional air traffic management systems, ICAO said.
World governments asked ICAO in 2016 to develop "a practical regulatory framework" for national UAS activities as well as the standards already under development for international operations.
"ICAO's work … will help to facilitate harmonized solutions which are safe, secure, sustainable and, most importantly, globally aligned," ICAO Secretary General Fang Liu said.
---
Retrofitting R22 Fuel Tanks
Australian owners and operators of Robinson R22s should replace their aluminum fuel tanks as soon as possible, the Australian Civil Aviation Safety Agency (CASA) says.
In a February airworthiness bulletin (AWB 28-017, Issue 1), CASA said that replacing the aluminum tanks with bladder fuel tanks will reduce chances of a post-crash fuel leak and fire.

CASA noted that the Robinson Helicopter Co. has published a revised service bulletin that says the fuel tank change should be accomplished as soon as possible but no later than at the next 2,200-hour overhaul or 12-year inspection, or by January 2020, whichever comes first.
"There have been multiple crashes of Robinson R22 helicopters with post-impact fires in Australia," CASA said, adding, "A majority of these post-crash fires have been associated with non-survivable high-energy impacts consistent with the type of work or the environment where the helicopters are operated. One crash, however, involved a survivable training flight where the occupants were able to egress the helicopter before the ruptured fuel tanks ignited."
CASA's airworthiness bulletin also included "a timely reminder to operators and maintainers of aircraft of the responsibility to follow their approved system of maintenance or the manufacturer's maintenance program. In this case, it means ensuring compliance to all Robinson Helicopter Company service bulletins."
---
In Other News …
U.K. Civil Aviation Authority Chief Executive Andrew Haines says the government wants the U.K. to remain a member of the European Aviation Safety Agency after the U.K. formally withdraws from the European Union. Haines says in the aftermath of the Brexit vote, it is important for the U.K. to "retain as much influence as possible" in the global aviation system. … The International Air Transport Association (IATA) has begun a standardized global certification program that it says is intended to "improve the safety and welfare of animals traveling by air." IATA says the Center of Excellence for Independent Validators for Live Animal Logistics (CEIV Live Animals) will establish standards to "improve the level of competency, infrastructure and quality management in the handling and transportation of live animals."
Compiled and edited by Linda Werfelman.
Image credits
LOC-I, Weather Cited in U.K. Fatal Crashes: © iimages | VectorStock
FAA Halts Some Helicopter 'Doors-Off' Flights: U.S. National Transportation Safety Board
Fighting Airspace Infringement: © European Aviation Safety Agency
Review Sought of Smoke, Fumes Procedures: composite, Susan Reed; airplane cabin, © poemsuk | VectorStock; smoke effect: © artefy | VectorStock
Retrofitting R-22 Fuel Tanks: U.S. Federal Aviation Administration