New Rules on Tracking
The European Commission has adopted new rules on aircraft tracking, including provisions intended to pinpoint the location of an aircraft in distress anywhere in the world.
"For the general public, it is not understandable that aircraft are not permanently tracked wherever they fly," said Violeta Bulc, European Union commissioner for transport. "The rules … aim to address this deficiency."
She said that the rules, adopted in December, will apply to European Union operators of passenger airplanes that weigh more than 27 tonnes (59,525 lb) and carry more than 19 passengers, and to cargo airplanes of more than 45.5 tonnes (100,310 lb).
She said adoption of the rules was prompted by the recent disappearances of two commercial airplanes:
Air France Flight 447, an Airbus A330 that vanished en route from Rio de Janeiro to Paris on June 1, 2009. The wreckage was recovered from the floor of the Atlantic Ocean in May 2011. All 228 passengers and crew were killed.
Malaysia Airlines Flight 370, a Boeing 777-200ER that disappeared March 8, 2014, en route from Kuala Lumpur, Malaysia, to Beijing with 239 people aboard. Aside from a flaperon that washed ashore on Réunion Island in the Indian Ocean, the wreckage has not been found. The search is continuing.
The new rules direct operators of large airplanes to establish aircraft tracking systems. To prevent the disappearance of an aircraft with no record of its flight path, another provision says that new airplanes must be equipped with "robust and automatic means to accurately locate the endpoint of flight following an accident in which the aeroplane is severely damaged." In addition, the rules say that flight recorder technology must be improved and the recording length of cockpit voice recorders must be increased to 25 hours, up from the current two-hour requirement. Flight recorders also must be equipped with locating devices with extended transmission times to aid in locating the recorders.
The European Commission described the new rules on aircraft tracking and locating as performance-based and said that they do not "favor any specific commercial or technical solutions."
---
Automation Hazards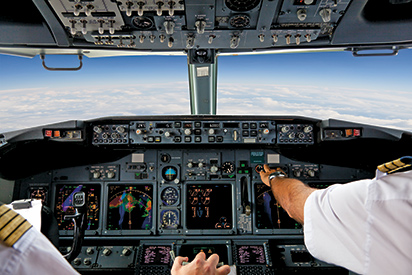 The U.S. Federal Aviation Administration (FAA) lacks any process for evaluating a pilot's ability to monitor flight deck automation and to perform manual flying skills, a government watchdog agency says.
The U.S. Department of Transportation Office of Inspector General (OIG) said in a report released in January that both skills are vital in handling unexpected events during flight.
"Maintaining the safety of the National Airspace System depends on ensuring pilots have the skills to fly their aircraft under all conditions," the report said. "Relying too heavily on automation systems may hinder a pilot's ability to manually fly the aircraft during unexpected events. While FAA has taken steps to emphasize the importance of pilots' manual flying and monitoring skills, the agency can and should do more to ensure that air carriers are sufficiently training their pilots on these skills. In particular, FAA has opportunities to improve its guidance to inspectors for evaluating both air carrier policies and training programs."
The improved guidance would help ensure that air carriers develop a culture "that emphasizes pilots' authority and manual flying skills," the report added.
The OIG recommended that the FAA take two steps to address existing shortcomings, including to "develop guidance defining pilot monitoring metrics that air carriers can use to train and evaluate pilots" and to "develop standards to determine whether pilots receive sufficient training opportunities to develop, maintain and demonstrate manual flying skills."
In response, the FAA said that it "shares the OIG's concerns about an overreliance on automation and the importance of training pilots to handle unexpected events and manually fly an aircraft."
The FAA endorsed the OIG's second recommendation and said that it was in partial agreement with the first recommendation, although it disagreed with the suggestion that it develop metrics as the basis for training. "However," the agency said in its response, "the FAA will develop guidance defining pilot monitoring duties and responsibilities that air carriers can use to develop pilot training and evaluation."
The OIG requested clarification from the FAA about its planned actions.
---
Registering sUAS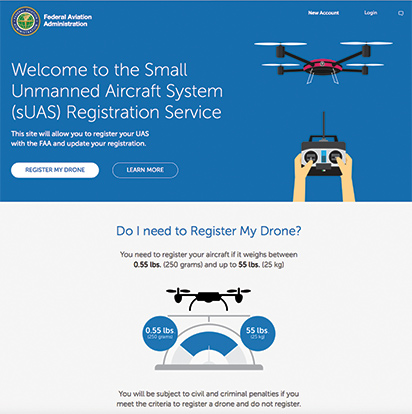 Recreational users of small unmanned aircraft systems (sUAS), including radio control aircraft, in the United States must register with the U.S. Federal Aviation Administration (FAA) through the FAA's new web-based registration system.
The system — available at <registermyuas.faa.gov> —began operating in December.
The FAA says sUAS — those weighing between 0.55 lb (250 g) and 55 lb (25 kg) — must be registered if they will be flown outdoors for recreation.
Those that were operated by the current owner before Dec. 21, 2015, must be registered by Feb. 19. Others must be registered before the first outdoor flight.
After the registration is completed, the FAA emails a certificate that shows the owner's name, the sUAS registration number, the date of issuance and the date of expiration. The operator must keep a printed or electronic version of the certificate as proof of registration.
Registration must be renewed every three years.
---
Contagious Disease Planning
The United States lacks a comprehensive national plan for limiting the spread of contagious diseases among individuals who travel by air, a federal government watchdog agency says.
The Government Accountability Office (GAO) said, in a report published in December, that it is unclear how many U.S. airports and airlines have developed their own preparedness plans, which are not required by law.
Of the 14 airports and three airlines reviewed, all had implemented communicable disease response plans, the GAO said, noting that some had modified their plans during the 2014 Ebola outbreak in West Africa.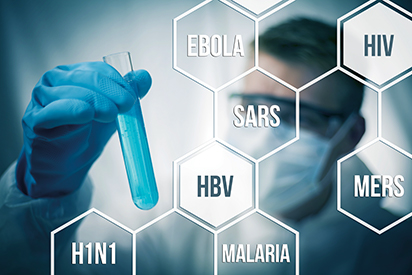 "The plans GAO reviewed generally addressed the high-level components that GAO identified as common among applicable federal and international guidance, such as establishment of an incident command center and activation triggers for a response," the report said.
In each case, airport and airline plans were developed by, or in cooperation with, stakeholders, including the U.S. Centers for Disease Control and Prevention's (CDC's) airport staff, the report said.
An agreement set forth by the International Civil Aviation Organization (ICAO) requires ICAO member states to develop nationwide aviation-preparedness plans to fight outbreaks of communicable diseases. The report said that the U.S. Department of Transportation (DOT) and the CDC believe that some elements of a national plan already exist, including plans at a number of individual airports.
"However, FAA [the U.S. Federal Aviation Administration] has reported that individual airport plans are often intended to handle one or two flights with arriving passengers, rather than an epidemic, which may require involvement from multiple airports on a national level," the report said. "Most importantly, a national aviation-preparedness plan would provide airports and airlines with an adaptable and scalable framework with which to align their individual plans."
The GAO report recommended that DOT work with the Department of Human Services and others to develop a nationwide plan for coping with the threat of communicable diseases. The GAO added that DOT officials agree on the need for a nationwide plan but suggest that public health agencies should be in charge of its development.
---
Making Mustering Safer
A study of aerial mustering — "a unique Australian activity" that involves using aircraft to herd livestock, usually cattle on remote ranches — has identified 16 specific risks facing the industry, the Civil Aviation Safety Authority of Australia (CASA) says.
The agency said in a report issued late in 2015 that among the risks are "the lack of a visible CASA presence at locations where mustering is carried out," the use of checking and testing pilots with "inappropriate or inadequate operational experience" to conduct checks on mustering pilots, inadequate provisions for supervising low-time pilots and a poor understanding of human factors issues affecting aerial mustering operations.
Solutions recommended by CASA and industry representatives included improvements in mustering regulations, establishment of an industry-wide mentoring program, increased surveillance by CASA and development of pilot training manuals and fatigue training efforts.
CASA said the next step will be for the agency and the industry to work together to monitor safety performance, identify safety trends and develop improvements.
More than 1,000 pilots and 134 mustering operators work in Australia's mustering sector; more than 90 percent of the aircraft involved are helicopters. CASA's data show that in 2012, there were 53.3 accidents per million flight hours, down from 154.6 per million hours in 2000.
---
Civil Aviation Upgrade
The European Aviation Safety Agency (EASA) has been awarded a €5 million ($5.4 million) contract to upgrade civil aviation in nine countries in Eastern Europe and Central Asia.
The agency says implementation of the four-year contract, awarded by the European Commission, will begin in February and will include training, safety management initiatives, "effectively addressing safety findings" raised in audits conducted by EASA or the International Civil Aviation Organization, and support for "the harmonisation of regulations and working practices with international safety and security standards."
The countries involved are Armenia, Azerbaijan, Georgia, Kazakhstan, Kyrgyzstan, Republic of Moldova, Tajikistan, Ukraine and Uzbekistan.
---
In Other News …
Boeing Commercial Airplanes has agreed to pay $12 million and to improve several certification processes to enhance the airworthiness and continued compliance of its products, the U.S. Federal Aviation Administration (FAA) says. The FAA says the agreement also calls for the company to use FAA safety analysis modeling, in addition to Boeing risk-modeling processes, to assess all identified compliance issues. … The European Commission has adopted its new Aviation Strategy for Europe, aimed at maintaining a "strong and outward-looking" aviation community that adheres to the European Union's "high … standards for safety, security, the environment, social issues and passenger rights." … The Australian Civil Aviation Safety Authority (CASA) says it is implementing major changes in its structure to deliver more effective safety regulation. CASA Director of Aviation Safety Mark Skidmore said that one goal of the restructuring is to reduce the amount of time that people and organizations in the aviation community spend dealing with CASA.
Compiled and edited by Linda Werfelman.
Images
Pilots: © somatuscani | AdobeStock
sUAS registration screen: U.S. Federal Aviation Administration
Diseases: © Mikko Lemola | AdobeStock
Mustering: © Kate Dixon | Flickr CC-BY 2.0