Correcting Wrong-Airport Landings
The U.S. National Transportation Safety Board (NTSB), citing several recent cases of pilots who landed their aircraft at the wrong airports, is recommending changes intended to minimize airport confusion.
The NTSB said in early May that the U.S. Federal Aviation Administration (FAA) should amend its air traffic control (ATC) procedures to require controllers to "withhold landing clearance until the aircraft has passed all other airports that may be confused with the destination airport."
A related recommendation called on the FAA to "modify the minimum safe altitude warning (MSAW) software to apply the MSAW parameters for the flight plan destination airport to touchdown, rather than automatically reassigning the flight to another airport based on an observed (and possibly incorrect) trajectory."
As examples of the problem, the NTSB cited a Jan. 12, 2014, incident in which a Southwest Airlines Boeing 737 landed at M. Graham Clark Downtown Airport in Branson, Missouri, U.S., instead of its intended destination — Branson Airport, 6 mi (10 km) to the south. The landing runway was 3,738 ft (1,139 m) long, slightly more than half the length of the intended runway at Branson Airport.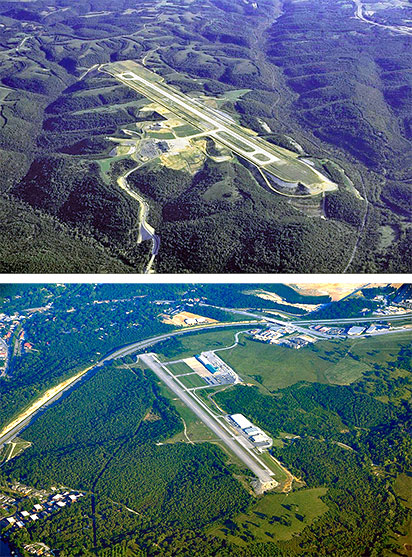 None of the 131 people aboard was injured, and the airplane was not damaged in the landing, conducted in night visual meteorological conditions (VMC).
ATC did not caution pilots about the presence of a nearby airport with a similar runway configuration.
A second incident was the Nov. 21, 2013, landing of an Atlas Air 747 at Colonel James Jabara Airport in Wichita, Kansas, instead of at the intended destination — McConnell Air Force Base, which is located about 8 mi (13 km) to the south. The two crewmembers were not injured and the airplane was not damaged in the landing, conducted in night VMC and under an instrument flight rules flight plan. As in the Missouri case, the landing runway, at 6,100 ft (1,859 m) was about half as long as the 12,000 ft (3,658-m) assigned runway.
In this case, ATC issued a landing clearance before the 747 had passed two nearby airports.
"These events suggest that the issuance of a landing clearance to the pilot far away from the destination airport and with the destination airport in close proximity to other airports exacerbates the potential for human error," the NTSB said, adding that in both cases, the wrong-airport landings might have been avoided if the landing clearances had not been issued until after the airplanes had passed nearby airports.
---
Offshore Helicopter Safety Plan
North Sea helicopter operators would be permitted to fly to unattended offshore installations only under certain conditions if a proposal presented by the U.K. Civil Aviation Authority (CAA) is implemented.
The proposal, announced in late April, deals with flights to and from 116 offshore installations that usually are unattended. The proposal is intended to address risks of fire after any incident involving a helicopter on an unattended installation, "where there may be no one on the rig to assist in fire suppression," the CAA said.
The agency said the proposal sets forth three conditions that must be met, "individually or collectively" to increase safety. "A combination of all three of these options would be desirable," the CAA said. Under the conditions, flights would be permitted if:
"Helicopters … have full capability to fly safely on one engine following loss of power of [the] other engine";
Helicopters are equipped with "fully crashworthy systems to reduce the risk of post-impact fire"; and,
Changes are made on helidecks, "such as the fitting of automatic fire fighting systems."
The next step in the approval process calls for a working group of the Offshore Helicopter Safety Action Group to review the proposal.
---
UAS Research Expansion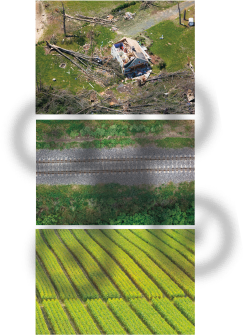 The U.S. Federal Aviation Administration (FAA) has given the go-ahead for new research into commercial uses of unmanned aircraft systems (UAS), including some programs that will allow UAS aircraft to be flown beyond the line of sight of their operators.
The FAA in early May authorized its new Pathfinder Program, which will involve partnerships with three U.S. companies that have committed resources for research to "help us determine if and how we can safely expand unmanned aircraft operations in the United States," FAA Administrator Michael Huerta said.
The three companies are:
Television network CNN, which will research how UAS in visual line-of-sight operations could be used for newsgathering in urban areas;
UAS manufacturer PrecisionHawk, which will survey agricultural crops in rural areas using UAS aircraft being operated outside the pilot's visual line-of-sight; and,
BNSF Railway, which will research the use of UAS to inspect rail infrastructure in isolated areas outside the pilot's visual line-of-sight.
"We anticipate receiving valuable data from each of these trials that could result in FAA-approved operations in the next few years," Huerta said in announcing the research program. "They will also give insight into how unmanned aircraft can be used to transform the way certain industries do business — whether that means making sure trains run on time, checking on the health of crops or reporting on a natural disaster."
Huerta added that the FAA is reviewing more than 4,000 public comments on its proposed rule, published earlier this year, for regulating the routine non-recreational use of small UAS — those weighing less than 55 lb (25 kg). The proposal includes prohibitions on flying the small UAS aircraft near airports, at night or above 500 ft above ground level, as well as a requirement that the operator keep the aircraft in his or her line-of-sight.
The review of the comments will take time, he said, although he did not specify how much time, and he added that, as a result, "we're actively looking for other ways to expand the use of unmanned aircraft in the meantime."
---
Safety Improvements in China
China's aviation community must adopt global best practices to improve safety and airspace capacity, Tony Tyler, director general of the International Air Transport Association (IATA), says.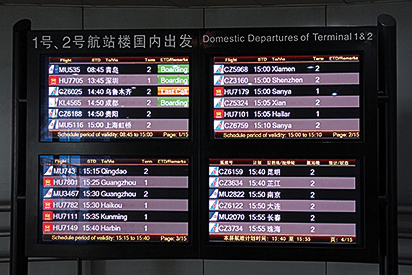 In remarks in late April to the Beijing International Forum on Civil Aviation Safety, Tyler noted that by 2034, China will be the largest aircraft passenger market in the world, and one of every five passengers will be flying to, from or within China.
China has experienced no jet hull loss accidents since August 2010, Tyler said, praising the country's aviation community for its efforts to maintain an "exemplary safety record."
He added that the record could be enhanced with attention to two areas: use of the IATA Standard Safety Assessment by small-aircraft operators and action to ensure the safe carriage of lithium batteries, many of which are manufactured in China.
The country currently handles about 70,000 flights a week, or 10 percent of the total worldwide, Tyler said, calling for the introduction of air traffic flow management to improve flight predictability and performance-based navigation to allow for more direct routing.
---
NextGen Progress
The U.S. Federal Aviation Administration (FAA) says it has completed installation of its En Route Automation Modernization (ERAM) computer system for air traffic control, considered a significant part of the NextGen airspace modernization plan.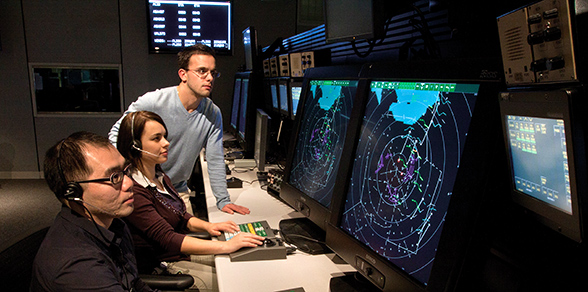 ERAM is the "backbone of operations" at 20 FAA en route air traffic control centers, the agency said. The system "drives display screens used by air traffic controllers to safely manage and separate aircraft," the agency said.
FAA Administrator Michael Huerta added that the system "gives us a big boost in technological horsepower over the system it replaces" and "enables each controller to handle more aircraft over a larger area, resulting in increased safety, capacity and efficiency."
The first ERAM system went into use in March 2012 in Salt Lake City, and the final installation was completed in March 2015 in New York.
ERAM is the operating platform for other NextGen technologies, including performance-based navigation (PBN) procedures, which help controllers and pilots determine precisely when to reduce aircraft thrust to allow a descent to the runway with engines set at idle power — a move that reduces flight time and fuel consumption.
ERAM also is the basis of automatic dependent surveillance–broadcast (ADS-B), which has enabled controllers to provide separation for aircraft in areas such as the Gulf of Mexico, where radar is not available; and Data Comm, which will enable pilots and controllers to communicate by direct digital link rather than through voice communications.
---
New Helicopter Rules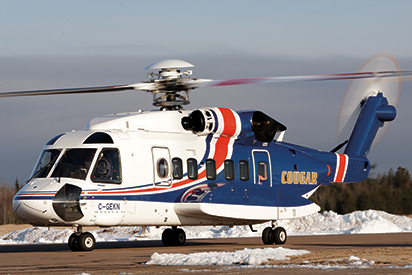 Canadian helicopter operators will be subject to new regulations prohibiting offshore operations in weather or water conditions that would make ditching unsafe.
The regulations, announced in late April to take effect in late July, also require operators to make available to each helicopter occupant an emergency underwater breathing device; crewmembers and passengers must be trained in proper use of the devices.
A third regulation will require all crewmembers to wear water immersion survival suits.
The regulatory changes will bring Canada in line with international standards and best practices, Transport Canada said in announcing the new regulations.
The agency said that the two Canadian companies engaged in helicopter operations off Canada's east coast already meet the new standard.
---
In Other News …
New upset prevention and recovery training requirements are being published to better train European airline pilots in dealing with unexpected events, especially loss of control–in flight. European airlines and commercial business jet operators have until May 2016 to implement the provisions, developed by the European Aviation Safety Agency and the International Air Transport Association. … The International Civil Aviation Organization (ICAO) has launched a repository for information about conflict zone risks, accessible through ICAO's website <icao.int>. The repository is intended to provide current information on risks to civil aviation associated with armed conflicts. … The Australian Transport Safety Bureau says that rough seas associated with winter weather have complicated the search for Malaysia Airlines Flight 370, prompting authorities to suspend use of the autonomous underwater vehicle for the season. More than 75 percent of the designated search area has been examined in the effort to find the Boeing 777-200ER, which disappeared March 8, 2014, during a flight from Kuala Lumpur, Malaysia, to Beijing with 239 people aboard.
Compiled and edited by Linda Werfelman.
Image credits
Correcting Wrong-Airport Landings: K. Trimble | WikiMedia Commons
UAS Research Expansion: top, © gmcoop | iStockphoto; middle, © cobocoz1 | iStockphoto; bottom, © Barbar760 | Dreamstime
Safety Improvements in China: © Hupeng | Dreamstime.com
NextGen Progress: U.S. Federal Aviation Administration
New Helicopter Rules: © Kevin Brine | Shutterstock
SaveSave