Disruptive Weather
Weather is to blame for about one-third of all air traffic management (ATM) delays in European airspace, according to Eurocontrol, which is encouraging a broader effort to identify "practical solutions for dealing with disruptive weather."
"With climate change, weather events are becoming more intense and less predictable," Eurocontrol said in a mid-June statement. "There are more, increasingly severe, storms and wind'; rainfall is more intense. Weather patterns are different, too: In the northern part of Europe, instead of constant cold in the winter, there are variations in temperature, bringing icy slush and rain instead of the usual snow."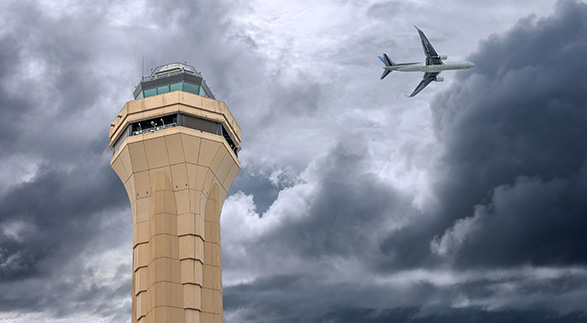 A Eurocontrol-sponsored forum called for better planning and broader, continent-wide forecasts, including long-term forecasts, especially between June and September, when storms are most prevalent, Eurocontrol said. In response, network managers have been instructed to work with other aviation stakeholders and meteorological service providers to determine how to develop a network-wide forecasting service, with a trial this year for a small number of air navigation service providers (ANSPs) and aircraft operators and a second trial several months in the future.
"The weather is not going to improve; it is going to get worse," Eurocontrol said. "So we all need to manage it better: airlines, airports, ANSPs and the network manager together, so that we can restrain this significant delay-generator in our European ATM network."
---
Chao: Discussion Needed on 1,500-Hour Rule
U.S. Transportation Secretary Elaine Chao says "a robust discussion" is needed about the future of the 1,500-hour rule, which requires first officers, with some exceptions, to have accumulated at least 1,500 flight hours and an airline transport pilot certificate before being hired.
Chao made the remarks in a June interview with The Washington Post that was part of a webcast discussion of issues facing the U.S. aviation industry, including what Chao called the "tremendous shortage" of pilots.
"There needs to be a robust discussion," primarily in Congress, about the 1,500-hour rule, which she said "has certainly made it so much harder" for many pilots — "pilots who can very safely fly in our skies" — to advance into airline flight jobs.
The rule took effect in 2013 as a result of legislation passed in response to concerns voiced by families of some of the 50 people killed in the Feb. 12, 2009, crash of Colgan Air Flight 3407, a Bombardier Q400 on approach to Buffalo Niagara (New York) International Airport.
The U.S. National Transportation Safety Board concluded that the captain's handling of the controls caused the airplane to stall and said that his actions were a result of "startle and confusion," not a product of his training. Both the captain and the co-pilot had more than 1,500 flight hours.
Flight Safety Foundation, in a position paper issued in March, urged the aviation industry to adopt a "data-driven approach to pilot training" that would encourage competency-based or evidence-based training methods rather than strict adherence to a flight hour requirement. In the paper, the Foundation said, "Although for many years, the number of accumulated flight hours has been the baseline for determining experience, what is often overlooked in the pilot experience equation is the quality of flight time. … Relying solely on a number does not effectively capture a pilot's true experience. The type of experience and the flight environment must be considered to provide meaning to the number."
---
EU Ends Ban on Flights by Indonesian Airlines
The European Commission has removed Indonesian air carriers from its list of airlines prohibited from operating in European Union (EU) airspace.
The commission in mid-June issued an updated version of its Air Safety List, which names airlines that have failed to comply with international air safety standards and therefore are banned from operating within the EU.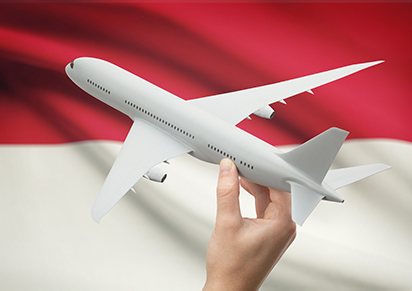 All Indonesian air carriers were placed on the list in 2007 because of what the commission called "unaddressed safety concerns." In subsequent years, seven Indonesian airlines were removed from the list, but all others remained listed until the June action.
The commission says that the list helps maintain high levels of aviation safety in the EU and also helps the named airlines and the countries where they are certified to improve their levels of safety.
The revised list names 119 airlines that are banned from EU operations, including 114 airlines that are certified in 15 countries and are banned because of a lack of safety oversight by national aviation authorities — Afghanistan, Angola (except for one airline that operates under restrictions), Republic of the Congo, Democratic Republic of the Congo, Djibouti, Equatorial Guinea, Eritrea, Gabon (except for two airlines that operate under restrictions), the Kyrgyz Republic, Liberia, Libya, Nepal, São Tomé and Príncipe, Sierra Leone and Sudan.
In addition, five individual airlines are banned because of safety concerns relating specifically to those airlines — Iran Aseman Airlines, Iraqi Airways, Blue Wing Airlines (operating from Suriname), Med-View Airlines (operating from Nigeria) and Air Zimbabwe.
Six other airlines are subject to operational restrictions that allow them to fly within the EU only with specific aircraft types — Afrijet and Nouvelle Air Affaires SN2AG of Gabon, Air Koryo of North Korea, Air Service Comores of the Comoros, Iran Air and TAAG Angola Airlines.
---
Report Says FAA Lacks Adequate Drone Data
The U.S. Government Accountability Office (GAO) is questioning the accuracy and completeness of data available to the Federal Aviation Administration (FAA) on the extent of unsafe use of small drones in the National Airspace System.
In a report issued in late May, the GAO said that although the FAA collects data on several types of safety events involving small drones — unmanned aircraft systems (UAS) weighing less than 55 lb (25 kg) — the data appear incomplete.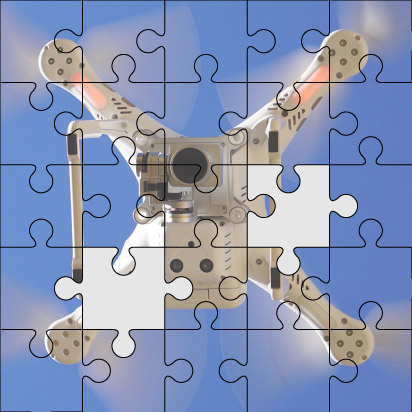 As an example, the report cited data showing that, since 2014, more than 6,000 sightings have been reported of drones flying near airports or near manned aircraft; the FAA cannot verify whether the objects sighted were, in fact, drones.
"Small UAS are often difficult for pilots to identify definitively and typically are not picked up by radar," the report said. "Such data limitations impede the agency's ability to effectively assess the safety of small UAS operations."
The report noted that the FAA is working to improve its drone data collection system in several ways, including developing a web-based system to enable the public to report sightings of drones that are perceived to be safety concerns.
---
In the Dark
Some of the docking systems that help guide airplanes into position at their assigned gates are unable to recognize aircraft with dark paint schemes, the European Aviation Safety Agency (EASA) says in a warning prompted by the recent investigation of an event in which an airplane engine struck a passenger bridge.
In response, EASA in May issued Safety Information Bulletin 2018-09, recommending that authorities implement "relevant mitigating operational procedures."
The bulletin provided few details on the passenger bridge collision, other than saying that the operator had encountered similar problems on other occasions after an advanced visual docking guidance system (A-VDGS) failed to recognize an airplane.
News reports, however, cited a May 2015 incident in which the engine of a Brussels Airlines Airbus A320 struck a passenger bridge because the airplane had not been recognized by an A-VDGS in Lisbon, Portugal. The final report on the incident was issued in late November 2017 by Portugal's Gabinete de Prevenção e Investigação de Acidentes com Aeronaves e de Acidentes Ferroviários.
EASA said it has since learned that other airport operators in Europe have experienced similar events in which an A-VDGS did not recognize a maneuvering airplane because of the airplane's dark color. The events appear to have involved more than one type of A-VDGS, the EASA bulletin said.
EASA recommended that airport operators determine whether their A-VDGSs may have difficulty identifying dark-colored airplanes; publish relevant information, including information about possible color-recognition issues, in the Aeronautical Information Publication; communicate to all personnel the procedures to be applied in case of an A-VDGS malfunction; and report any malfunction to appropriate authorities.
---
Detecting Unsafe Aircraft
Eurocontrol has deployed a new system intended to stop unsafe aircraft from being flown into European airspace.
The system, announced in mid-June, follows from a 2016 requirement that, before entering European airspace, any non-European aircraft must have a single safety authorization — a third country operator authorization — that is valid throughout Europe.
Under the system announced in June, air traffic controllers in all European Union (EU) member states will be warned any time a pilot attempts to fly an unauthorized aircraft to the EU, and the aircraft will be denied entry.
---
In Other News …
Ocean Infinity, the private firm that had searched the seabed beneath the Indian Ocean for the wreckage of Malaysia Airlines Flight 370, a Boeing 777 that disappeared March 8, 2014, en route from Kuala Lumpur, Malaysia, to Beijing with 239 passengers and crew, has ended its effort. … The U.S. Federal Aviation Administration plans to award $677 million in airport infrastructure grants to fund 346 projects to improve runways, taxiways, aprons and terminals at airports throughout the country. The grants represent the first phase of a $3.18 billion airport improvement program. … The U.S. Federal Aviation Administration (FAA) is accepting public comment until July 10 on 63 "means of compliance" (MOCs) intended to enable faster installation into small airplanes of safety-enhancing technologies that bring aircraft into compliance with changes in Federal Aviation Regulations Part 23 airworthiness standards for general aviation airplanes. The MOCs constitute acceptable methods, but not the only methods, of complying with the regulations, the FAA said.
Compiled and edited by Linda Werfelman.
Image credits
Airport weather: © CHUYN | iStockphoto
Speech bubbles: © Success_ER | VectorStock
Indonesian flag with airplane: © niyazz | Adobe Stock
Drone puzzle: composite, Susan Reed; drone background, pxhere CC-O Public Domain