---
Aiming to Eliminate Fatalities
The International Civil Aviation Organization (ICAO) has been asked by its member nations to take on "the pursuit of a new global target of zero aviation fatalities by 2030," ICAO Secretary General Fang Liu says.
Liu told the closing session of the ICAO 40th Assembly in early October that the zero-fatality goal could be advanced through compliance with the new Global Aviation Safety Oversight System (GASOS), adopted this year to "help augment safety cooperation and assist many states in terms of their aviation safety oversight, management and accident investigation capabilities."
ICAO said that several regional organizations had submitted positions to the Assembly that emphasized the benefits of GASOS plans for improving aviation safety.
The Assembly also expressed support for "the scope and value inherent in ICAO's capacity-building prioritization, both through its now 5-year-old No Country Left Behind initiative or the numerous programmes for technical cooperation training and other forms of assistance currently being delivered by the organization," ICAO said. The No Country Left Behind initiative represents ICAO's efforts to help national aviation authorities in implementing ICAO's standards and recommended practices (SARPs), with a goal of ensuring that all countries have access to safe and reliable air transport. The Technical Cooperation Programme involves bilateral meetings with national civil aviation authorities and international organizations to increase technical cooperation and compliance with ICAO SARPs.
The organization added that other safety-related plans include the upcoming update of ICAO's Universal Safety Oversight Audit Programme with modifications designed to increase the effectiveness of the safety audit and to continue its status "as the foremost means of establishing both a national and global perspective on effective civil aviation oversight."
---
FAA Reports ADS-B Milestone
The "final implementation milestone" of the U.S. Federal Aviation Administration's (FAA's) automatic dependent surveillance–broadcast (ADS-B) system, a component of the agency's satellite-based navigation program, has been completed, the agency says.
The FAA said that the last two airports to bring their ADS-B equipment online — Akron-Canton Airport and Mansfield Lahm Regional Airport, both in Ohio — began using the systems in September. The equipment is operational at a total of 155 U.S. airports.
"This brings the operational rollout of ADS-B baseline services to a successful conclusion, on schedule and within budget, well in advance of Jan. 1, 2020, the date by which aircraft flying in certain, controlled airspace must be equipped with the technology," the FAA said.
ADS-B is operational not only at airport air traffic control facilities but also at terminal radar approach control facilities, which handle air traffic around the country's busiest airports, and at en route facilities, which handle traffic at high altitudes.
The satellite-based ADS-B system provides more accurate information to both controllers and pilots than traditional ground-based radar systems. ADS-B also makes possible more accurate tracking of aircraft and airport vehicles on runways and taxiways; improves surveillance of air traffic in mountainous areas, over water and in other areas with "geographic challenges," the FAA said.
---
New Aviation Aid for Africa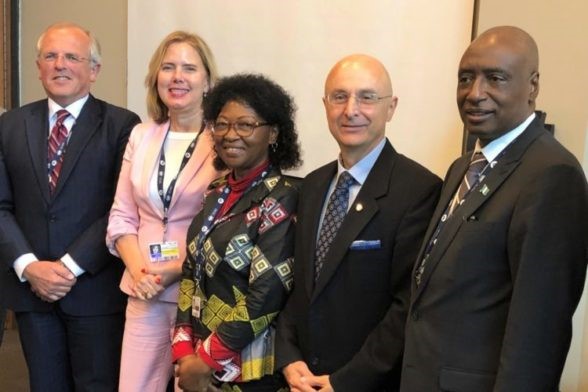 The European Union Aviation Safety Agency (EASA) says it has begun a program aimed at enhancing aviation safety in Africa by helping African nations establish effective aviation safety oversight.
The EU-Africa Safety in Aviation (EU-ASA) project will be managed by EASA under the Africa-EU Partnership and the Africa-Europe Alliance for Sustainable Investment and Jobs. The October announcement of the three-year effort to build a safety oversight system came as the Single African Air Transport Market (SAATM) was being established, EASA said.
Other project goals call for strengthening Regional Safety Oversight Organisations and helping the SAATM enhance aviation safety and security. EASA said that the primary beneficiaries of the program will be the African Civil Aviation Commission, the African Regional Safety Oversight Organisations and the Regional Accident and Incident Investigation Organisation. In addition, some African nations will receive direct assistance, EASA said.
The announcement of the program followed the September signing of an agreement between Flight Safety Foundation and the AviAssist Foundation calling for the two organizations to work together more closely to advance aviation safety in Africa. Plans call for the sharing of data and other information, organization of safety-focused events and conducting joint projects to promote safety.
Both announcements were preceded by the cancellation earlier this year of Safe Skies for Africa, a two-decade-old U.S. program designed to improved African aviation safety and security.
---
Drone Incident Protocol
Law enforcement authorities are often unsure how to best respond to drone incidents within their jurisdictions, according to a U.S. government watchdog agency that called on the U.S. Federal Aviation Administration (FAA) to develop a protocol for local law enforcement agencies in handling these incidents.
The conclusion was included in a report by the U.S. Government Accountability Office (GAO) on FAA efforts to ensure that operators of small drones — those weighing less than 55 lb (25 kg) — comply with relevant government directives.
"Most law enforcement stakeholders GAO met with (nine of 11) stated that officers may not know how to respond to UAS [unmanned aircraft systems, as drones are sometimes known] incidents or what information to share with FAA," the report said.
The report said that the FAA has emphasized the critical role that local authorities can play in enforcement of regulations governing drone operations. Nevertheless, the document added, "FAA has not consistently communicated this information to its law enforcement partners."
The report said that about half of the FAA safety inspectors who were interviewed told the GAO that they conduct regular outreach sessions with law enforcement agencies, but the other safety inspectors said their efforts have been limited.
"Without a clear approach to communicate to the tens of thousands of state and local law enforcement agencies across the country, FAA does not have reasonable assurance these agencies are armed with knowledge they need to help FAA identify and address unsafe UAS operations," the report said.
The FAA has said that it will continue its approach to oversight, with a focus on educating operators and targeting its surveillance activities, but the agency has not yet determined how to use existing data or whether additional data is required to evaluate their approach, the report said.
The report recommended that the FAA "develop an approach to communicate to local law enforcement agencies expectations for their role in UAS investigations and identify and obtain data needed to evaluate FAA's small UAS compliance and enforcement activities as the UAS environment evolves."
The report said that the FAA has agreed with the recommendations.
---
Commercial Pressure vs. Safety
The aviation industry must fight commercial pressures that challenge safety as the industry's top priority, experts told the European Union Aviation Safety Agency's (EASA's) recent annual safety conference in Helsinki.

In a summary of the two-day conference released by EASA, the agency cautioned that, although safety is widely established as the top priority, commercial pressures "can present a challenge to that focus."
EASA noted that Pekka Henttu, director general of civil aviation for the Finnish aviation agency Traficom, told the conference that compromises regarding safety could endanger public confidence in aviation safety.
"Commercial pressures. … We have to admit that they are present," Henttu said. "Aviation has to find a good balance between safety, security, environmental sustainability and the business side."
EASA said that several speakers cautioned that anticipated increases in the number of commercial flights will mean that more must be done to maintain the current safety record — with the number of fatal accidents decreasing over the past decade, despite several high-profile crashes in 2018 and 2019.
EASA Executive Director Patrick Ky said a key to increasing safety will be advances in technology such as the use of automation for non-critical operations.
---
Safety Rating Downgrade

The U.S. Federal Aviation Administration has downgraded the Civil Aviation Authority of Malaysia's (CAAM's) safety rating following a review that found the CAAM did not meet safety standards set by the International Civil Aviation Organization (ICAO).
The FAA said the downgrade to a Category 2 rating, announced in mid-November, means that the agency "is deficient in one or more areas, such as technical expertise, trained personnel, record keeping and/or inspection procedures." CAAM previously held a Category 1 rating, indicating compliance with ICAO standards for aviation safety oversight.
The downgrade to Category 2 means that Malaysian carriers may continue existing service to the United States but may not establish new service.
The assessment was conducted under the FAA's International Aviation Safety Assessment program, which regularly evaluates civil aviation authorities of countries with air carriers that fly to the United States, that have applied to fly to the United States or that participate in code-sharing agreements with U.S. airlines.
---
In Other News …
The U.S. National Transportation Safety Board says new data show that 393 people were killed in civil aviation accidents in the United States in 2018, a 13 percent increase from the 347 killed in 2017. The 393 fatalities included the first airline passenger fatality since 2009 — a passenger on a Southwest Airlines Boeing 737 who was partially ejected from the airplane after debris from an uncontained engine failure damaged a window. … Qantas and a team of sleep researchers are planning to conduct the last of three ultra-long-haul Project Sunrise research flights in December. The flight and previous flights in October and November are expected to yield new data on in-flight passenger and crew health and well-being. The sleep researchers are from Sydney University and Alertness, Safety and Productivity CRC.
Compiled and edited by Linda Werfelman.
---
You Must Be an FSF Member to Have Full Access to This Article