Carbon Monoxide Warning
Aviation maintenance personnel and pilots often underestimate the risk of carbon monoxide (CO) poisoning, according to the U.S. National Transportation Safety Board (NTSB), which has issued two safety alerts to increase awareness of the problem.
Safety Alerts SA-070 and SA-069, released in mid-September, defined CO, discussed its sources in airplanes with internal combustion engines and warned of the symptoms caused by exposure.
"CO is a colorless, odorless, tasteless gas byproduct of internal combustion engines and is found in exhaust gases," the safety alerts said. "Sufficiently high levels of CO in your bloodstream will lead to oxygen starvation and the onset of symptoms such as headaches, drowsiness, nausea or shortness of breath."
Leaky exhaust pipes or mufflers can allow CO to enter the cockpit, the alerts said.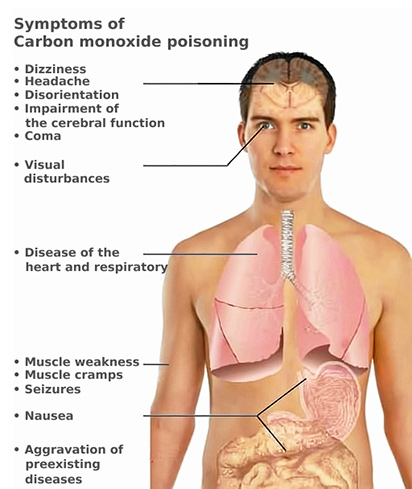 "Pilots often overlook or dismiss the onset of symptoms and don't connect them with the possibility of exposure to CO," the alert to pilots added. "Continued exposure increases risks to pilots, including impaired judgment and decreased ability to control the airplane and, eventually, incapacitation and death."
The alert to maintenance personnel cautioned that CO can enter an aircraft cabin through undetected cracks in exhaust and heater mufflers and tubes, unplugged holes in firewalls, degraded door and window seals, and leaks in air ducting.
The alerts cited several accidents that involved elevated levels of CO, including the May 30, 2015, crash of a Cessna 207 in Bethel, Alaska, U.S., during a post-maintenance test flight after the installation of a winter heat kit. The crash killed the 7,175-hour commercial pilot, the only person in the airplane, which was substantially damaged.
NTSB tests found a CO level of 21 percent in the pilot's blood, and the agency said the probable cause of the accident was the pilot's "failure to maintain altitude, which resulted in collision with the terrain." The pilot's impairment from CO exposure was cited as a contributing factor.
In the safety alerts, the NTSB advised maintenance personnel to thoroughly inspect exhaust systems, air ducting, firewalls and window and door seals during 100-hour inspections and annual inspections, and to check heater air inlet cockpit vents for soot, which can indicate the presence of CO.
Pilots were advised to install CO detectors and replace them in accordance with manufacturer guidelines and to check the exhaust system during preflight inspections for cracking at the ends of the muffler.
"During flight, if you believe you have been exposed to CO, don't hesitate to act," the alert to pilots said. "Early symptoms are vague and may involve a headache or nausea. Other symptoms include impaired judgment, disorientation or dizziness."
If signs of CO are found, the alert recommended opening the aircraft's windows, turning off the heat, landing as soon as practical and seeking emergency medical attention.
---
Stopping the Spread of Disease
Changing the way people move through airports and board commercial flights could help curb the spread of infectious diseases, including the Ebola virus, according to researchers from Embry-Riddle Aeronautical University (ERAU).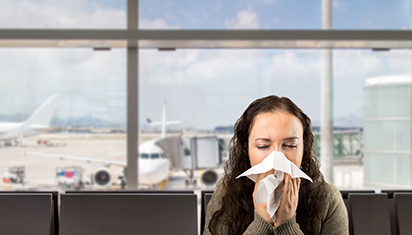 "We want to determine if there is anything we can do in terms of pedestrian flow that will reduce the spread of infection, said Sirish Namilae, an assistant professor of aerospace engineering, who is conducting the research along with Ph.D. student Pierrot Derjany.
ERAU said in mid-September that the researchers are trying to find better ways of moving passengers through airports.
Related research has found that the standard method of boarding passengers in three sections resulted in "a 67 percent chance that more than 20 new air travel-related infections could occur per month," ERAU said, referring to data from Africa's 2014 Ebola epidemic. That three-section plan means that the area is filled with passengers who are waiting to be allowed access to their seats.
The earlier research suggested, as an alternative, that a two-section strategy and random passenger boarding would reduce risks because passengers would be less likely to "cluster" in the aisles. In this case, the probability of 20 new infections decreases to less than 40 percent, ERAU said.
The researchers plan to use an ERAU supercomputer to analyze "how small changes in travel policies could also impact the spread of infectious diseases on a global scale," as well as how to ensure that any recommended changes would not disrupt travel or impose an economic burden on airlines, ERAU said.
---
Knowledge Shortfall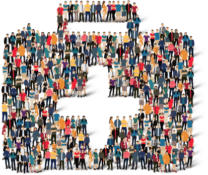 Most physicians lack basic knowledge about procedures for handling in-flight medical events, and this ignorance likely makes many medical personnel uncomfortable about volunteering to respond to a medical emergency during flight, according to a survey of community physicians in the United States.
A report on the survey, published in the September issue of the Aerospace Medical Association's Aerospace Medicine and Human Performance journal, said that of the 418 respondents, 64 percent said they were "not at all" aware of the protocols for handling in-flight medical events and 23 percent said they had "a little" knowledge. (Ninety percent of the respondents were physicians; the others were also medical professionals who held a variety of jobs.)
Although 73 percent believed that airlines were required to carry medical supplies, 54 percent said they did not know what supplies might be available, the report said, noting that although guidelines and minimal requirements exist for U.S. flights, airlines do not all carry the same equipment. Only 56 percent knew that automated external defibrillators (AEDs) are required on flights in the United States, and nearly half of respondents said they were either "not familiar" or "not entirely comfortable" with using an AED.
Only 38 percent knew that airplane cabins are pressurized to between 6,000 and 8,000 ft, and just 34 percent knew that syncope (fainting) is the most common in-flight medical event.
The report recommended increased efforts to familiarize physicians with the procedures that airlines have implemented for medical emergencies.
"Familiarity with these protocols and procedures may help the traveling physician when events are encountered," the report said. "In addition, real-time information support through portable apps and telemedicine may also improve the handling of medical events."
---
Fighting Delays at European Airports
Eurocontrol says it is working with the operators of 10 European airports to implement concepts intended to help the airports more efficiently handle capacity and throughput and to minimize delays.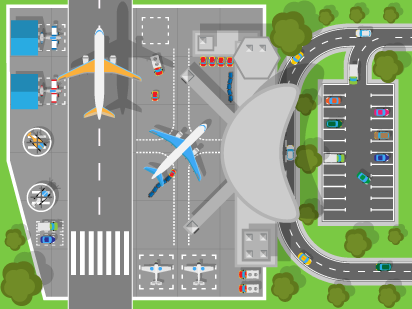 Two programs associated with the effort are Airport Operations Centres, which manages airport operations, and Airport Operations Plan, which Eurocontrol describes as "a rolling plan that covers the pre-tactical and tactical phases by providing dynamic data updates as an operational situation evolves."
Eurocontrol discussed the programs in mid-September, noting that they are expected to facilitate the timely exchange of relevant information between airports and the air traffic management (ATM) network, to improve operational performance by both airports and ATM and to improve situational awareness.
Participating airports are in Frankfurt, Germany; London (Heathrow); Paris (Charles de Gaulle and Orly); Amsterdam (Schiphol); Barcelona, Spain (El Prat); Madrid (Barajas); Palma de Mallorca, Spain; Brussels; and Stockholm (Arlanda).
---
Fuel Management Recommendations
Improved fuel management could prevent about 50 general aviation accidents a year in the United States, the U.S. National Transportation Safety Board (NTSB) says.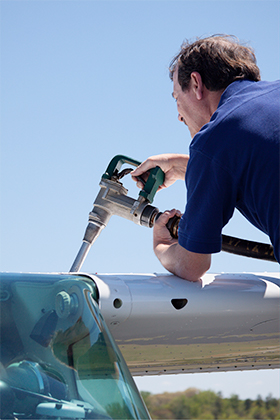 In Safety Alert 067, made public in late August, the NTSB warned general aviation pilots against relying exclusively on fuel gauges to assess the amount of available fuel. Instead, the safety alert said, pilots should visually check the amount of fuel in the tanks before takeoff.
Other recommendations called for understanding the workings of the aircraft's fuel system, planning a fuel reserve for each flight and refueling when necessary rather than trying to stretch the fuel supply.
The safety alert cited fuel mismanagement as the sixth-leading cause of general aviation accidents in the United States. The NTSB said that an analysis of general aviation accidents from 2011 through 2015 found that fuel exhaustion (in which an aircraft runs out of fuel) accounted for 56 percent of fuel-related accidents, and fuel starvation (in which fuel is in the aircraft's tanks but does not reach the engine) accounted for 35 percent.
Ninety-five percent of all fuel management–related accidents were associated with pilot error, while equipment issues contributed to the remaining 5 percent, the NTSB said.
Data showed that general aviation pilots with private pilot or sport pilot certificates were involved in half of the fuel-related accidents, those with commercial or air transport pilot certificates were involved in 48 percent of fuel-related accidents, and student pilots were involved in 2 percent. The NTSB characterized the findings as "counterintuitive," but added that "pilot complacency and overestimation of flying ability can play a role in fuel management accidents."
---
In Other News …
The U.S. Federal Aviation Administration (FAA) has revised airworthiness standards for general aviation airplanes to replace prescriptive requirements with what the FAA calls "performance-based standards, coupled with consensus-based compliance methods for specific designs and technologies." The agency says the move should speed the installation of new technologies in general aviation aircraft. … International experts in fatigue are reviewing the set of new fatigue rules that the Civil Aviation Safety Authority (CASA) of Australia plans to implement next year. Comments from the experts will "provide CASA with an informed basis for finalizing the reform" of fatigue and duty time rules, the agency said.
Compiled and edited by Linda Werfelman.
Image credits
Carbon monoxide symptoms: Intermedichbo and MagentaGreen | Wikimedia
Sick passenger: © cunaplus | Adobe Stock
Medical kit and people: © katty2016 | Adobe Stock
Airport: © robuart | VectorStock
Refueling:  © Cathleen | Adobe Stock
---
You Must Be an FSF Member to Have Full Access to This Article