---
R44, Drone Collide in Israel
A top accident investigation official in Israel is calling for a procedural review after an Aug. 14 collision involving a Robinson R44 on an agricultural spraying flight and a DJI Phantom 4 drone being used to map a construction area.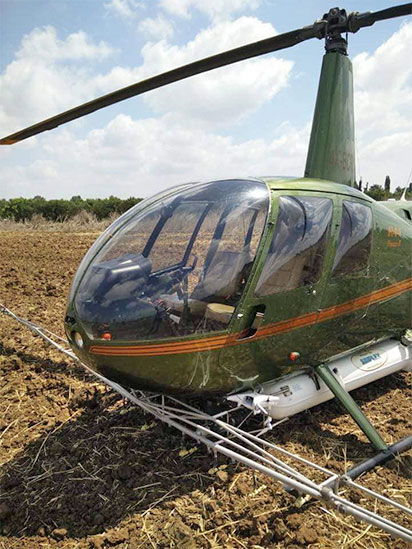 No one was injured in the collision near Petah-Tiqwa, according to a report by the Ministry of Transport and Road Safety's Office of the Chief Investigator — Investigation of Aviation Accidents and Incidents.
Both the R44 pilot and the Phantom 4 operator were properly licensed and "working in accordance to the aviation law and by the published regulations," the chief investigator's report said, adding that the integration of drone operations and conventional aviation has been a challenge. A review is needed, the report said.
The document said the collision occurred as the R44 pilot began his third spraying mission of the day at an orange field. At the same time, the licensed drone operator began mapping a construction area adjacent to the field.
"Around 11 a.m. local time, while the drone approached one of its site end corners, the drone operator noticed a helicopter maneuvering low and close to the ground (about 30 meters [98 ft])," the report said. "Immediately, he switched to manual control mode and lowered the drone towards the ground."
The Phantom 4 operator lost communication with the drone "and thought that it crashed either due to the helicopter slipstream or due to heavy landing after the initiation of the rapid/quick descent order."
Meanwhile, the R44 pilot saw "a white body at approximately 10 meters [33 ft] on his left side, followed by a 'bang' feeling that the pilot heard from his lower left side of the helicopter."
The helicopter pilot said the R44 flew normally after the collision and he felt no loss of power and no control problems, so he located a suitable landing site and conducted a normal landing. "After exiting the helicopter, the pilot assessed visually the helicopter and found the UAS [unmanned aircraft system, as drones are sometimes called] jammed and broken into the lattice spray system," the report said.
Maintenance personnel who arrived to inspect the helicopter found it airworthy and authorized its return to service, the report said. The report did not discuss the condition of the Phantom 4 but included a photo of the damaged drone.
---
A New Look at 'Two in the Cockpit' Rule
The Australian Civil Aviation Safety Authority (CASA) says that country's airlines should decide for themselves whether to continue to require two crewmembers in the cockpit at all times during flights — a requirement imposed in 2015, after the first officer of a Germanwings Airbus A320 intentionally flew the airplane into the ground.
All 149 passengers and crew were killed in that crash, on March 24, 2015, and the European Aviation Safety Agency (EASA) led civil aviation authorities around the world in adopting the rule for two crewmembers in the cockpit.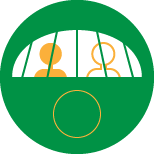 Now, however, CASA said, a review of the practice in Australia found "there were unintended consequential risks, including the second person in the cockpit potentially distracting the pilot, making inadvertent contact with cockpit switches and taking cabin crew away from their safety role in the cabin."
In a CASA Briefing published online in late July, the agency said, "Operators should take an operational approach to maintaining the so-called 'two in the cockpit' practice." CASA added that such an approach is in line with the position taken by EASA, which revised its guidance two years ago.
After the accident, Australian carriers operating aircraft with a seating capacity of more than 50 passengers agreed with the government to take a precautionary approach and to update and implement standard operating procedures to require two members of the operating crew or authorized persons on the flight deck at all times.
In a July 17, 2018, letter to the Australian Airlines Pilots' Association, Rob Walker, executive manager stakeholder engagement at CASA, said the agency has considered advice received from airlines and pilot unions recommending that the policy be rescinded to remove unnecessary risks.
CASA said that its aviation medical branch will continue to monitor pilot mental health and maintain a high level of awareness among pilots of mental health priorities and sources of assistance.
---
Crackdown on Disruptive Passengers
Airlines and law enforcement authorities should make better use of existing laws governing the behavior of airline passengers, the U.K. Civil Aviation Authority (CAA) said, citing data that show a four-fold increase between 2013 and 2017 in reported incidents involving disruptive passengers.
Data show that reports of disruptive passengers totaled 417 in 2017, compared with 98 reports filed in 2013. In 2018, by mid-August, 202 incidents had been reported.
"Drunken and abusive behaviour on an aeroplane is totally unacceptable," said CAA Director Richard Stephenson. "Not only does it upset everyone else, but it can also jeopardise flight safety. Criminal charges should be brought against offenders more often to act as a deterrent. Passengers need to know they will face the full weight of the law should they be found guilty of disorderly behaviour."
A charge of endangering the safety of an aircraft can result in five years of jail time, the CAA said. Fines and imprisonment also can be imposed for those found guilty of being drunk on board an aircraft, "acting in a disruptive manner," smoking and failing to obey the captain's commands.
---
New Plans to Tackle Weather Delays
Weather is the cause of about one-third of air traffic management–related delays in the European air traffic network, Eurocontrol says.
Eurocontrol said, in a statement issued in August, that climate change has made weather events "more intense and less predictable," with more intense rainfall and more severe storms.
Joe Sultana, Eurocontrol's director of network management, said that Americans are "much better organized in dealing with the weather than we are in Europe. They have much more experience because extreme weather phenomena are not uncommon in the United States."
Sultana said Eurocontrol officials plans to test some of the procedures that have been discussed with their U.S. counterparts, "starting with the obvious one — using a single, commonly accepted weather forecast for Europe on which to plan alternative scenarios. This will stop the arguments as to which of the 30-plus national meteorological service providers to use."
---
Pilot Performance, CO2 Level May Be Linked
A new study has identified what researchers say is a link between high concentrations of carbon dioxide (CO2) and decreased pilot performance.
In a report published in August in the Journal of Exposure Science & Environmental Epidemiology, researchers said that, knowing that higher-than-typical concentrations of CO2 adversely affect the cognitive function performance of office workers, they wanted to determine whether pilots' functioning would be similarly affected.
The study asked 30 commercial airline pilots to fly three three-hour flight segments, including maneuvers of varying complexity, in a flight simulator with a different CO2 concentration for each flight segment — 700 parts per million (ppm), 1,500 ppm and 2,500 ppm.
"The pilots … were assessed by a [U.S. Federal Aviation Administration] FAA designated pilot examiner according to FAA Practical Test Standards," the report said. "Compared to segments at a CO2 concentration of 2,500 ppm, the odds of passing a maneuver as rated by the examiner in the simulator were 1.52 … times higher when pilots were exposed to 1,500 ppm and 1.69 … times higher when exposed to 700 ppm, controlling for maneuver difficulty, examiner and order of maneuvers."
The findings "suggest that there is a direct effect of carbon dioxide on performance, independent of ventilation, with implications for many other indoor environments that routinely experience CO2 concentrations above 1,000 ppm," the report said.
---
FAA Grants Nearly 2,000 Waivers to Drone Operators
U.S. drone operators have been granted nearly 2,000 waivers to operate outside the rules established by the U.S. Federal Aviation Administration (FAA), according to a count by the Association for Unmanned Vehicle Systems International (AUVSI).
Of the nearly 2,000 waivers, 92 percent give operators permission to fly their drones (also known as unmanned aircraft systems or unmanned vehicle systems) at night, AUVSI said in late August. Night flights are prohibited under Federal Aviation Regulations Part 107, which also requires drones to be flown no higher than 400 ft and within the operator's visual line of sight.
First responders alone have been issued about 200 waivers, AUVSI said, adding that 90 percent were issued to small businesses.
AUVSI President and CEO Brian Wynne noted that more than 17,000 platforms have been registered in the United States for commercial purposes and more than 100,000 people have been issued remote pilot certificates.
---
In Other News …
The U.S. Federal Aviation Administration (FAA) has reiterated its warning to drone operators that flying near a wildfire constitutes a distraction and a collision hazard for pilots of firefighting aircraft. Penalties for drone operations near wildfires could total more than $20,000, the FAA says. … The European Aviation Safety Agency (EASA) says it is developing plans to make general aviation safer, simpler and more affordable with less costly aircraft and a new emphasis on sharing flights as well as airspace. The plans will be unveiled at EASA's annual safety conference in November in Vienna.
Compiled and edited by Linda Werfelman.
---
Image credits
Robinson R44: Israeli Ministry of Transport and Road Safety's Office of the Chief Investigator — Investigation of Aviation Accidents and Incidents
Missing pilot: Susan Reed
Angry passenger: illustration, Susan Reed; angry man © Zhitkov | VectorStock; seat and window: © KΛPKLΛM | The Noun Project CC-BY
Weather map: © Tawng | VectorStock
Drone operator: © skypicstudio | VectorStock