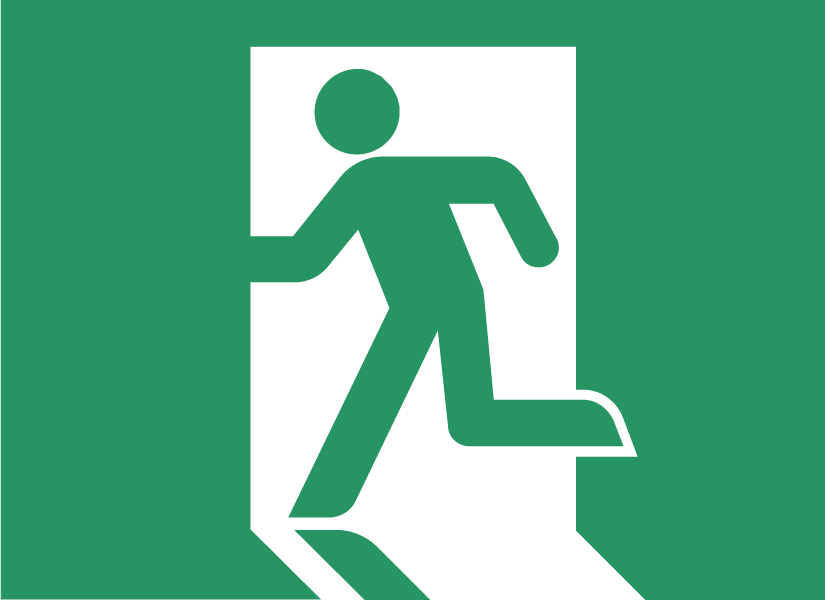 Conflicting interpretations of the symbols that are used to show airline passengers how to leave the aircraft in case of an emergency could create a "deadly scenario," researchers say.1
In a report released in August by the U.S. Federal Aviation Administration (FAA) Civil Aerospace Medical Institute (CAMI), FAA researchers examined wayfinding — the technology of communication about paths of travel by using "various active and passive2 modes of communication, such as lights, tactile objects, audio signals and computer-based technology to include virtual environments and augmented reality" — to identify the best ways to use internationally recognized symbols to indicate an escape path.
"This is proving to be difficult due to the meanings one culture places on certain symbols and how those differ among cultures," the researchers said in the report, titled Wayfinding Technology and Its Application to Transport Category Passenger Airplanes. "In an era of worldwide travel, this could create a deadly scenario as a passenger is attempting to egress from an aircraft in a dangerous situation, such as a fire, and misinterprets the available wayfinding symbology."
They added that their eventual goal is to limit the misinterpretation of wayfinding signals.
Wayfinding is one aspect of all human travel, the researchers said, and includes such elements as the layout of routes that people navigate — from forest pathways and building hallways, to roads between cities, and airplane egress routes. Wayfinding technologies include the "signs, symbols and signals people use to orient themselves," the report said, pointing to roadway markers and directional signs as well as placards and exit signs.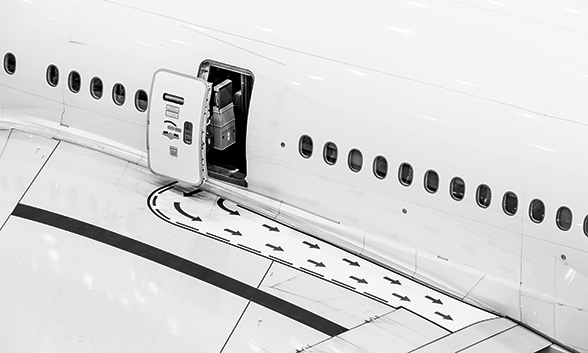 "In sum, wayfinding may be seen as a dynamic interaction of humans and technology that, because of the increasing number of travelers and expansion of the number and types of vehicles and potential destinations, demands an ever-growing array of information and presentation technology to yield a safe and successful journey."
In the United States, the need for wayfinding assistance for passengers involved in transport aircraft emergencies was recognized in the 1950s, when the Civil Aeronautics Board, a precursor to the FAA, began requiring exit signs that were lighted by a source independent of the aircraft's main electrical system.
"Since that time, numerous emergency occurrences and advances in technology [have] prompted the development of improved methods and materials to support wayfinding," the report said.
The report noted that in aircraft emergencies, passengers rely primarily on their vision to find a way out of the aircraft; however, vision usually is the first sense to be impaired by smoke and fumes. Earlier research determined that when that impairment occurs, individuals can lose up to 83 percent of their wayfinding ability.
"In such situations, normal vision must be augmented by wayfinding technology or vision 'substitutions' in order for passengers to navigate the dangerous situation and effect rapid evacuation," the report said. "The sensory information … to support these activities is available from a variety of sources and wayfinding technology."
Emergency Lighting
An aircraft's emergency lighting system provides the primary support for wayfinding during an emergency, and U.S. Federal Aviation Regulations Part 25.812 requires that aircraft with more than 10 passenger seats be equipped with "emergency lighting independent of the main lighting system, floor proximity escape path marking, illuminated emergency exit marking and locating signs and exterior emergency lighting."
In addition, Part 25.811 calls for transport category airplanes to have some method of helping occupants locate the exits in case of dense smoke. Because visibility beneath the smoke layer typically is not impaired, floor proximity escape path marking is designed to "provide evacuation guidance for passengers when all sources of illumination more than 4 ft [1 m] above the floor are obscured by dense smoke, enabling passengers to visually identify the escape path and each exit, relying solely on the markings and visual features that are less than 4 ft above the cabin floor," the report said.
The FAA has approved a number of combinations of lighting — including flood lighting, markers, signs and reflective materials — that meet its performance requirements for that purpose, the report said.
Among the active lighting systems,2 earlier research identified several drawbacks to using incandescent lamps, including their relatively high power needs and their susceptibility to damage from vibration. Light-emitting diodes (LEDs) use less power, last longer and are less susceptible to vibration-related damage. Incandescent bulbs and LEDs both have been used in "pulsed and chasing light systems … that give the illusion of movement to indicate the direction to an emergency exit," the report said.
However, researchers concluded in the 1970s that most participants in research experiments involving the pulsed systems "would not follow the directional cues, unless instructed to do so, heading instead in the direction of the door by which they had entered the cabin." When spoken instructions accompanied the pulsed lighting, the number of wrong turns made en route to an exit decreased, and the time required to prepare the exit was reduced by more than 50 percent, the report said.
Electroluminescent lamps,3 typically used in flexible plastic strips, are visible in smoky conditions and withstand shock and vibration — qualities that suit them for use in escape path marking, the report said.
In recent years, changes in active lighting systems have increased their reliability, the report said. Nevertheless, the document added that advances in passive lighting, especially those using photo-reactive materials, have boosted their popularity in transport airplane exit marking systems.
Glow-in-the-Dark Technology
Photoluminescent materials — those that absorb light energy from their surroundings and release the stored energy later, typically when other sources of light are unavailable because of a power failure — can provide escape path lighting for up to 16 hours.
In most cases, they are installed on the cabin floor as narrow strips of photoluminescent material; they are charged by their exposure to cabin lighting and natural light that enters the cabin when window shades are open and discharged later, in the form of glow-in-the-dark strips along the cabin aisle. Usually they are installed as single strips that change color at the overwing exit rows and that turn toward the opening at floor-level exits; and they are paired with lighted signs installed at heights of less than 4 ft at each exit.

'Green Man Running'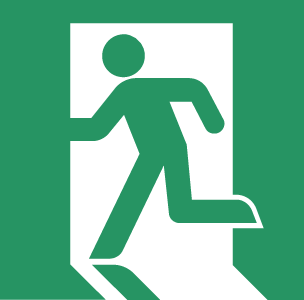 Exit signs are the primary tool for notifying passengers of where to exit an airplane in an emergency, and regulations are intended to ensure that they are recognizable from a distance corresponding to the width of an airplane cabin. These signs often include the word "EXIT" in English and in another language, or the addition or substitution of symbolic exit signage, such as the "green man running," the report said.
"The intent is to provide language-independent signage identifiable across cultures throughout the international aviation domain."
Earlier studies found that graphics such as the green man running "are more easily understood by the aviation industry professionals who created them, whereas the naïve passenger, for whom the information is intended, has a lower level of comprehension," the report said. "These findings highlight potential limitations with using novel representations to convey wayfinding (and other safety) information (i.e., making sure that the intended users are provided information they can understand, which may require that the information is paired with other displays or augmented by training and/or repeated experience)."
When symbols such as the green man running were accompanied by specific passenger briefings and descriptive information on a safety briefing card, the result was a level of safety equivalent to that of the "EXIT" sign, the report said.
The document cited research examining motorists' reactions to the recent trend of adding LEDs to other signs to "take advantage of the attention-grabbing aspect of flashing lights." The addition of the flashing lights increases sign conspicuity but also makes the signs more difficult to read, the research concluded. Airplane escape path marking systems do not use flashing lights on markings or locator signs, the report said.
Minimal Changes
Because regulations prescribe the requirements for lighting, signage and escape path marking systems, other technologies, including the green man running, have been permitted only if they can be certified as providing an equivalent level of safety, the report said.
"As such, unique or novel technological innovations have often gone wanting when it comes to certification for use aboard transport category airplanes, resulting in a state of the art that has only changed minimally over the last few decades," the report added. "The advent of escape path marking systems in the 1980s was the last major advancement, with subsequent changes from incandescent bulbs to LEDs and red 'EXIT' signs to the green man running symbolic signs representing minor evolutions in on-board wayfinding aids for passengers."
In recent years, new wayfinding technologies have developed, with "various implementations … [that] offer a range of approaches now familiar to anyone with a computer, smart phone or interactive electronic gaming device," the report said.
Although these new methods — including laser technology, virtual environments and augmented reality — have many advantages, not all are appropriate for use in transport category airplanes, the report said. For example, it noted that while laser beams become brighter as smoke becomes thicker, the beams also present hazards to vision that make it unlikely that they will be used to provide escape path guidance; and while augmented reality has been used in head-up displays and other systems to improve navigation, its use in transport category airplanes would require large investments.

In earlier research, combining existing escape path lighting systems with auditory warnings — in the form of human-like voices calling "exit here" or "this way out" — improved evacuation times, but scientists have found no reliable way to "tune" the wayfinding system logic to identify an exit that has become unusable and then to direct passengers to another exit, the report said.
Paying Attention
Overall, however, research has shown that passenger knowledge is crucial in determining how quickly and safely a passenger evacuates from an airplane in an emergency.
"The airplane passenger who has paid attention to the safety information available, who is familiar with the configuration of the airplane cabin and who has developed a plan for what he or she would do to get out of the airplane in a hurry would be better able to handle an emergency situation and would be better prepared to utilize the wayfinding system that has been provided for safe and rapid evacuation," the report said.
This is one area in which virtual environments, augmented reality, "serious games" (simulations of real-world scenarios that have been designed to train individuals, not simply to provide entertainment) and related technologies have potential, the report said, noting that they "present a most promising means to overcome the challenges of passenger apathy and to promote passenger safety awareness, knowledge and survival skills."
Notes 
Paskoff, Lawrence N.; Weed, David B.; Corbett, Cynthia N.; McLean, Garnet A. DOT/FAA/AM-15/14,

Wayfinding Technology and Its Application to Transport Category Passenger Airplanes

. August 2015.

Active

lighting systems are those that require a power source to provide illumination.

Passive

systems emit light energy collected from their surroundings and require no other power source.
The report describes electroluminescent lamps as being "made up of flat conductors and a layer of dialectric-phosphor that emits a field of light, rather than a point source, when a high-voltage alternating current is applied across the conductors."