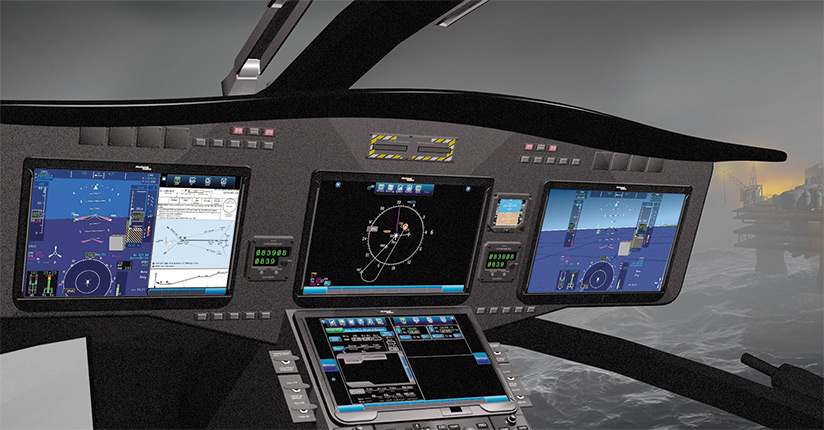 Fifteen "highly promising" technologies, including Enhanced Ground Proximity Warning Systems (EGPWS) and moving map displays, have the potential to mitigate most major safety issues plaguing helicopter operations worldwide, according to a team of European helicopter safety specialists.
The European Helicopter Safety Team (EHEST) recommended — in a study published by the National Aerospace Laboratory of the Netherlands (NLR), with results released in October 2014 — that the industry should "channel … technological development in line with the results of the study."1
The EHEST is the European component of the International Helicopter Safety Team (IHST), which was established in 2005 and quickly stated a goal of reducing the worldwide helicopter accident rate by 80 percent by 2016 (see "U.S. Helicopter Accident Rates Down in 2014"). EHEST says it is committed to that goal, with an emphasis on improvements in European helicopter safety. Toward that end, EHEST has created two teams — the European Helicopter Safety Analysis Team (EHSAT) and the European Helicopter Safety Implementation Team (EHSIT); in turn, an EHSIT sub-team, Specialist Team (ST) Technology, was established in 2011 to evaluate the accident-mitigation potential of new and existing technologies.
"Technologies can provide a variety of solutions that can (directly or indirectly) address the safety issues … and that can contribute to prevent different types of accidents or to increase survivability," the report on the study said. "The main goal of the team is to list technologies and link them with incident/accident causes and contributing factors as identified in the EHSAT analyses."
Researchers developed a technology matrix — a color-coded tool to aid in determining which technologies can be used to best address specific safety problems.
Identifying Issues
The study began with an examination of the top 20 safety issues, also known as standard problem statements (SPSs), identified by EHSAT through its analyses of more than 300 European helicopter accidents from 2000 through 2010 (Table 1).
Table 1 — Top 20 Safety Issues
Rank
Safety Issues
Number of Occurrences
Source: European Helicopter Safety Team and National Aerospace Laboratory of the Netherlands (NLR)
1
Pilot judgment and actions – human factors pilot's decision
64
2
Pilot situation awareness – external environment awareness
38
3
Ground duties – mission planning
35
4
Pilot judgment and actions – flight profile
31
5
Part/system failure – aircraft
30
6
Unsafe acts/errors – skill-based errors
29
7
Safety management – inadequate pilot experience
28
8
Unsafe acts/errors – judgment and decision-making errors
27
9
Pilot judgment and actions – procedure implementation
26
10
Mission risk – terrain/obstacles
26
11
Pilot judgment and actions – landing procedures
25
12
Safety management – management
23
13
Maintenance – maintenance procedures/management
23
14
Regulatory – oversight and regulations
23
15
Preconditions; condition of individuals – cognitive factors
22
16
Pilot situation awareness – visibility/weather
20
17
Aircraft design – aircraft design
19
18
Maintenance – performance of maintenance duties
19
19
Preconditions; condition of individuals – psycho-behavioural factors
19
20
Regulatory – accident prevention
18
Total number of occurrences
545
At the top of the list was "pilot judgment and actions–human factors pilot's decision," which was cited in 64 occurrences.
The report included descriptions of each of the top 20 SPSs, "so as to give insight into what is included in each one," and a brief narrative of a typical accident scenario in which the SPS was a major issue, the document said.
For example, the description of "pilot judgment and action–human factors pilot's decision" acknowledges the importance of human factors and decision making in accident prevention, along with other factors, among them resource management; paying attention to "cues that should have led to termination of current course of action"; adhering to aircraft limitations, rules and procedures; and awareness of personal limitations and capabilities.
The accident scenario for that SPS described what happened as a commercial helicopter pilot flew a passenger "on an air taxi flight to a remote site in an area surrounded by snow-covered, flat, featureless terrain. Low fog, reduced visibility and flat-light conditions reduced his ability to discern a horizon or terrain. The pilot elected to make a precautionary landing to wait for better visibility. After about 10 minutes, he decided to continue flight. After takeoff, flat-light conditions again reduced ability to recognize topographical features on the snow-covered terrain. He reported that in attempting to establish a stable hover, and erroneously believing that the helicopter was not moving, the right skid struck the snow-covered terrain. The helicopter rolled onto its right side."
Another SPS was "part/system ­failure–aircraft," which the report said often can be attributed to "inadequate design, manufacturing defects, overstressing, poor maintenance or lack thereof, lubrication starvation or external influences … like lightning strikes or bird strikes."
The accompanying accident scenario said that during cruise, "the pilot lost control of the helicopter, and an uncontrolled forced landing was made onto the top of a two-story industrial warehouse. The pylon-mounted actuator support assembly had separated from the transmission case. All of the studs showed progressive fatigue cracking from multiple origins."
A third SPS, identified as "safety management–management," noted the problems that can arise from a lack of oversight and described the following accident scenario:
Due to a blackout on an offshore platform, it was decided to evacuate a number of persons by means of a SAR [search-and-rescue] flight. The captain of the helicopter did make an assessment, concluded that there was no need to dispatch a SAR flight but decided otherwise. The SAR helicopter used for the evacuation had only four passenger seats for 13 passengers and therefore was inadequately equipped for the mission. During the return flight, the cockpit crew reported engine speed fluctuations and experienced controllability problems and decided to make an emergency landing in the North Sea.
Identifying Technologies
Having identified the safety issues, the researchers proceeded to identify technologies having the potential to improve helicopter safety. They developed three categories: new technologies, existing technologies not yet in use in helicopters and existing technologies being used in large helicopters but not small ones.
By mid-2014, researchers had identified 145 individual technologies and grouped them into 11 categories (Table 2). These are the categories, with the number of associated technologies in parentheses:  aircraft design (9), avionics (25), crashworthiness (10), data monitoring (8), dynamic system (9), maintenance (7), operational support (2), situational awareness (50), vibrations (4), workload (4) and other (7).
Table 2 — Overview of Rated/Non-Rated Technologies
Technology Category
Total
Rated
Non-Rated
Percent Rated

Source: European Helicopter Safety Team and National Aerospace Laboratory of the Netherlands (NLR)

Aircraft design
9
6
3
67
Avionics
25
9
16
36
Crashworthiness
10
6
4
60
Data monitoring
18
17
1
94
Dynamic system
9
2
7
22
Maintenance
7
3
4
43
Operational support
2
1
1
50
Other
7
5
2
71
Situational awareness
50
39
11
78
Vibrations
4
2
2
50
Workload
4
3
1
75
(For information only)
(4)
(0)
(4)
Totals
145
(149)
93
52
(56)
64
The researchers then reviewed the technology database to determine which technology would be "most advantageous" in confronting each safety issue, scoring each technology, on a scale of 0 to 5, on two rating elements:
Impact, defined as "a measure of how well the particular technology can mitigate the specific SPS." The five-point scale ranged from 0 (none) to 5 (completely effective).
Applicability, described as "the measure indicating whether the technology can be utilized for a specific SPS (taking into account its TRL [technology readiness level]) and against what (relative) cost." The scale ranged from 0 ("not applicable now, nor in the (near) future" and 1 ("not applicable now, possibly in the future" [longer than five years]) to 4 ("applicable now [TRL greater than or equal to 8] at relative high cost" and 5 ("applicable now [TRL greater than or equal to 8] at relative low cost"). The difference between "relative high cost" and "relative low cost" was not defined.
The scores for the two rating elements were added together to determine the likelihood that each specific technology would aid in accident prevention. For any specific technology, if the rating for either element was 0, the overall score became 0.
A total score from 0 to 3 was considered "not or slightly promising," and assigned a color code of red, the report said. A score of 4 to 6 was "moderately promising," and color-coded orange, and a score of 7 to 10 was "highly promising" and color-coded green.
Of the 145 technologies that had been identified when the report was released, 93 (or 64 percent) had been rated, the report said. Of those that were unrated, some were more than eight years old and the TRL was unknown, and others lacked the information to enable a rating, the report said.
Of the 11 technology categories, five each were considered highly promising or moderately promising; only one was classified as either not promising or slightly promising.
When percentage scores for the categories were considered, the highest score — 94 percent — was for data monitoring, while the lowest score — 22 percent — was for dynamic system.
Usability
After the scores were calculated, a safety matrix tabulation sheet was used to show which technology best addresses a specific safety problem (Figure 1).
Figure 1 — Screen Shot of Rating Page in Matrix Tool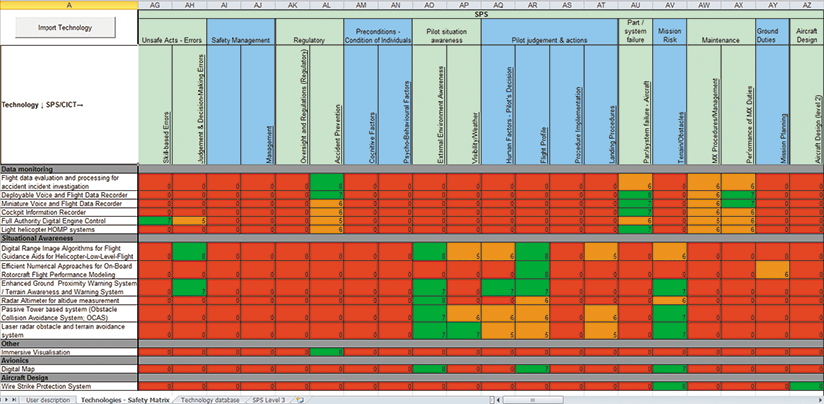 Note: Color coding indicates likelihood of accident-prevention benefits from specific technologies. Green indicates "highly promising," orange indicates "moderately promising," and red indicates "not or slightly promising." (Click on image to view enlarged version.)
Source: Source: European Helicopter Safety Team and National Aerospace Laboratory of the Netherlands NLR
"This can easily be determined by identifying the technology/­technologies with the highest ratings associated with a specific SPS," the report said. "By scanning the coloured cells, one can easily identify the highest-rated technologies. This has the clear benefit of identifying specific technologies with the highest potential in mitigating a certain [issue] (or the most) safety issues."
The matrix tab sheet also shows the area or areas that would benefit most from a new technology.
"If a new technology is introduced, it is predominantly aimed at a specific problem," the report said. "By rating this technology against the top SPSs, it could become clear that the technology also can be used to mitigate other (lesser known) safety issues. For instance, a manufacturer has developed a sensor aiming to mitigate visibility/weather-related problems. Through this rating system, other safety issues can come to light that, to a varying degree, could be mitigated by this sensor (e.g., mitigate unsafe flight profiles and aid landing procedures.)"
In addition, the matrix can be used to illustrate which safety issues are not sufficiently addressed by technology, the report said. "Once the matrix is filled with rated technologies, safety issues lacking (technological) mitigation means stand out as a result of the colours used. Once these blanks are identified, manufacturers, research organisations and [the like] can be supported to address these specific safety issues. This could create new incentives and justification to perform research and to develop mitigating technologies."
'Most Promising'
Of the 15 technologies categorized as highly promising, six each were in the categories of data monitoring and situational awareness. Three categories — aircraft design, avionics and other — each had one highly promising technology.
At the top of the list was EGPWS (or, generically, a terrain awareness and warning system [TAWS]), which the report said could be useful in mitigating five SPSs: pilot judgment and actions–human factors pilot's decision, pilot situation awareness–external environment awareness, pilot judgment and actions–flight profile, unsafe acts/errors–­judgment and decision-making errors, and mission risk–terrain/obstacles.
Four other technologies also were singled out for their potential to mitigate three or more SPSs each:
Digital range image algorithms for flight guidance aids for low-level flight;
Laser radar obstacle and terrain avoidance systems;
Moving map displays; and,
Deployable voice and flight data recorders.
Most Beneficial
The report also combined the rating values with the ranking orders of the SPSs to determine which technologies would be most beneficial to the highest-ranking SPSs.
"Each individual SPS will appear a number of times in various accidents, which number can be expressed as a percentage of the total number of appearances (being 545)," the report explained. "The technologies being the most beneficial to the highest-ranking SPSs should get a higher score than the other ones."
To determine each individual technology's score, its rating value was multiplied times the percentage appearance of its SPS — for example, 8 x 0.07, when the rating for an SPS was 8 and that SPS represented 7 percent of appearances — and then the results for that technology across all SPSs were added together.
Using that method, the report identified the top technology as digital range image algorithms for flight guidance aids for helicopter low-level flight, followed by EGPWS/TAWS, passive tower-based obstacle collision avoidance system, testing of new terrain-following guidance algorithms for rotorcraft displays and laser radar obstacle and terrain avoidance system.
Future Potential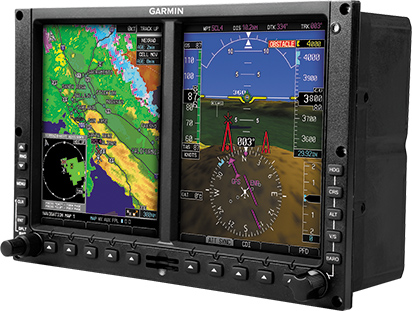 Another section of the report identified a number of lower-scoring "orange" technologies still being developed that might have an impact on safety in the near future. For example, the report cited "structural health monitoring sensing devices," "high-frequency vibration monitoring for engines," "intuitive display to minimize the workload" and "new terrain-following algorithms specific to rotorcraft navigation."
Three SPSs were not matched with any promising technologies. Those three were safety management–management; regulatory–oversight and regulations; and preconditions, condition of individuals–psycho-behavioural factors. Nevertheless, the report added, "It cannot be ascertained that all potentially relevant technologies are identified. … This means that it cannot be stated that there are no technologies for these issues. Furthermore, not having identified a potential promising technology is not necessarily a negative aspect, as other means of mitigation could very well be possible (or already in place). These mitigations could be found in aspects as regulations, training operations, maintenance, etc."
Constant Updating
Overall, as noted, the study found that the 15 "highly promising" technologies could mitigate 11 of the top 20 safety issues. An additional 50 technologies were classified as "moderately promising."
Technological advances in the future, and the possibility that additional accident analyses might result in new rankings of safety issues, mean that the matrix tool should be constantly updated, the report said. The document also recommended that the study's results should be disseminated as widely as possible throughout the helicopter community.
"Then it is up to that community to pick up the challenges to improve safety through the use of technologies," the report said, adding that the challenge of how the technologies should be used "lies within the industry. …
"The industry is highly recommended to channel their technological development in line with the results of the study. The regulatory side should find ways to improve safety by adopting the technologies. Researchers and universities are encouraged to concentrate their efforts on developing the lacking and low-TRL technologies."
Note
Stevens, J.M.G.F; Vreeken, J.

The Potential of Technologies to Mitigate Helicopter Accident Factors — An EHEST Study,

NLR-TP-2014-311. Oct. 16, 2014.
Featured image: © Rockwell Collins
Avionics display: © Garmin