I recently had the privilege of being invited to attend and make a presentation at a United Nations Aviation Safety Seminar in Brindisi, Italy. The seminar was held for U.N. Department of Field Support personnel and also was attended by representatives of a number of aircraft operators that provide contracted services to the United Nations.
Most of the attendees were field personnel from various U.N. missions, many of which are located in dangerous parts of the world. What is apparent is the dedication of these people to their work in support of the humanitarian effort in truly challenging environments. Their activities bring new meaning to the word "risk" and to the definition of "hostile environment."
Aviation security is an integral part of the operational risk equation, and risk management is a broad and complex issue that requires careful and constant oversight by many people who support aviation activities in mainly remote environments.
Although these aircraft are used for humanitarian purposes, they are seen as a legitimate target by many self-­interested groups, and they have come under attack. A number of aircraft have been shot down. Both fixed-wing and rotary-wing aircraft have come under fire, with the latter being particularly susceptible to the risk of attack from surface-to-air weapons and small arms. Some operators have installed equipment in their aircraft to mitigate this risk.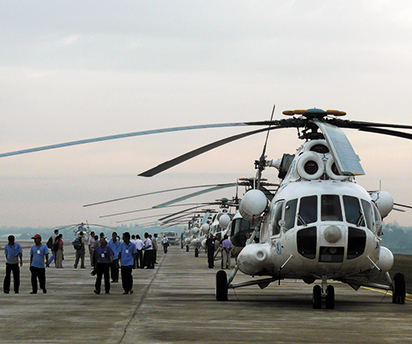 These operations face many challenges, and it is clear that infrastructure is often very basic, at best. Airports are often congested, with U.N. aircraft vying for space along with humanitarian, commercial and military aircraft. Terminal facilities in some areas are nonexistent, with trees serving as landmarks for check-in or boarding locations. Runway surfaces may be both sealed and unsealed and in various stages of degradation.
Airspace may be controlled by the military, often in a piecemeal fashion and mainly to support military operations. Most airspace, though, is uncontrolled, often congested and without adequate radio procedures to enhance the situational awareness of flight crews; these factors compound the risk of traffic conflicts. Added to this is the increasing use of remotely piloted aircraft — often without action to notify other airspace users.
Regulatory oversight in many of these countries varies and is often poor to nonexistent. As a result, it is difficult to determine how thoroughly aircraft operators are evaluated before receiving air operator certificates, and in ongoing reviews.
Although modern types of aircraft are being used, the fleet also includes a significant number of older aircraft, particularly Eastern-built types. This leads to two key problems. First, some of these aircraft cannot be retrofitted with modern technology such as the terrain awareness and warning system, a key risk mitigator against controlled flight into terrain, and the traffic-alert and collision avoidance system, which helps prevent aircraft collisions, particularly in congested airspace. Second, there is the issue of aging aircraft and their management, which is especially difficult for certain aircraft types, many of which are used for U.N. support.
Despite all the risks, it is clear that the United Nations has embraced the safety management system ethos throughout its activities, and this was demonstrated throughout the seminar, both by the United Nations itself and by the aircraft operators that were present.
The author is Flight Safety Foundation's vice president, global programs, and managing director of its Basic Aviation Risk Standard (BARS) program.
image: © Neryl Lewis, RRT | Wikimedia CC-BY 2.0