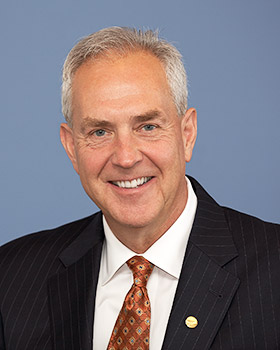 As 2015 ends and 2016 begins, I want to take this opportunity to express my appreciation to all the individuals and organizations that made this past year so successful for Flight Safety Foundation. Every day, we are inspired by your dedication to the cause of aviation safety around the world and across all sectors of the industry.
In many ways, 2015 has been a remarkable year for the Foundation. We began the year working to get our Global Safety Information Project (GSIP) off the ground, and we ended it with a move from a building scheduled for redevelopment into new, more comfortable and modern offices in Alexandria. In the intervening months, we published 10 issues of  AeroSafety World, held two safety summits — the Business Aviation Safety Summit (BASS) and the International Air Safety Summit (IASS) — co-hosted the Safety Forum in Brussels with Eurocontrol and the European Regions Airline Association, and organized three days of safety events in Singapore in conjunction with the Singapore Aviation Academy.
Our team traveled tens of thousands of miles to conduct day-long focus group sessions in 12 cities across the Asia Pacific and Pan America regions as part of GSIP, and briefed multiple audiences on the importance of safety data collection, processing and sharing in locations ranging from Washington, to Georgetown, Guyana, to Bangkok. The Basic Aviation Risk Standard (BARS) program office in Melbourne, Australia, continued to grow and has now conducted well over 300 audits. Closer to home, we hosted a networking dinner in Washington in July, with U.S. National Transportation Safety Board Member Robert Sumwalt as keynote speaker, and sponsored a Newsmaker Breakfast in October at which U.S. Federal Aviation Administration (FAA) Administrator Michael Huerta outlined FAA's new compliance philosophy.
We see 2016 shaping up to be just as eventful. GSIP will be a top priority all year, as we continue our research; launch online discussion groups; develop tool kits around safety data collection, analysis and sharing; and host numerous two-day workshops to brief the tool kits and get feedback. BASS 2016 is scheduled for May 5–6 in Austin, Texas, and IASS 2016, which will be hosted by Emirates, is slated for Nov. 14–16 in Dubai. We also hope to see you in March at our Singapore Aviation Safety Seminars (SASS), scheduled for March 14–18 at the Singapore Aviation Academy, and June 7–8 in Brussels for the 2016 Safety Forum. IASS and BASS are the premier safety events of the industry calendar year, and SASS and the Brussels Safety Forum quickly are becoming standards as well.
The FSF staff, working with our members and other industry stakeholders around the world on big projects and small, strives every day to make aviation safer. Our work is made possible by our members, so to them I offer the sincerest of thank yous. I also want to thank our small but dedicated staff here in Alexandria and in Melbourne for all of their efforts, and to urge them to have a good rest over the holidays. We're going to hit the ground running in January.