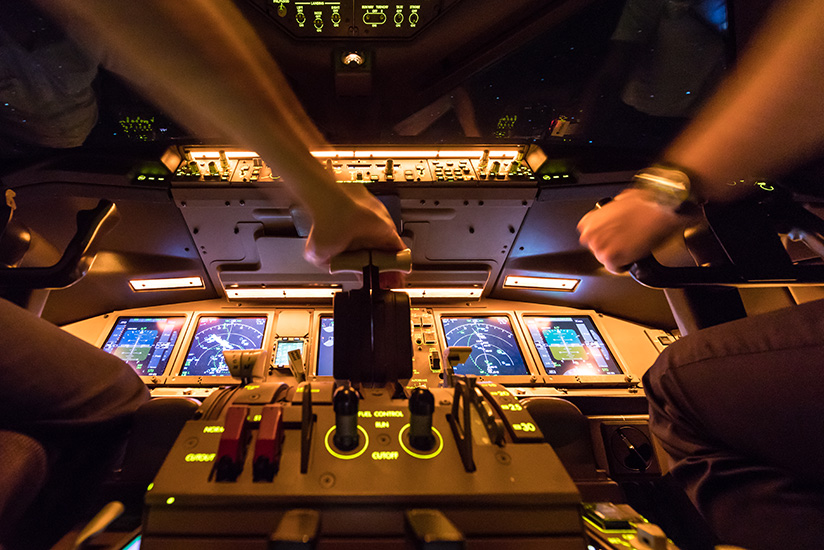 Flight training development is a key activity of continuous improvement in aviation safety performance, and it is part of a wider process of training design that also includes the analysis of training needs, the definition of syllabuses, the delivery of training, and its evaluation of training programs. Indeed, flight training development is the cornerstone of training design. The purpose of flight training development is to generate the plan of flight training scenarios, and it is crucial for a positive implementation of the training goals. For a long period, flight training development has revolved around a more or less predetermined list of training items to be accomplished in a simulator or in the aircraft.
Evolving technologies, training concepts and methods, and analytical tools for training design are increasingly affecting flight training development and require specific consideration. We shall review the entire flight training development process, starting from the consideration that to ensure the effectiveness of flight training development, we must focus on both technical skills and behavioral competencies, under the paradigm of evidence-based training (EBT).
Evidence-Based Training
The European Cockpit Association (ECA), in a 2013 document titled "Pilot Training Compass: Back to the Future," emphasizes that in pilot training, both technical skills and non-technical skills (competencies) need to be addressed.1
As regards technical skills, training in basic flying skills is essential to build strong fundamentals that will help a pilot when a situation demands that he or she fly the airplane manually, relying on core flying skills and highly developed hand-eye coordination. The outcome of training in basic flying skills will make pilots more confident in their ability to hand-fly the airplane and to escape from upset situations, according to ECA.
Concerning competencies, ECA says that both positive and negative outcomes of many aviation incidents and accidents can be directly traced to critical nontechnical skills. They deal with vague — and, thus, difficult to quantify — concepts, such as motivation, social interaction, leadership and followership, common sense and logic, and communication skills.
To support the development of technical skills and behavioral competencies as part of recurrent flight training, EBT has emerged as a training paradigm.
According to the "Evidence-Based Training Implementation Guide" published by the International Air Transport Association (IATA) in 2013,2 EBT has emerged as an initiative to improve safety, stemming from an industrywide consensus that reducing aviation accident rates requires a strategic overhaul of pilot training.
EBT is framed on competency-based training and assessment principles, and it requires the development and maintenance of both technical skills and behavioral competencies. EBT programs consist of an assessment phase to identify training needs based on skills and collected data, and a training phase (for skill retention) on skill-based maneuvers (that is, body memory actions). Finally, the scenario-based training phase of an EBT program should focus on identified skills-training needs rather than the repetition of tasks, according to the European Union Aviation Safety Agency (EASA)in EASA AIR OPS AMC1 ORO.FC.231(a).
EBT's relevance and impact are such that its principles should not be ignored in flight training development, even by operators that do not implement a formal EBT program. Flight training development must necessarily consider technical skills as well as the behavioral competencies of pilots.
Training Management System
For flight training development to be effective, it is important to implement a training management system (TMS) that is data driven and provides structure to flight training development efforts.
According to ECA, a TMS enables oversight of a well-defined process that ensures compliance and quality and that incorporates a feedback mechanism allowing continuous evaluation of the training program. The objective of TMS is to provide a structured approach to control risk in flight operations. For pilot training programs to be successful, the education, awareness and input of all stakeholders are crucial. TMS starts with the design and implementation of organizational processes.
Within TMS, an important role is played by training needs analysis (TNA), an analytical tool that is well known in industry and that must be constantly renewed. According to the University of Technology Sydney (UTS), TNA is a process used to identify what training is needed to give participants the desired knowledge, skills and abilities.3
Training Needs Analysis
According to the Japan International Cooperation Agency (JICA), training may be needed when there is a gap between desired performance and current performance because of the lack of skill or knowledge.4 If training is necessary, there is a need to define the objective of the training and how it will help the participants become more effective. All of these make up the TNA process. There are many reasons one would want to accomplish TNA:  to identify skills gaps, to ensure new technological developments are embraced, to prioritize training, to plan future training, to determine who will be trained, and to ensure there is a shared direction. The TNA process is composed of five steps: identifying problems and needs, determining design of needs analysis, collecting data, analyzing data and providing feedback, according to JICA.
Before TNA is conducted, it should be determined whether training is needed and the overall objectives of a training course should be determined. The second step is to identify the target groups to be trained; interviewees; survey methods; survey plans, including schedules to gather data; and people in charge of TNA. These activities are oriented to either create a new training course, identify an existing one that can fulfill the need, or obtain one externally. The third step in TNA is to collect data by reviewing documents on existing training (secondary data) and conducting surveys, including interviews and observations at work (primary data). It is important to collect and review secondary and primary data prior to conducting interviews with subject matter experts, JICA says.
Because the initial scan will have revealed a considerable amount of information, it should be possible now to identify what additional information is needed.5 The data collection stage involves a more formal interview process because the decisions to be subsequently made must be justified. The following step is analyzing data, which only becomes meaningful information once it has been organized according to relevant patterns. At this stage, the significance of the data previously gathered needs to be determined to assist judgment and aid decision making in terms of a possible way forward with the training plan.
The final step of TNA is to provide feedback, to develop a better idea of where improvements are needed and to make a training plan. When the entire TNA is complete, the final step is to put it into practice, according to UTS.
Training Methods
Data collected via TNA can aid in development of a flight training program. In terms of training methods, current simulation technology and training regulations require that at least a part of the training be done on a simulator.
Simulators are particularly useful for emergency training. The Government Aviation Training Institute (GATI) in India said that in impromptu situations, pilots need to make decisions that are pragmatic and calculated.6
"Simulation training gives the opportunity to train pilots for complex situations and emergencies without risking their lives. The simulator gives the trainee space for a certain limit of errors or lapses. The simulators are also designed to enact flight manoeuvres and regimes such as degraded visual environment, vortex ring, dynamic roll over, unpredictable yaw, auto correction and so on," says GATI.
"Simulators give an acute experience of reality to the trainee. This helps enhance their skills and visions and inculcates better decision-making skills. The realism factor of simulators is what makes the procedure more effective. It enables the pilot to practice diagnostic procedures, troubleshooting processes, [while] keeping them safe and sound."
A 2022 report by Austrian researchers said that training methods in aviation still heavily rely on synchronous learning and on-site training.7 On the other hand, current and future developments in mixed reality (MR) technology generate new opportunities for pilot training. The report says that new technological advances such as off-the-shelf MR devices provide promising possibilities to improve and innovate pilot training.
The availability of and the possibilities offered by these training methods should be accounted for as a part of flight training development. For example, in addition to the use of certified simulators, practical training could be complemented by immersive learning experiences that may not lead to credits in terms of simulator time but may speed up the overall learning process because of the engaged learning environment they provide.
Scenario-Based Training
In addition to selecting the appropriate training  tools such as flight and navigation procedures trainers, flight training devices, full flight simulators or even MR tools, the input collected via TNA needs to be organized according to the principles of scenario-based training (SBT) — that is, according to a series of scenario-based exercises developed to improve crews' core competencies in the training environment.
According to EASA AIR OPS, SBT, as the largest phase in the EBT program, should be designed to maximize crews' exposure to a variety of situations that develop and sustain a high level of competence and resilience. The scenario for this phase should include critical external and environmental threats to build effective crew interaction and coordination; briefings are needed to identify, manage and mitigate threats, errors and undesired aircraft states.
The purpose of SBT is to emphasize the development of critical thinking, flight management and flying skills during line operations. The goal is to accelerate the acquisition of higher-level decision-making skills and airmanship by requiring the pilots to apply their entire acquired training knowledge and skill sets. SBT is normally used during later stages of type training courses and during recurrent training, according to ECA.
While SBT derives directly from EBT theory, which is more recent, there is also line-oriented flight training (LOFT), which could lead to flight training development similar to that required for SBT. LOFT is associated with crew resource management, which has a longer history of application in the domain of crew training, but it is more focused on group performance, compared to EBT.
A 2016 Brazilian study described LOFT as a group performance training exercise to provide practice and feedback in crew coordination.8
"LOFT provides a way to train for normal situations — not in the sense of desired or expected situations, but those that can occur during the flight — and allows pilots to better manage their flight resources, thus avoiding surprises," the study says. "The LOFT design principles developed by ICAO [the International Civil Aviation Organization] allow crews the opportunity to self-analyse their behaviour, through facilitators, considering the flight management resources available. LOFT provides preventive and proactive training on flight safety, carried out as part of initial or recurrent flight crew training in a simulator."
In LOFT, a crew flies representative flight segments that may contain normal, abnormal and emergency situations expected in line operations, according to the study.
"An instructor monitors the crew's performance and reviews the simulated flight(s) with the crew afterward, to assess the effectiveness of each decision made, especially after the occurrence of unexpected situations," the study says. "LOFT involves detailed, real-time, normal operational routines and procedures that represent flight operations of airline companies.  The emphasis is on abnormal situations involving communications, management and leadership, as well as other cognitive functions necessary to cope with these situations. To do so, the abnormalities included in the scenario simulation are not pre-briefed and therefore can be viewed as unexpected situations."
Multiple sources, including accident reports, may be used to develop scenarios. However, a more realistic and appropriate starting point is to develop scenarios is based on current operations and experiences, according to the report.
"Part of the benefit of LOFT comes from providing an individual or a crew the ability to quickly grasp the results (positive or negative) about decision-making and actions," the report says. "At the end of each scenario, a thorough debriefing should be conducted.  [A] debrief session introduces some notable issues aiming at the assimilation process by the participants. Hence, debriefing should not be a rapid formalism, but a guided review of those notable issues. The dynamic begins with the crew self-debriefing, followed by the LOFT facilitator debriefing. Debriefing should include the use of available recorders, from nonlinear video recorders to written notes."
While LOFT is focused on group performance and is not appropriately used to evaluate individual performance, it maintains, the same scenario-based orientation as SBT. The principles and the organization of LOFT may well be used for SBT, which is the main phase of an EBT program.
Flight training development is key to ensuring the continuous improvement of aviation safety. To ensure that flight training development efforts account for both technical skills and behavioral competencies, which are increasingly significant under the ever more important EBT paradigm, a data-driven training management system needs to be implemented with solid training needs analysis processes. TNA inputs should lead to the selection of appropriate training methods, including MR tools that provide increasing possibilities for engaged learning experiences, and a training plan consisting of scenarios in which crew competencies can be developed, debriefed and evaluated.
 Image: © Rathke | iStockphoto
Mario Pierobon, Ph.D., is the owner and scientific director of a safety consulting and training organization.
Notes
IATA. "Evidence-Based Training Implementation Guide." First edition, July 2013. 
Williams, Tasha (UTS). "A Guide to Conducting a Training Needs Analysis." May 10, 2023. 
JICA. "Manual on Training Needs Analysis." 2022. 
Anderson, Geoff. "A Proactive Model for Training Needs Analysis." Journal of European Industrial Training Volume 18 (No. 3, 1994): 23–28. MCB University Press Limited.
Schaffernak, Harald; Moesl, Birgit; Vorraber, Wolfgang; Holy, Michael; Herzog, Eva-Maria; Novak, Robert; Koglbauer, Ioana Victoria. "Novel Mixed Reality Use Cases for Pilot Training." Education Sciences 2022 Volume 12 (Issue 5): May 13, 2022.  

de Carvalho, Ricardo J.M.; Saldanha, Maria C.W.; Vidal, Mario C.R.; Carvalho, Paulo V.R. "Situated Design of Line-Oriented Flight Training (LOFT): A Case Study in a Brazilian Airline." Springer-Verlag Cognition, Technology and Work Volume 18 (Issue 2): pg. 403–422.