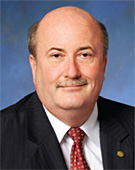 During a recent trip to Africa and the Middle East, I found myself in some situations that reminded me how important it is for each airline, and this industry, to really hold itself accountable for its safety performance. Sometimes stuff happens that distracts governments from oversight and enforcement, yet that show must still go on.
I was in Beirut visiting the Arab Air Carrier Organization and talking with Lebanon's director general of civil aviation, an old friend. My timing wasn't great. When I arrived, it was clear that the volatile state of domestic politics was taking a toll on civil aviation oversight; by the time I left the next morning, the government had collapsed.
Like everybody, I felt a little nervous as I headed to the airport that morning, but it wasn't because I was afraid to get on the airplane. The airline personnel were sticking to their safety routine, and the airport operators were doing their jobs. And they were doing their jobs not because somebody was looking, because they weren't, but because being safe is built into their jobs and into their psyche. These people also know that when the world gets crazy, aviation matters. They learned that the hard way when their airport was blown up, most recently in 2006. They kept it safe then, and I knew they would keep it safe now.
My next stop was Cairo, Egypt, and on the day I arrived, neighboring Sudan was taking an important vote. It was a vote that will lead to the birth of a new nation. As I talked to my Egyptian colleagues about this remarkable event, it became clear that this new nation, essentially the southern half of Sudan, will be dependent on aviation from the moment it is born. It will be a largely land-locked state with almost no surface transportation infrastructure and a future that depends on the export of oil and minerals. The government will not be able to wait for a regulatory agency to be staffed up and audited before the geologists and miners start flying around. Those big resource companies will have to ensure that their people can travel safely from the very first day. That means they will have to publish and enforce the standards on those operators just like a regulator would, if there was one.
That is just another extreme example of companies and industries owning their own safety performance without a state agency forcing compliance.
A couple days after I got home from Cairo, I followed closely the historic events in Tahrir Square. The top aviation safety guy became the acting prime minister, and clearly he was instantly busy with non-aviation priorities. But I knew the system would carry on, at least for a while. EgyptAir and others were not waiting for the regulator to turn its back so they could do stuff wrong. They had to maintain International Air Transport Association audit standards for their code-share partners, and they were committed to in-house safety programs for each other and for their customers.
So the next time you try to justify something to your CFO, and the answer is "no" because it is not a regulatory requirement, remind that person that isn't the way this industry really works. If we all waited for a regulator to force us to act, the world would be a very different place.