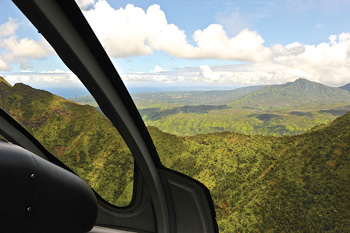 The U.S. air tour community and federal regulators have addressed many of the issues that pushed accident rates in a recent 10-year period well above averages for the rest of the nation's aviation industry, but some problems persist, according to a new report on air tour safety concerns.1
Lingering problems include some operators' lack of adequate flight surveillance programs, evidence of a need for stricter flight and duty hour limitations for air tour pilots, insufficient implementation of maintenance quality assurance programs and the need to eliminate a rule allowing U.S. Federal Aviation Regulations (FARs) Part 91 operators to conduct commercial air tours within 25 mi (40 km) of their base without being subject to the more stringent safety requirements applied to Part 135 commuter and on-demand operators, said the report by Sarah-Blythe Ballard of the Johns Hopkins Center for Injury Research and Policy.
The U.S. National Transportation Safety Board (NTSB) and the Federal Aviation Administration (FAA) addressed similar concerns earlier this year. The NTSB included the need to deal with "the unique characteristics of helicopter operations" on its 2014 "Most Wanted" list of transportation safety improvements, released in January. The list noted that air tour operators — like the operators of helicopter emergency medical services and law enforcement flights — often must cope with rapidly changing weather conditions and other challenges, and that new safety improvements are needed to help reduce the current "unacceptably high number of helicopter accidents."
The FAA, in a package of rules changes announced in February to take effect at varying dates over the next few years, said helicopter air tour operators and other commercial helicopter operators would be subject to "enhanced procedures for flying in challenging weather, at night and when landing at remote locations." Many of the changes were developed in response to NTSB safety recommendations, the FAA said.
Earlier Study
Ballard's earlier study of air tour accidents, based on an examination of data from the FAA and the NTSB, found that there were 152 crashes of U.S. air tour aircraft from 2000 through 2010, including 30 fatal crashes (20 percent) with an average of 3.5 fatalities each.2
The average accident rate in the U.S. air tour industry during that period was 2.7 per 100,000 flight hours, with a higher rate (3.5 per 100,000 flight hours) in air tour operations conducted under Part 91 and a lower rate (2.3 per 100,000 hours) in those conducted under Part 135, said the new report, published in the February issue of Aviation, Space, and Environmental Medicine.
"Within the air tour industry," the report said, "the crash rate among Part 91 air tour operators is 50 percent more than [that of] Part 135 air tour operators.
In addition, the report noted that the accident rate for all air tour aircraft is "more than 10 times that of large commuter airlines (0.2 per 100,000 flight hours) and more than two times that of all Part 135 operators (1.3 per 100,000 flight hours)."
The rate of 3.5 accidents per 100,000 flight hours for Part 91 air tour accidents is similar to the elevated rates recorded in the past in "high hazard" categories of commercial aviation, the report said.
"Prior to 1994, the Hawaiian helicopter air tour crash rate of 3.4 per 100,000 flight hours was so alarming that it prompted the emergency implementation of Special Federal Aviation Regulation [SFAR] 71," the report said, referring to the 1995 document that prescribed special operating rules for air tours conducted in Hawaii, with a few exceptions. "Similarly, the helicopter emergency medical services crash rate of 3.5 per 100,000 hours flown between the years 1992 and 2001 prompted a special investigation by the NTSB in 2009. … Likewise, the extremely hazardous activity of overwater ferrying of personnel and heavy-load supplies to offshore drilling sites reported a national crash rate of all turbine-powered civilian helicopters of 5.1 per 100,000 hours flown.
"Exposing air tour patrons and pilots to the elevated crash rates normally associated with 'high hazard' flight during recreational and occupational activities that occur in visual meteorological conditions is unacceptable, and stakeholders in the air tour industry should continue to work together to reduce this unnecessary risk."
Industry Response
Government and industry have responded in recent years to many of the air tour community's safety concerns. For example, in 1998, the FAA issued FARs Part 136, Commercial Air Tours and National Parks Air Tour Management, which deals specifically with air tour operations, with a separate section for flights conducted over the Grand Canyon and other national parks.
In 1996, helicopter air tour operators formed the Tour Operators Program of Safety (TOPS), which has dealt with a number of safety issues including several maintenance-related safety issues. Some of these items have been the subject of NTSB safety recommendations. Ballard's new report cited a TOPS estimate that its members account for 85 percent of air tour flight hours in a typical year, adding that their safety record — in comparison to that of all air tour operators — is "considerably improved."
After the Study
Fatal Crashes
U.S. National Transportation Safety Board (NTSB) accident data show two fatal crashes involving air tour aircraft during the period from 2011 through early May 2014. Each accident involved a helicopter, and each killed the pilot and four passengers.
The fatal crashes occurred one month apart late in 2011.
The NTSB has not released its final report on the first of the two crashes, which occurred Nov. 10, when a Blue Hawaiian Helicopters Eurocopter EC130-B4 struck a mountain near Pukoo on the Hawaiian island of Molokai.
In a preliminary report, the NTSB said that a company flight plan had been filed for the flight, which began at Kahului Airport on the island of Maui, and that visual meteorological conditions (VMC) prevailed, although witnesses reported rain in the area at the time of the accident.1
Witnesses also said that "their attention was drawn to the helicopter when they heard some form of 'woop wooping' sound" as the helicopter descended toward the ground.
The other crash involved a Sundance Helicopters Eurocopter AS350-B2 that crashed in VMC in the mountains east of Las Vegas at dusk on Dec. 7 (ASW, 4/13). In its final report on the accident, the NTSB cited a series of maintenance errors as the probable causes of the crash.2
— LW
Notes
NTSB. Preliminary accident report no. WPR12MA034. Nov. 10, 2011.
NTSB. Accident Report AAR-13/01,

Loss of Control; Sundance Helicopters Inc.; Eurocopter AS350-B2, N37SH; Near Las Vegas, Nevada; December 7, 2011

. Jan. 29, 2013
An ASW search of NTSB accident data showed that, in the years following the study of the 2000–2010 period, seven air tour accidents have been recorded, including two fatal accidents that killed five people each (see "Fatal Crashes"). The NTSB had not, at press time, determined the probable cause of one of the fatal accidents, but the other fatal crash was traced to inadequate maintenance, the final accident report said.3 The report cited a series of maintenance errors and identified as contributing factors the mechanic's and the quality control inspector's fatigue.
Maintenance issues also were cited in four of the five nonfatal (also noninjury) air tour accidents that occurred from 2011 through April 2014; in the fifth accident, which resulted in three injuries, the NTSB cited the pilot's failure to ensure that the helicopter had sufficient fuel for the flight.
Both fatal crashes, as well as three of the nonfatal crashes, involved helicopters.
Safety Initiatives
Ballard's new study points to NTSB safety recommendations, increased oversight by the FAA and the air tour industry's 20 years of heavy involvement in the safety process and in rulemaking efforts with helping to improve the accident record.
Nevertheless, the report said several safety issues still require attention from the air tour industry and the regulator.
Real-time flight following, also called flight surveillance, remains a problem because, "despite the enhanced capabilities of weather detection, communication and tour-route tracking associated with the proposed ADS-B [automatic dependent surveillance–broadcast] system implementation, Hawaiian air tour operators remain opposed to the system, asserting that the system would introduce more FAA interference with operations," the report said. "They have also cited supplemental concerns about the cost of the components, added weight to the aircraft and not enough space in the aircraft for modification."
Despite their reservations, however, some operators have taken steps needed for early implementation of ADS-B avionics to enable their flight surveillance, the report added.
The industry also has been generally receptive to the Part 136 requirement calling for the addition of personal flotation equipment and aircraft float systems to their aircraft — a provision that the report describes as the most costly element of the regulation, the report said.
Another regulatory requirement — originally an SFAR 71 directive (and now Appendix A to Part 136, "Special Operating Rules for Air Tour Operators in the State of Hawaii") that Hawaiian air tour flights must remain at or above 1,500 ft above ground level (AGL) — has drawn criticism from operators that say the limit "inadvertently degrades safe maneuverability in an operating environment characterized by unstable meteorological conditions," the report said.
The impact of the 1,500-ft requirement should be the subject of additional investigation, the report said, citing data that showed that, after implementation of the requirement, the accident rate decreased from 3.4 per 100,000 flight hours to 1.8 per 100,000 flight hours. However, the decrease was accompanied by an increase in crashes involving visual flight rules (VFR) flights into instrument meteorological conditions (IMC). The number of associated fatalities was similar, before and after the rules change, the report said.
"It is not clear whether the decreased crash rate is due to the 1,500-ft AGL minimum requirement," the report added. "It is plausible that the increased incidence of VFR-IMC crashes could be related to helicopter flying at higher altitudes, where exposure to cloud cover is likely."
The report added that TOPS has consistently addressed the maintenance issues that have been the focus of many NTSB recommendations involving the air tour industry, including the expansion of safety audits to include a review of TOPS members' maintenance quality assurance programs.
Unaddressed Issues
Other issues have not been adequately addressed, the report said, singling out pilot fatigue and noting that the FAA has not acted on the NTSB's recommendations calling for more stringent duty time limitations for air tour pilots.
Part 135 pilots are subject to limitations on flight time and requirements for adequate rest, but those provisions do not apply to their Part 91 counterparts, the report said.
"Commercial air tour pilots are exposed to multiple takeoffs, landings and maneuvers, resulting in a more demanding workload throughout the day relative to long-haul pilots," the document said, citing multiple studies that have identified pilot fatigue as a primary safety hazard, especially for those who conduct a number of short flights throughout their workdays.
"Further, most U.S. commercial air tours are carried out by single pilots, so there are no opportunities to share the workload or take in-flight rests, as there are for pilots who are part of multi-pilot crews. … Given the known risks of fatigue and the high crash rate of Part 91 air tour operators, addressing human fatigue in this population through flight time limitations could be beneficial."
Notes
Ballard, Sarah-Blythe. "The U.S. Commercial Air Tour Industry: A Review of Aviation Safety Concerns."

Aviation, Space, and Environmental Medicine

Volume 85 (February 2014): 160­–166.
Ballard, S.B.; Beaty, L.P.; Baker, S.P. "Commercial Air Tour Crashes, 2000–2011: Burden, Risk Factors, and FIA Score Validation."

Accident Analysis and Prevention

Volume 57 (2013): 49­–54.
NTSB. Accident Report AAR-13/01,

Loss of Control; Sundance Helicopters Inc.; Eurocopter AS350-B2, N37SH; Near Las Vegas, Nevada; December 7, 2011

. Jan. 29, 2013.