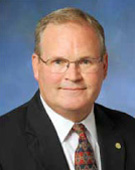 In the last issue, I wrote about some of the high points of what we are doing at Flight Safety Foundation. This month, I am going to go a little deeper into our operations and how we are able to function. First off, the support of our members is very valuable, and if you are one, we thank you! If you aren't, then you should be. The largest amount of our operating budget comes from members' support. The technical projects, research, advocacy, safety communication and shaping of safety culture and policy come from the support you provide through your membership.
As a matter of fact, 47 percent of the Foundation's operating funds come from all entities of membership support. When I say all entities, I mean the individuals, institutions, governments, manufacturers, corporations, students, business aviation operations, airlines, airports, and the maintenance, repair and overhaul facilities that constitute our membership.
Later this year, the Foundation will roll out a new membership structure and "value proposition" for each category of membership. Value proposition is a large part of what we believe a member should receive for their support. We are often told by many of our members that they believe that supporting the Foundation is the right thing to do. After all, we have been an advocate for the best practices in aviation safety since 1947. However, others tell us that within their organizations they have to answer the question, "What do we get for our membership?" This newly defined value proposition will answer that question, and make it easier to make a case for supporting the Foundation. At the very minimum, you can tell those who ask that the information from the Foundation's website and AeroSafety World magazine keeps you on top of developments in the realm of safety worldwide, but there's more.
Look for the new membership structure to be unveiled about October, and please think about your budget in order to join for 2013. You are going to hear me say this many times: If you have to choose one safety resource to keep you in touch with what is taking place in the industry, Flight Safety Foundation is the one.
The other area that I would like to draw your attention to is our outreach activities. Outreach keeps our members and the aviation/aerospace industry informed on current hot topics such as lessons learned from an incident or accident, and on the long-range issues that need our attention.
While our outreach activities do not directly constitute a large percentage of the contributions to our operating funds, they are very important to maintain our visibility as an effective, impartial, independent and international organization.
We do a variety of interviews with print, radio and television media. Bill Voss, our chief executive officer, maintains an intensive schedule, traveling to locations all across the globe to attend and speak at industry conferences, visit government and industry organizations, and call on our members. I also have increased my travel as of late, doing the same; however, my main function is to keep the offices running smoothly and efficiently.
The Foundation appreciates your support.
Be safe.