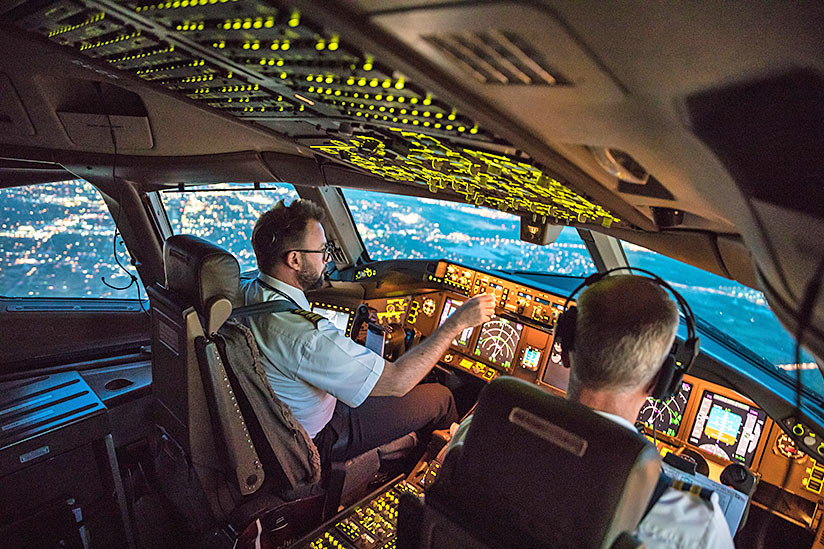 Airline training in handling abnormal or emergency situations for decades focused primarily on accomplishing checklists, performing tasks and complying with specific, narrowly defined behaviors. But some training programs inadvertently omitted three important process elements ─ how to best accomplish those myriad checklists and tasks, how to concurrently assure safe flight operations and aircraft control, and how best to utilize the crew and other resources. These three elements comprise the context necessary to manage an event to a successful landing. While most airline training programs are excellent in many areas, a significant improvement opportunity exists in aeronautical event management.
Aeronautical event management is an important competency, embracing not only the correct accomplishment of appropriate abnormal and emergency checklists, but also assuring safety of flight and supporting the communication and coordination necessary among crew, dispatch and air traffic control. Good event management reflects good leadership and professionalism.
Aviation tenets such as "aviate-navigate-communicate" are foundational recall steps focused on flying first, then prioritizing other tasks. But exactly how does a crew accomplish these steps and the necessary details comprising each of these broad overview concepts?
The field of crew resource management has produced exponential improvements in human factors, and in how pilots, crews and flight decks operate. We easily remember "verbalize-verify-monitor" for flight management computer (FMC) and automation change inputs; "anticipate-recognize-respond" (or recover) for mitigating potentially adverse situations; and the contemporary safety enhancements afforded by embracing threat and error management (TEM) protocols.
But how are these concepts best employed by a flight crew reacting to and distracted by an abnormal event or an ambiguous situation? An aeronautical event management model can help answer this need by being easily recalled, by simplifying flight deck tasking and by making clear the pilot flying and pilot monitoring assignments.
One protocol becoming more widely adopted is called IHTAR – "I have the aircraft and radios." IHTAR ensures two things: first, that the aircraft continues on a safe flight path and in a safe energy state, and second, that while one pilot attends to the flying, another focuses on everything else, including checklists, crew interactions and administrative and coordination requirements – the "big picture." Together the crew manages the event while maintaining situational awareness (Figure 1).
The IHTAR protocol is a TEM strategy, giving crews an easy-to-remember, repeatable and successful strategy for managing threats, reducing or containing errors, and preventing undesired aircraft states. The IHTAR protocol supports safety as a high reliability process, and one that can be applied to any event.
The goal? Successful and repeatable outcomes to abnormal, emergency, security and ambiguous events occurring during flight; more precise and accurate processing of events; better aircraft control; better pilot and crew performance in executing profiles and procedures; a much lower stress level on the flight deck during events; and safer outcomes for all concerned.
IHTAR is intended to be modified as desired for individual company cultures, operations and workforce. As large numbers of retiring, highly trained and experienced flight deck crews are replaced with younger, less experienced pilots, IHTAR provides an effective risk management method for crews and organizations to bridge this experience gap on future flight decks.
IHTAR helps prevent an experience gap, for which we can predict and engineer tolerable solutions, from becoming a competency gap on our flight decks.
With less experienced crews, we need to preclude events from causing excessive crew confusion, distraction, reduced situational awareness, inadequate crew performance or an undesirable outcome. High reliability organizations, like airlines, simply cannot tolerate a competency gap, no more than they can tolerate a failure.
Figure 1 — IHTAR Model
Source: Chris Nutter and Tom Anthony
IHTAR/UHTAR
IHTAR is actually more widely implemented as "you have the aircraft and radios" (UHTAR), and many companies either mandate or highly recommend that the captain give the aircraft to the first officer with the assignment to simply fly the plane.
This strategy has been referenced in current research and published work. Of note is the first IHTAR article, ("The IHTAR Model," ASW, 3/12) which included a U.S. National Transportation Safety Board fatal airline accident review and the finding that in the majority of such accidents, the captain was the pilot flying.
A new scientific review article published in Aviation Psychology and Applied Human Factors suggests flying is safer when the captain supervises the flight crew rather than taking active control of the aircraft.
"In other words," the article says, "it appears it is better for captains to monitor the flight management and aircraft control actions of first officers, rather than the other way around.1
Common Mistakes
The IHTAR process is both a TEM tool, and an aeronautical decision-making tool. One of the authors has participated in this process during actual events as a line captain and as a check airman during operational experience training with new pilots, during line checks, and from observations of crew performance in many simulator training events. The process improves performance and de-stresses the flight deck. It improves flight safety and reduces risk. And it facilitates an improved response to events. But there are several common mistakes crews make as they learn the IHTAR/UHTAR process.
A Path and Plan
A common error by captains is not communicating an initial game plan for how an event will be handled after the transfer of control to the first officer. Without an initial path and plan, there will be confusion about where to go, what altitude to select and what to tell air traffic control (ATC) so controllers can best help the flight crew. This confusion then requires further clarifications that interrupt checklists and can produce errors. All of this can quickly put a crew "behind the power curve" with a protracted timeline, increased self-imposed pressure, rushing, poor decision making and undesired outcomes. It may help to think about a path and plan as a "first-task," establishing the initial lateral navigation, vertical plan, speed and configuration specifics. For example, the captain says, "You have the aircraft and radios. Let's stay on the departure track, get us a level off around 15,000 feet, and keep the speed down – we'll probably air return or divert but we're likely not going to destination. We could also get vectors or hold, so take care of that with ATC." Of course, a final game plan will reflect further event processing, but an initial plan helps the first officer keep the aircraft under control.
Transfer of control is usually not problematic, although when it is accomplished may vary. Most captains seem to assure that the memory items are accomplished first, then the aircraft is stable before the transfer.
After the captain hands the aircraft and radios to the first officer, often the first person to talk to ATC is the captain. It is best, however, to let the first officer talk to ATC and execute the initial path and plan.
Who lands the aircraft? This is the captain's decision, and it depends on the situation.
First Officer Mistakes
A common error for first officers is the failure to take control of the aircraft. First officers are the second in command, and when they are the pilot flying, they sometimes don't actually take charge and execute – they assume aircraft control but leave other decisions to the captain. This can result in the first officer constantly interrupting the captain for routine decisions or worse, in the first officer taking no action at all and watching the aircraft fly itself, with no plan.
Another common mistake is for first officers to allow themselves to become preoccupied by tasks unrelated to flying. As the pilot flying during an event, the first officer should fly the aircraft. That primarily means to keep the aircraft upright, control the airspeed and don't hit a rock. While the captain is heads down with checklists or other event management coordination tasks, inappropriate distractions from the first officer such as FMC button-pushing and extraneous electronic flight bag tasks can result in allowing the aircraft safety state to deteriorate. The focus should be on flight discipline.
The IHTAR Event Management Protocol aids pilots with a methodic, repeatable process that is easily learned, recalled, and employed. IHTAR helps reduce errors and directly supports TEM. IHTAR can help crews achieve success and assure flight safety.
Chris Nutter is a staff instructor at the University of Southern California Aviation Safety and Security Program, and a recently retired captain and check airman for a major airline.
Thomas Anthony is director of the Aviation Safety and Security Program at the Viterbi School of Engineering, University of Southern California.
Note
Beveridge, Stuart D.H.; Henderson, Simon T.; Martin, Wayne L.; Lamb, Joleah B. "Command and Control: The Influence of Flight Crew Role Assignment on Flight Safety in Air Transport Operations." PsyPost.org. June 5, 2018.
---
Featured image: © rathke | iStockphoto
Which pilot? icon: illustration by Susan Reed using "Supervision" by Gregor Cresnar | The Noun Project CC-BY 3.0 and aircraft steering icon by D L | The Noun Project CC-BY 3.0