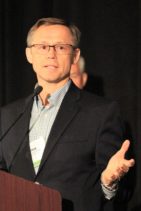 PHOENIX, Arizona — Flight Safety Foundation on Friday presented its FSF Business Aviation Meritorious Service Award to Steve Charbonneau for his pioneering efforts in the collection, analysis and sharing of aviation safety data and information in business aviation. Charbonneau, a long-time corporate aviation pilot, also was recognized for his passion and commitment to the cause of safety, and for the mentoring and leadership roles he has embraced.
The award was presented by Foundation President and CEO Jon Beatty on the second day of the Foundation's 62nd annual Business Aviation Safety Summit (BASS 2017) in Phoenix.
Charbonneau was instrumental in the acceptance and implementation of corporate flight operational quality assurance (C-FOQA) in flight departments and management companies, and in the development and growth of C-FOQA Centerline. He served as head of the C-FOQA Steering Committee and helped grow the number of C-FOQA users.
Charbonneau also worked with other shareholders to gain acceptance of the business and general aviation community into the U.S. Federal Aviation Administration's Aviation Safety Information Analysis and Sharing (ASIAS) system.
"It is an honor to present Steve with this award," Beatty said. "He has been a leader, innovator and mentor, and a great friend of aviation safety."
###
About Flight Safety Foundation
Flight Safety Foundation is an independent, nonprofit, international organization engaged in research, education, advocacy and publishing to improve aviation safety. The Foundation's mission is to be the leading voice of safety for the global aerospace community.
Media Contact:
Frank Jackman, 703.739.6700 ext. 116; jackman@flightsafety.org