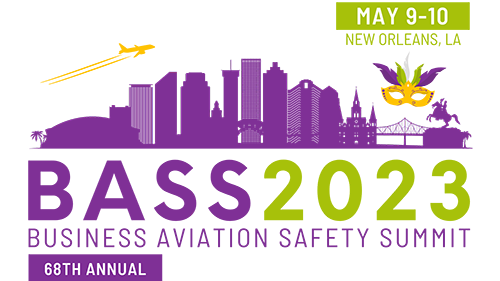 BUSINESS AVIATION SAFETY SUMMIT
Sheraton New Orleans, 500 Canal St, New Orleans, LA 70130
Sponsor Opportunities
Available March 1!
BASS 2023 Sponsor Information
Sponsorship opportunities open March 1. Please contact Kerry Benik with any questions. Email: benik@flightsafety.org
BASS is recognized as the premier forum for the discussion and exchange of safety information for corporate and business aviation operators. It is the ideal venue to connect with hundreds of aviation safety professionals, including some of the most influential leaders from across the industry. This summit is a one-stop resource where key decision makers can exchange information on the latest developments impacting their business. Examples of summit participants include corporate flight department executives, chief safety officers and pilots, aviation education professionals, regulators, and more.
Looking to connect with BASS's senior-level audience and strengthen your brand? Try one of the many sponsorship opportunities available through all of BASS's participant touchpoints. Whatever aligns best with your brand and strategy, the Foundation has a sponsorship solution for you.
The 68th Business Aviation Safety Summit is Jointly Organized By