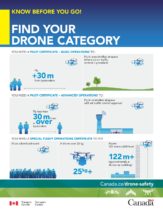 Transport Canada (TC) has introduced new rules for drone operators that Transport Minister Marc Garneau says are intended to "balance practicality and the safe use of drones."
The drone rules, which were announced Wednesday, will take effect June 1 for operators of drones weighing between 250 g (8.8 oz) and 25 kg (55 lb) and operated within the pilot's visual line of sight. The rules, which will apply regardless of whether the drone is operated for business, research or fun, are directed at two main categories — basic and advanced — that are based on airspace rules and the distance of the drone from bystanders.
Basic operations are conducted in uncontrolled airspace, more than 30 m (100 ft) horizontally from bystanders, and never over bystanders. Operations are considered advanced if they are conducted in controlled airspace, or over bystanders or within 30 m horizontally of bystanders.
The rules were developed after consultations with the industry and residents of Canada, TC said.
Both categories of rules require the operator to:
Register the drone and mark it with its registration number;
Pass an online exam (either basic or advanced) and obtain a pilot certificate;
Be at least 14 years of age to conduct basic operations and at least 16 for advanced operations, unless he or she is flying the drone under the supervision of someone with the required certificates;
Remain below 122 m (400 ft) above ground level; and,
Stay away from other air traffic.
Pilots who plan to operate a drone outside the rules governing basic and advanced operations must apply for a special flight operations certificate, TC said.
The agency said that it encourages drone operators to review and fully understand the new rules and to take a course provided by a drone flight school before taking an online exam for the drone pilot certificate.
After the rules take effect on June 1, drone operators must have their pilot certificate and proof of registration for their drone available when flying the drone. Until then, recreational drone pilots must comply with rules published in the Interim Order Respecting the Use of Model Aircraft. Pilots using a drone for work or research must comply with the conditions of their special flight operations certificate.