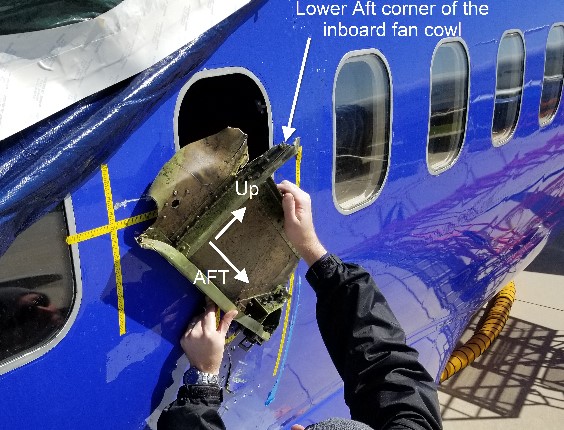 The U.S. Federal Aviation Administration (FAA) and the European Aviation Safety Agency (EASA) both have issued updated airworthiness directives (ADs) requiring more frequent CFM International CFM56-7B engine fan blade inspections. The new EASA AD is effective Oct. 5 and the FAA AD is effective Oct. 16.
In the weeks after the fatal uncontained engine failure on Southwest Airlines Flight 1380, operated with a CFM56-7B–powered Boeing 737-700, FAA and EASA issued ADs requiring initial and repetitive ultrasonic or eddy current inspections of CFM56-7B fan blades. At the time, the inspection interval was set at every 3,000 cycles. But since FAA issued AD 2018-10-11 in May, "CFM gained a better understanding of the fan blade failures based on the inspections and further analysis of the detected cracks and the April 2018 event," FAA said.
As a result, the new inspection interval has been set at every 1,600 cycles. The engine manufacturer published a service bulletin in late July making the same change.
In publishing the AD, FAA said that an unsafe condition exists that requires the immediate adoption of the AD without providing an opportunity for public comments prior to adoption. However, the FAA said it would accept comments until Nov. 15.
Flight 1380 was headed from New York LaGuardia Airport to Dallas Love Field on April 17 when, about 20 minutes into the flight at an altitude of around 32,500 ft, a fan blade failed, causing fragments of the engine cowling and engine inlet to strike the fuselage, resulting in the loss of a passenger window and a rapid depressurization. The crew diverted to Philadelphia for an emergency landing. One of the 144 passengers was killed, and eight passengers suffered minor injuries.
The National Transportation Safety Board has scheduled a hearing on the accident for Nov. 14. The hearing will focus on the design and development history of the CFM56-7 series fan blade; inspection methods and procedures for the blades; and the engine's fan blade containment design and certification criteria.
According to an NTSB investigative update issued in May, the accident engine fan blades had accumulated more than 32,000 engine cycles since new, and were last overhauled 10,712 cycles before the accident.
A large gouge impact mark, consistent in shape to a recovered portion of the engine fan cowl and latching mechanism, was adjacent to the row 14 window. The window was entirely missing and no window, airplane structure, or engine material was found inside the cabin, NTSB said. Source: NTSB