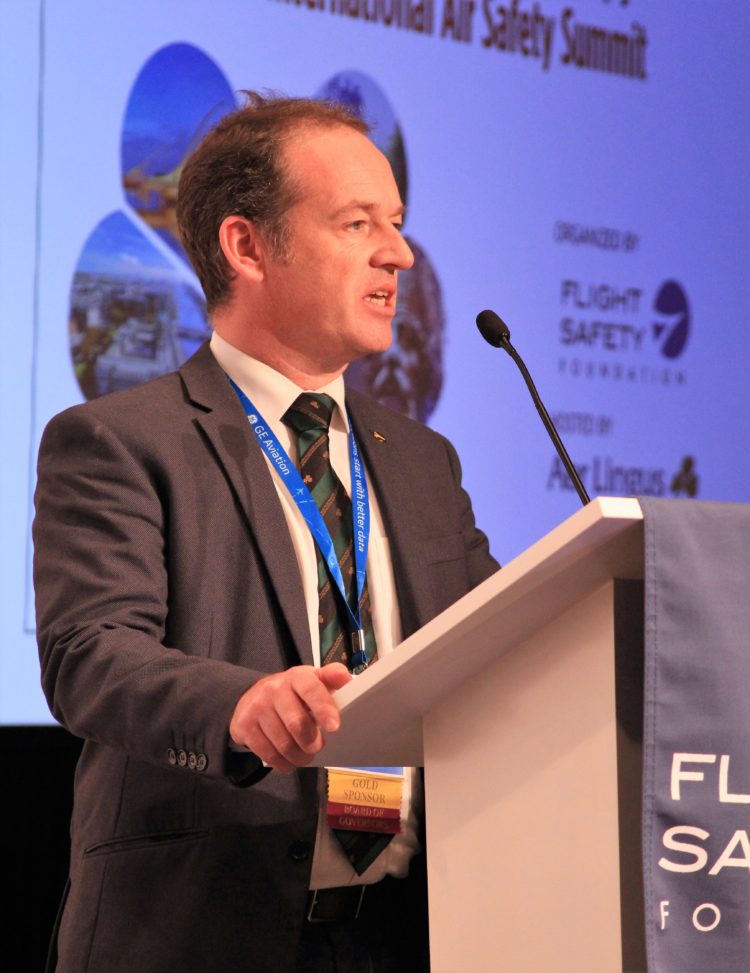 DUBAI, United Arab Emirates – Flight Safety Foundation Wednesday announced that the 70th annual International Air Safety Summit (IASS) will be held in Dublin, Ireland, Oct. 23–25, 2017, and will be hosted by Aer Lingus. The announcement was made Wednesday on the final day of IASS 2016 in Dubai.
"We are looking forward to bringing IASS back to Europe," said Foundation President and CEO Jon Beatty. "Dublin is a wonderful city and it is fitting that the industry's premier annual safety event will be hosted by Aer Lingus, one of the industry's premier carriers," he said.
"I am delighted and honored that the Flight Safety Foundation has chosen Dublin as the venue and Aer Lingus as the host airline for the 2017 International Air Safety Summit," Aer Lingus Chief Executive Stephen Kavanagh said. "Aer Lingus has been a member of the Flight Safety Foundation since 1999 and over the past 17 years has played a very active role in the foundation's important work. I and my Aer Lingus colleagues look forward to welcoming the delegates next year to our home town of Dublin, the gateway to the North Atlantic."
Capt. Conor Nolan, the airline's corporate safety and resilience manager, is a member of FSF's Board of Governors. He also serves as the chairman of the Board's Audit and Finance Committee.
IASS was last held in Europe in 2010 in Milan, Italy. The Foundation's European Advisory Committee, along with its International Advisory Committee, will take an active role in planning IASS 2017.
Aer Lingus is a unit of IAG (International Airlines Group), which also is the parent company of British Airways, Iberia and Vueling. IAG is one of the world's largest airline groups with 525 aircraft flying to 255 destinations and carrying almost 95 million passengers each year. It is the third largest group in Europe and the sixth largest in the world, based on revenue.
###
About Flight Safety Foundation
Flight Safety Foundation is an independent, non-profit, international organization engaged in research, education, advocacy and publishing to improve aviation safety. The Foundation's mission is to be the leading voice of safety for the global aerospace community.
Media Contact:
Frank Jackman
jackman@flightsafety.org