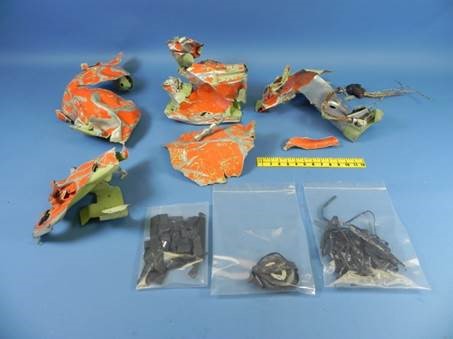 Magnetic tapes found at the site of the 1985 crash of an Eastern Airlines Boeing 727 in the Andes Mountains contain no data from the airplane's flight recorders and provide no information relevant to the accident investigation, the U.S. National Transportation Safety Board (NTSB) says.
The magnetic tapes and several metal fragments were found in 2016 by two U.S. citizens hiking on Mount Illimani. They turned the material over to the General Directorate of Civil Aviation of Bolivia (Unidad AIG), which asked the NTSB in early January to examine the items.
In a Feb. 7 statement, the NTSB said it had conveyed its findings to Unidad AIG and that its examination of the materials "revealed no identifiable specific serial numbers. One metal piece was identified as a cockpit voice recorder rack. Other metal pieces were consistent with parts related to the flight data recorder pressurized container assembly."
A spool of magnetic video contained an 18-minute recording of an episode of an episode of the 1960s television series "I Spy," dubbed in Spanish, the NTSB said. Two additional unspooled segments of tape were not the same type of tape used in a cockpit voice recorder or flight data recorder," the board said.
All 29 passengers and crew of Eastern Airlines Flight 980 were killed in the New Year's Day crash, which occurred in dark night conditions and bad weather at the 19,600-ft level of Mount Illimani, about 25 nm (46 km) from the intended destination of La Paz. The flight had originated in Asunción, Paraguay.
Accident investigators examined the wreckage during a 1986 climbing expedition, but the flight recorders were never recovered.
The photo shows materials recovered from the Eastern Airlines Flight 980 crash site. Credit: NTSB