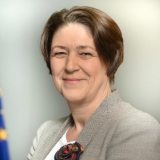 The European Commission is pressing the European Parliament and the Council to approve a regulatory framework for drone operations designed to head off "disastrous consequences" that could result from inadequate regulation of drones in European airspace.
The Commission cited 2016 data that showed more than 1,200 safety occurrences, including near-midair collisions between manned aircraft and drones — also known by a number of other terms, including unmanned aircraft systems.
"If we don't move fast enough, the near-misses between drones and airplanes could one day have disastrous consequences," Violeta Bulc, the commissioner for transport, said earlier this week.
Bulc urged adoption by the Parliament and Council of the commission's December 2015 proposal calling for a European Union–wide regulatory framework for drone operations.
Since then, the Single European Sky Air Traffic Management Research Joint Undertaking (SESAR-JU) has developed a more detailed plan, including a call for geo-fencing — using satellite positioning to establish virtual geographic boundaries to keep drones out of specified airspace, such as the airspace above and around an airport.
The commission also has called for using geo-fencing in the creation of an automated traffic management system for drones operating at low altitudes, where most are required to fly.