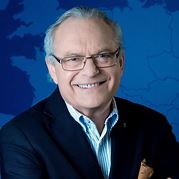 BRUSSELS —European Regions Airline Association (ERA) President Jan Palmér will be the keynote speaker at the 8th annual Safety Forum next week. Palmér, who also is CEO of Estonian carrier Xfly, will deliver his remarks on Wednesday, Feb. 11, shortly after 1300 Central European Time (CET)/1200 UTC.
The virtual Safety Forum will kick off on Feb. 10 with an executive panel discussion on the recently released Global Action Plan for the Prevention of Runway Excursions (GAPPRE) and on the broader issue of airport safety, which is the theme of this year's event. The Safety Forum is organized by Flight Safety Foundation, EUROCONTROL and ERA.
Executive panel participants include Eammon Brennan, director general of EUROCONTROL; Luis Felipe de Oliveira, director general of Airports Council International; Simon Hocquard, director general of the Civil Air Navigation Services Organisation; and Gilberto Lopez Meyer, senior vice president, safety and flight operations, at the International Air Transport Association. The executive panel is scheduled to begin at 1500 CET/1400 UTC on Feb. 10.
To register for the Safety Forum and download the agenda, visit the Foundation website or follow this link.
###
About Flight Safety Foundation
Flight Safety Foundation is an independent, nonprofit, international organization engaged in research, education, advocacy and communications to improve aviation safety. The Foundation's mission is to connect, influence and lead global aviation safety.
Media Contact:
Frank Jackman
Vice President, Communications
+1 703.739.6700, ext. 116
jackman@flightsafety.org
Events Contact:
Elizabeth Solorzano, CMP
Director, Conferences and Events
+1 703.739.6700, ext. 143
events@flightsafety.org