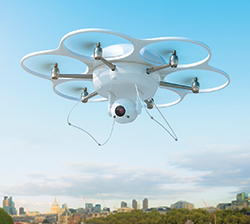 ALEXANDRIA, Va. — Flight Safety Foundation announced today the creation of a new membership category for operators and service providers of unmanned aircraft systems (UAS) and said that Wolf UAS has joined as its first UAS member.
"When the opportunity arose to become the first member of Flight Safety Foundation focused exclusively on unmanned aircraft operations, we jumped at the opportunity," said Wolf UAS President and Founder Harrison Wolf. "Flight Safety Foundation is known as the preeminent safety-focused aviation organization, and one that I hoped would support safety in drone operations. This relationship between Wolf UAS and Flight Safety Foundation reinforces our mutual focus: promoting safety for all forms of aviation and ensuring that we continue to drive the industry toward best practices and better decision making.
"Creating an ecosystem of safety in which companies, governments and the international community can identify and trust reputable and safe operators in the unmanned space is the mission of Wolf UAS. Hopefully our relationship with the Foundation will be a bridge between unmanned and manned aviation to cultivate a meaningful and effective exchange of safety knowledge, and appreciation for further integration of unmanned aircraft."
Wolf UAS, which is based in Los Altos, California, provides industry-leading consulting and program development for unmanned aircraft operations. By applying International Civil Aviation Organization, U.S. Federal Aviation Administration (FAA) and industry best practice standards for safety, flight operations and training, the company has helped companies from all over the nation protect and develop their operations. Harrison Wolf helped create the Safety Management Systems (SMS) for Remotely Piloted Aircraft course at the University of Southern California's Aviation Safety and Security Program, and leverages that knowledge for commercial operators while continuing to teach that course. His latest book, Drones: Safety Risk Management for the Next Evolution of Flight, is available on Amazon.com.
"We are very pleased to welcome Wolf UAS to the Foundation and as the first member enrolled in our new UAS membership category," said Jon Beatty, president and CEO of Flight Safety Foundation. "Global aviation depends on the safety work of the Foundation, and with the dramatic growth of the UAS sector and the UAS-related work the Foundation already is doing, it seemed a natural extension of our mission to expand our membership to include UAS operators and service providers."
In July 2016, the Foundation's Basic Aviation Risk Standard (BARS) program office in Melbourne, Australia, published an audit standard for remotely piloted aircraft systems as part of its suite of risk-based aviation standards. In addition, the Foundation is a member of FAA's Unmanned Aircraft Safety Team (UAST) and is on the UAST's Executive Committee.
###
About Flight Safety Foundation
Flight Safety Foundation (www.flightsafety.org) is an independent, nonprofit, international organization engaged in research, education, advocacy and publishing to improve aviation safety. The Foundation's mission is to be the leading voice of safety for the global aerospace community.
Media Contact:
Frank Jackman, +1 703.739.6700, ext. 116; jackman@flightsafety.org