ALEXANDRIA, Virginia — Poppy Khoza, South Africa's director of civil aviation, and the International Civil Aviation Organization (ICAO) will be honored for their leadership and contributions to the aviation industry at Flight Safety Foundation's Networking and Awards Dinner on June 21, 2022, at the National Press Club in Washington.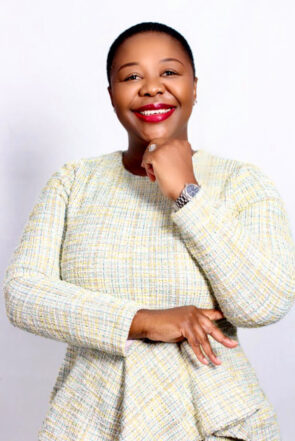 Khoza, the first woman to lead the South African Civil Aviation Authority (SACAA), will receive the Foundation's Gloria Heath Trophy, which recognizes a woman for notable achievements in civil aviation. She was selected to receive the award because of her leadership of the authority and the gains the SACAA has achieved during her tenure, and for her role in promoting gender diversity in international aviation. The trophy is named after Gloria Heath, an aviator, safety expert and search-and-rescue pioneer who was the only woman among the group of innovators who founded Flight Safety Foundation 75 years ago.
"It's fitting that Poppy Khoza was chosen from an accomplished group of nominees to receive the first Gloria Heath Trophy," said Dr. Hassan Shahidi, president and CEO of the Foundation. "Ms. Khoza has made significant contributions to advancing aviation safety and security oversight in South Africa. In addition, she has championed a transformation that has achieved a more equitable gender representation at the SACAA."
ICAO was selected to receive the Richard Teller Crane Founder's Award for its leadership and coordinated response to the COVID-19 pandemic through the Council Aviation Recovery Task Force (CART). Through CART, ICAO forged partnerships with a wide array of stakeholders to address pandemic-related challenges, providing coordinated international guidance for a safe, secure and sustainable restart of operations.
"From the outset of the pandemic, ICAO recognized that a successful recovery and restart would be best supported by a well-coordinated international approach and by establishing a task force," said Shahidi. "As the pandemic continued and virus variants emerged, the ICAO task force updated its guidance and worked to mitigate the devastation of the pandemic," he said.
The Richard Teller Crane Founder's Award is named in honor of a Foundation founder and entrepreneur who played a critical leadership role in the early days of Flight Safety Foundation. The award recognizes an organization for sustained corporate leadership through lasting contributions to civil aviation.
The Foundation's Networking and Awards Dinner, its first since 2019, is scheduled to begin at 6 p.m. on June 21, 2022, with a networking reception, followed by dinner and the awards ceremony. More details on the event can be found on the Foundation's website.
###
About Flight Safety Foundation
Flight Safety Foundation is an independent, nonprofit, international organization engaged in research, education, advocacy and communications to improve aviation safety. The Foundation's mission is to connect, influence and lead global aviation safety.
Media Contact:
Frank Jackman
Director, Communications and Research
+1 703.739.6700, ext. 116
jackman@flightsafety.org