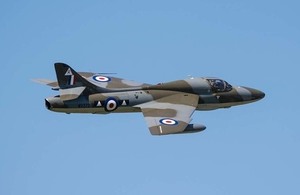 The Hawker Hunter that crashed during an Aug. 22, 2015, airshow in Shoreham, England, and killed 11 people on the ground, failed to achieve the necessary height during its final maneuver, the U.K. Air Accidents Investigation Board (AAIB) says.
In its final report on the accident, the AAIB identified the insufficient altitude as a causal factor in the accident, along with the pilot's failure to conduct an escape maneuver "despite the aircraft not achieving the required minimum apex height."
Eleven people — airshow bystanders and people on a nearby road — were killed. The pilot and 12 other people were injured.
The accident occurred during a maneuver that involved "both a pitching and a rolling component, which commenced from a height lower than the pilot's authorized minimum for aerobatics, at an airspeed below his stated minimum, and proceeded with less than maximum thrust," according to the report, issued in early March.
The report added that the pilot apparently did not realize that the airplane was too low to complete the maneuver.
"An analysis of human performance identified several credible explanations for this, including: not reading the altimeter due to workload, distraction or visual limitations such as contrast or glare; misreading the altimeter due to its presentation of height information; or incorrectly recalling the minimum height required at the apex."
A video intended to help visualize the the aircraft's final maneuver has been posted on the AAIB website.
Photo credit: U.K. Air Accidents Investigation Board