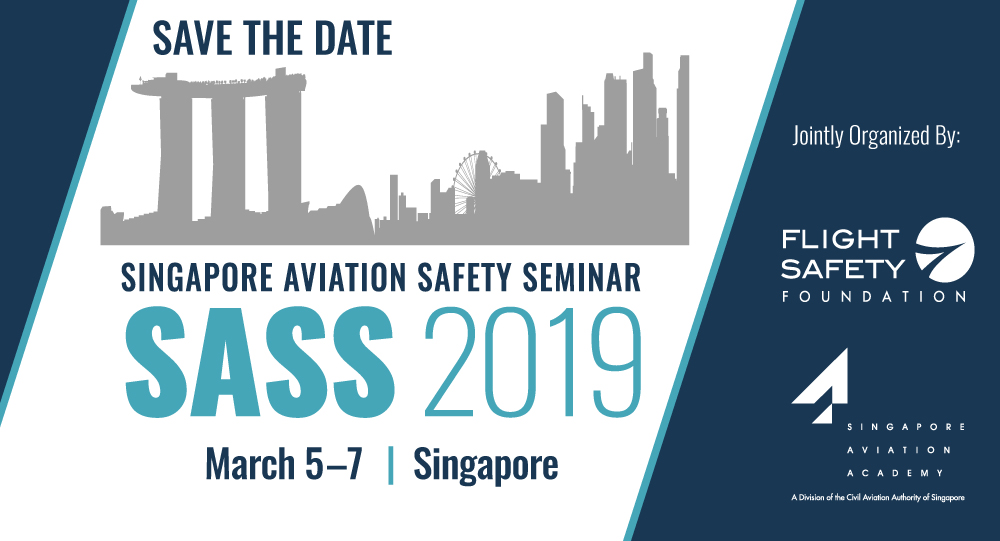 ALEXANDRIA, Va. — Flight Safety Foundation and the Singapore Aviation Academy (SAA) today announced that Conrad Clifford, regional vice president for Asia Pacific at the International Air Transport Association (IATA), will be the keynote speaker at this year's Singapore Aviation Safety Seminar (SASS). The fifth annual SASS, jointly organized by the Foundation and SAA, is scheduled for March 5–7 in Singapore.
Conrad's aviation career spans 35 years, the last five of which have been with IATA in Singapore, where he is responsible for the organization's activities across the Asia Pacific region. Over the course of his career, Conrad has lived and worked for a variety of operators in Asia, Africa and Europe, including Virgin Nigeria, Cathay Pacific Airways, Virgin Atlantic Airways and Emirates, as well as Menzies Aviation Group.
"We are very pleased that Mr. Clifford has agreed to be our keynote speaker," said Dr. Hassan Shahidi, president and CEO of the Foundation. "His broad experience in different regions gives him a unique perspective on commercial aviation generally, and on safety specifically."
SASS is intended to provide a platform for aviation professionals to share the latest safety challenges, issues, developments and initiatives to raise safety standards in the Asia Pacific region.
This year's program includes a briefing on the global safety situation and on the safety performance results that the industry saw in 2018 vs. what the industry experienced in 2017, as well as a panel discussion on what is making a difference in safety. The industry's safety performance in the Asia Pacific region will be the topic of its own session, as well.
Other presentations and speakers will address long-standing safety issues, such as controlled flight into terrain and loss of control–in flight, and broader topics, like cargo safety and safety in the passenger cabin. Runway safety–related issues will be addressed in more than one session, and other presentations will focus on using big data for predictive maintenance and achieving safety with engineering innovations.
###
About Flight Safety Foundation
Flight Safety Foundation is an independent, nonprofit, international organization engaged in research, education, advocacy and communications to improve aviation safety. The Foundation's mission is to connect, influence and lead global aviation safety.
Event Contact:
Liz Solorzano
Director, Conferences and Events
+1 703.739.6700, ext. 143
solorzano@flightsafety.org
Media Contact:
Frank Jackman
Vice President, Communications
+1 703.739.6700, ext. 116
jackman@flightsafety.org