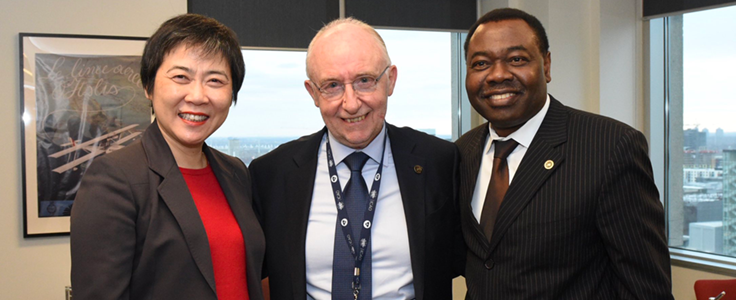 The ICAO Council, the International Civil Aviation Organizations' governing body, has elected Italy's Salvatore Sciacchitano as it new president. Sciacchitano, whose three-year term begins Jan. 1, 2020, succeeds Dr. Olumuyiwa Benard Aliu of Nigeria, who has held the position since 2014.
The new ICAO Council president is a former director general of RAI, the Italian airworthiness authority, and a former deputy director general of ENAC, Italy's civil aviation authority. He has held numerous executive positions during a 39-year aviation career and was executive secretary of the European Civil Aviation Conference from 2010 to 2018.
Sciacchitano recently was appointed to the Italian delegation to the ICAO Council.
Salvatore Sciacchitano (center) is shown with Dr. Olumuyiwa Benard Aliu (right) and ICAO Secretary General Dr. Fang Liu.