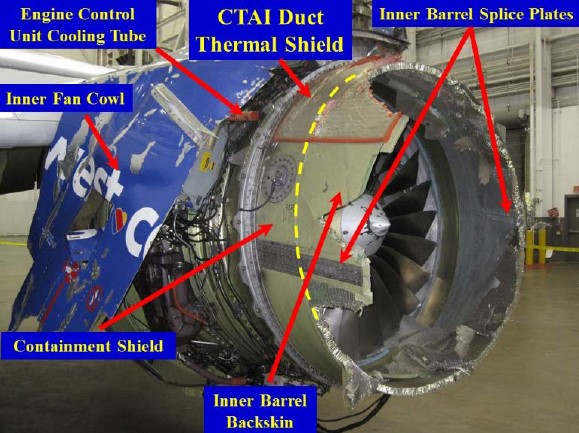 Citing concerns raised by an engine failure that sent debris through the window of a Southwest Airlines Boeing 737 and killed a passenger, the U.S. Department of Transportation's Office of Inspector General (OIG) says it will review the Federal Aviation Administration's (FAA's) safety oversight of the airline.
The OIG said earlier this week that the review, scheduled to begin later in June, will focus on the FAA's "oversight of Southwest Airlines' systems for managing risk."
The OIG said the review is being prompted by several recent events, including the April 17 failure of the left CFM International CFM56-7B engine on Flight 1380, en route from New York to Dallas, Texas. One passenger was killed and eight received minor injuries after debris from the engine broke through a passenger window, causing a rapid depressurization. The flight crew conducted an emergency descent and landed the 737 in Philadelphia.
The OIG's announcement of its audit said that preliminary accident reports indicated that a similar engine incident occurred on a Southwest flight in 2016, "but it is unclear what actions the carrier took to manage the risk to prevent a future failure."
The announcement also cited a recent hotline complaint about deficiencies in pilot training at Southwest; the complaint raises "concerns about FAA's oversight of the carrier," the OIG said. "Specifically, we are concerned whether FAA's oversight includes an assessment of the carrier's ability to identify hazards and analyze and mitigate risks."
The FAA requires air carriers operating under Federal Aviation Regulations Part 121 to implement safety management systems — formal systems for managing safety risks by identifying safety hazards and mitigating risks.