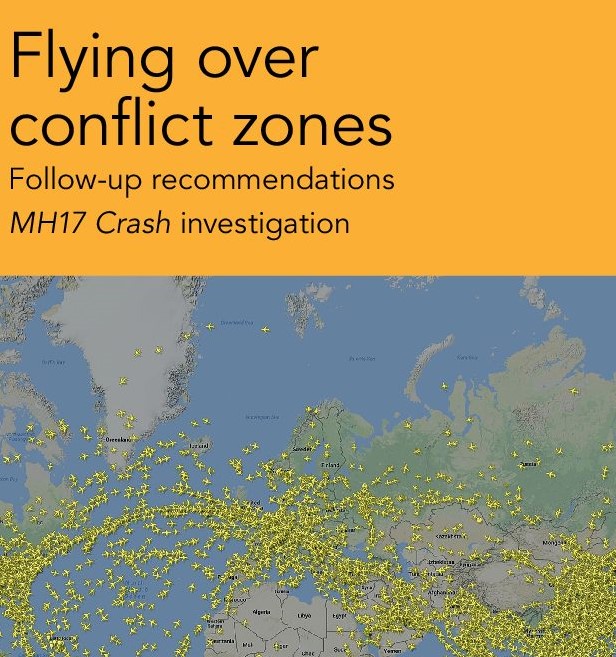 In the nearly five years since the downing of Malaysia Airlines Flight 17 by a surface-to-air missile, airlines and regulatory agencies have become more proficient in gathering information about flying over conflict zones and managing the associated risks, according to a report released Friday by the Dutch Safety Board.
The report, Flying Over Conflict Zones, is a follow-up to 11 safety recommendations issued by the board in October 2015 as part of its final investigation report on the July 17, 2014, crash of Flight 17 in Hrabove, Ukraine. All 298 passengers and crew were killed.
The final report concluded that the 777 was struck by a Buk surface-to-air missile — a type developed in the Soviet Union and, later, the Russian Federation — as it flew over an area of armed conflict near the Ukraine-Russian border.
At the time of the crash, Ukraine had not closed airspace over the area but instead prohibited flights of civil aircraft below 32,000 ft. MH Flight 17 was being flown at 33,000 ft.
After the crash, the International Civil Aviation Organization (ICAO) initiated a long-term process to amend standards, recommended practices and manuals to "embed and promote the sharing of threat information and the performance of risk assessments," the new report said.
The European Aviation Safety Agency (EASA) and the European Commission also implemented enhanced risk management efforts, and as a result, European Union member states now "exchange relevant intelligence information in order to arrive at a joint assessment of the risks associated with flying over conflict zones," the report said. "The advantage of this cooperation is that intelligence information and risk analysis capabilities of both larger and smaller states are combined. If the outcome of the assessment is that the risk for a certain area is considered high, EASA publishes a conflict zone information bulletin. … This European initiative … contributes to a better global understanding of the risks."
Other countries, including the United States and the United Kingdom, publish similar information, the report said.
Airlines also play a more active role now than they did in 2014 in gathering information about risks presented by conflict zones to civil aviation, the report said. Risk assessments are conducted "in a more structured manner," the report added, and indications are that "if there are doubts about the safety of a flight route, airlines are more inclined not to fly."