In the culmination of an extensive collaborative effort involving dozens of companies in the oil and gas industry, government regulators and rotary wing aircraft manufacturers, and drawing on data from accident investigation agencies, HeliOffshore today released the first systematic safety performance survey of helicopter passenger transport operations flying in support of the oil and gas industry.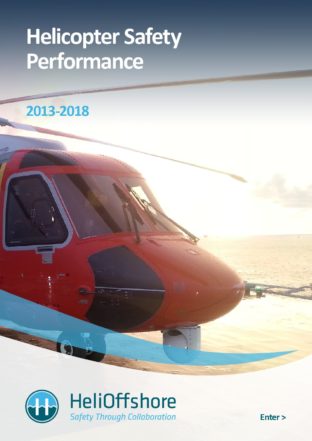 HeliOffshore, which is a safety focused, member-based organization for the offshore helicopter industry, is collecting and analyzing industry data on behalf of its members through the HeliOffshore Safety Intelligence Programme (HSIP). The intent of the program is to provide information and intelligence on which the industry can act to improve safety.
"Our members have committed to share data and to act on it," said HeliOffshore CEO Gretchen Haskins. "The industry has come together to share their data and this is the first industry report that has been produced as a result of that collaboration."
HeliOffshore has developed a memorandum of understanding (MOU) that sets out a governance process for HSIP and for the way in which the data will be handled and presented. About two-thirds of HeliOffshore's operator members, representing more than 85 percent of the total member operator fleet, have signed the MOU.
The data collected show that helicopter passenger transport operations flying in support of the oil and gas industry suffered 28 fatal accidents, 59 total accidents and 147 fatalities in the six-year period from 2013 through 2018, according to the report, Helicopter Safety Performance 2013-2018.
During the six-year period, the helicopter passenger transport operations sector, which covers both onshore and offshore operations, flew more than 7.5 million hours.
The report is based on data compiled from HeliOffshore operator members, helicopter manufacturers and other stakeholders, combined with information from regulators and accident investigation agencies. HeliOffshore has 115 member organizations, of which more than 50 are helicopter operators, with fleets ranging in size from a single aircraft to hundreds of aircraft, the report says.
The intent of the report, which is available on the organization's website, is to give an overall safety picture of one part of the helicopter industry. "This is the first time this has been done in this industry," said Matt Greaves, HSIP program manager. "Previously, this data has been quite heavily siloed."
In the conclusion of the report, HeliOffshore says: "Whilst the gathering of this data is a crucial first step in improving the industry's safety performance, it is not, in itself, of any value unless it is acted upon. Therefore, HeliOffshore will use this, and other data to continue to inform its safety strategy to provide the greatest safety benefit for the industry and benchmark its progress through the ongoing collection and analysis of data within the HeliOffshore Safety Intelligence Programme."
Haskins said of the ongoing efforts to collect and analyze data, "We want to be able to see … when we take action, that it is working."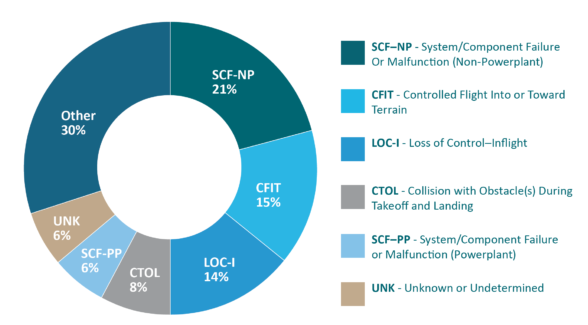 The 44-page report includes data on accidents, accident types or categories, accident rates, hours and sectors flown, and the most common helicopter types used in the global oil and gas industry, as well as list of HeliOffshore members and brief description of each of the accidents included in the dataset. Operational data were received from more than 20 operators covering about two-thirds of the more than 900 aircraft operated by HeliOffshore members.
Operator member data was supplemented with usage data from the five primary aircraft manufacturers, which provided data describing their aircraft involved in oil and gas operations. The five manufacturers are Airbus Helicopters, Bell, Leonardo, Russian Helicopters and Sikorsky.
The report breaks down usage or exposure data into hours flown and sectors flown. According to Greaves, the number of annual flight hours has been declining since 2013 because of the impact of declining oil prices on the oil and gas industry. He added, however, that usage showed a small uptick in 2018 and is likely to do so again in 2019.
The industry's business performance issues, however, have not detracted from its focus on safety, according to Haskins, who also serves on Flight Safety Foundation's Board of Governors. Rather, Haskins said she has seen an increase in collaboration on data sharing and other safety efforts among member organizations and also that there is a real commitment to taking the steps necessary to implement safety improvement strategies.
For the five-year period 2014–2018, during which there were 47 accidents, including 23 fatal accidents, HeliOffshore has calculated an overall accident rate of 7.8 per million flight hours and 3.8 per million sectors flown. The fatal accident rates for the same period were 3.8 per million flight hours and 1.8 per million sectors. For the sake of comparison, the report notes that the Aviation Safety Network's calculated fatal accident rate for fixed-wing aircraft capable of carrying more than 14 passengers is 0.4 per million departures.
"HeliOffshore's membership has united around the safety strategy, which is targeted to eliminate fatalities in our industry, with an interim goal of closing the gap to fixed wing," according to the report's executive summary.
The most common fatal accident occurrence categories for 2013–2018 were controlled flight into terrain or water (CFIT), which accounted for 32 percent of the 28 fatal accidents; system or component failure–non-powerplant (SCF-NP), 16 percent; and loss of control–in flight (LOC-I), 16 percent. SCF-powerplant accounted for 6 percent of the fatal occurrences. The "other" category and "unknown" accounted for 24 percent and 6 percent, respectively.
More broadly, the most common occurrence categories for the 59 total accidents in 2013–2018 were SCF-NP (21 percent), CFIT (15 percent) and LOC–I (14 percent)
One of the safety efforts under way in the helicopter sector is the implementation of enhancements to helicopter terrain avoidance and warning systems (HTAWS). At a late 2018 meeting organized by HeliOffshore, representatives from Bell, Leonardo, Airbus Helicopters, Sikorsky, avionics manufacturer Honeywell, and officials from the European Union Aviation Safety Agency and the U.K. Civil Aviation Authority agreed on next steps for HTAWS upgrades.
The plan calls for equipment to be enhanced by adjusting alert envelopes on existing aircraft types to give earlier notifications that increase the time available for pilots to avoid possible unsafe conditions. The warnings will be tailored to the way the aircraft are operated offshore, Haskins said, adding that Leonardo Helicopters is implementing the improvements on its AW139 fleet in 2020.