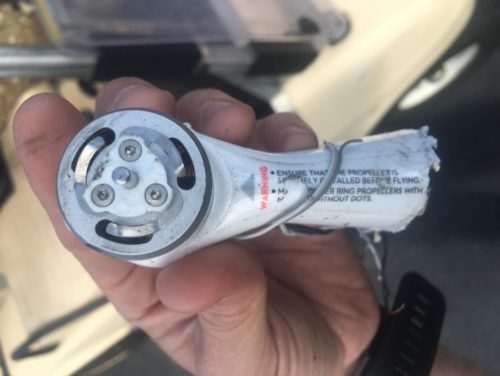 The U.S. National Transportation Safety Board (NTSB) is investigating the Sept. 21 collision of a U.S. Army UH-60 helicopter with a small civilian drone near Staten Island, New York, NTSB said today. The helicopter sustained damage to its main rotor blade, window frame and transmission deck.
The drone was identified by NTSB as a DJI Phantom 4, a quadcopter-style unmanned aerial vehicle (UAV) that the manufacturer's website says weighs 1,380 g (49 oz) and has a diagonal size of 350 mm (14 in), excluding the propellers. The helicopter landed safely after the collision.
A motor and arm from the drone were recovered by the Army. The drone operator has been identified and interviewed by investigators, and provided flight data logs for the incident flight, NTSB said.
NTSB opened an incident investigation because the drone was a civilian aircraft. DJI, the China-based manufacturer of the UAV, and the U.S. Federal Aviation Administration (FAA) are participating in the investigation. The Army is conducting its own mishap investigation.
The UH-60 pilot reported the collision occured at 0720 local time just east of Midland Beach, Staten Island. NTSB said its investigators are reviewing air traffic control radar data, flight data from the helicopter, the logs provided by the drone operator, and FAA airspace and temporary flight restriction documents.
Shown above is a piece of the incident drone that was recovered by the Army. Photo: NTSB