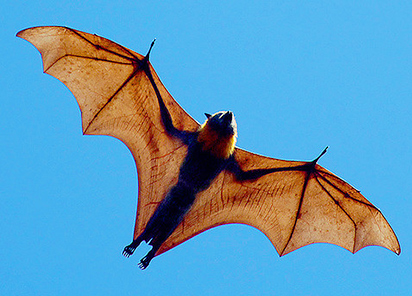 A small, single-engine general aviation airplane that originally was suspected to have collided with a drone while the airplane was on final approach to an airport in Adelaide, South Australia, actually struck a large bat known as a grey-headed flying fox, the Australian Transport Safety Bureau (ATSB) said Friday. The investigation into the incident has been discontinued, ATSB said.
The incident occurred July 11 when a Socata TB-10 Tobago, on a scheduled night flying lesson, was about 500 ft above ground level and on final approach to Parafield Airport. The instructor told ATSB he heard a loud thud and the right wing suddenly dropped. He initially told the control tower he might have hit a bird. After landing and not seeing any signs of biological matter, the instructor contacted the tower again and reported the incident as a possible drone strike, ATSB said.
The aircraft sustained minor damage to the right wing, and an initial search of the area under the flight path did not locate the object.
The ATSB began an investigation and took swabs of the damaged area on the leading edge of the right wing. The swabs were tested by the Australian Museum and the results established that the object struck was a grey-headed flying fox, which can travel up to 50 km (27 nm) from their roosts to feed at night.
"Last year, there was a total of 1,954 incidents and accidents involving aircraft collisions with wildlife reported to the ATSB," Chief Commissioner Greg Hood said in a news release. "Our research has found that bats and flying foxes, swallows and martins, kites, and lapwings and plovers are the most commonly struck type of flying animal."
Flying fox: DuncanPJ | Flickr CC-BY 2.0