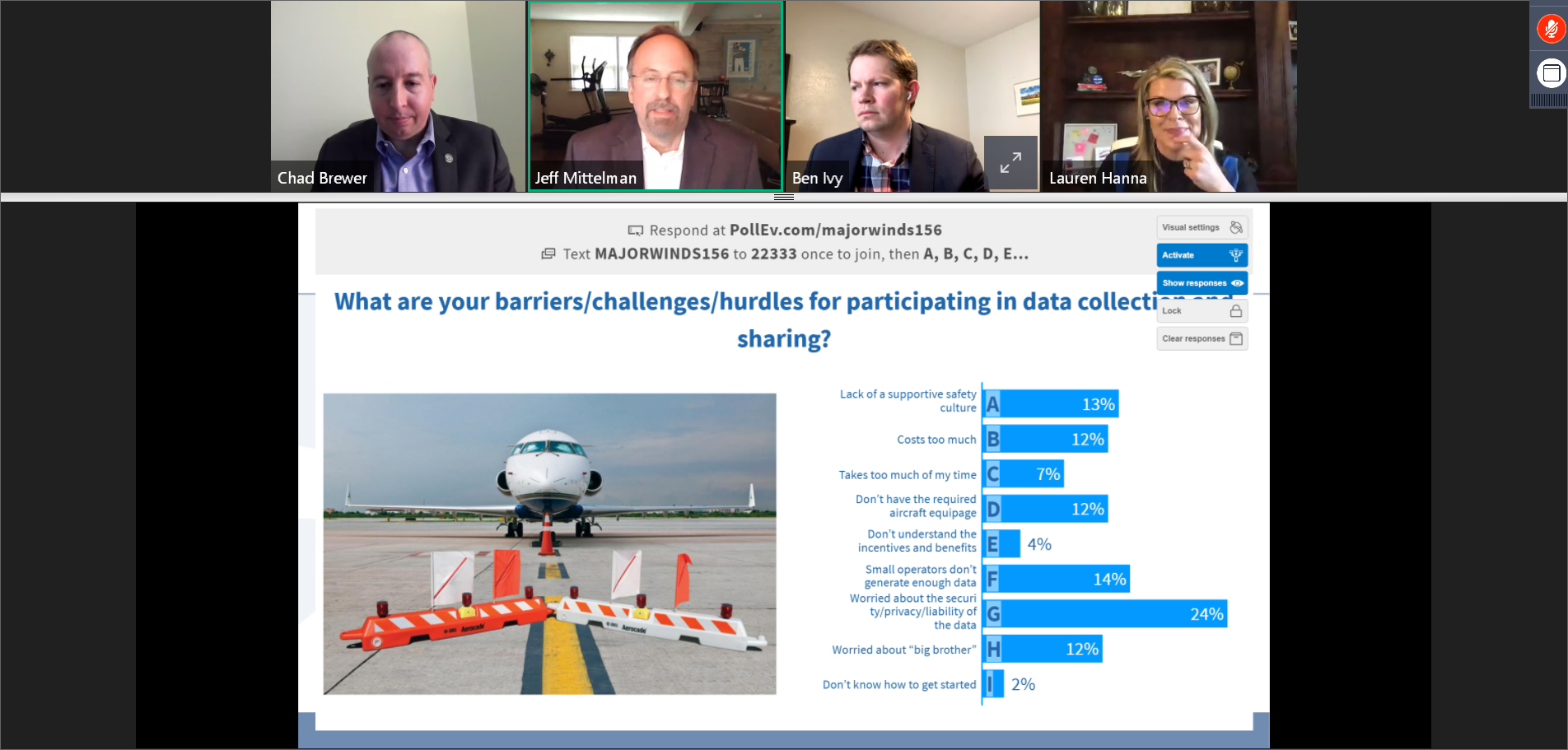 Despite flight safety experts' advocacy of data collection and sharing programs, some business aviation operators are reluctant to participate, in many cases because of concern about privacy and the security of the data, according to an informal poll conducted today during a Flight Safety Foundation webinar.
About one-quarter of respondents cited concerns about the security of the data. In addition, about 12 percent said they worried that "big brother" (a government regulator) would have access to the data. About equal numbers of respondents cited beliefs that small operators do not generate enough data, that they lacked adequate aircraft equipment or that their operator lacked a supportive safety culture.
The informal poll was conducted during the Foundation's Virtual BASS 2020 Webinar, held in place of the long-planned annual Business Aviation Safety Summit (BASS) and presented in partnership with the National Business Aviation Association.
Jeff Mittelman of Mittelman Aviation Solutions said during the webinar that the U.S. regulator, the Federal Aviation Administration (FAA), does not have access to individualized data collected through flight data collection and sharing programs.
In morning sessions, Michael Quiello, United Airlines vice president for corporate safety and co-chair of the Commercial Aviation Safety Team (CAST), said that the lengthy shutdown may have introduced new risks into the aviation system and that "the restart is more challenging than the wind-down."
Ali Bahrami, FAA associate administrator for aviation safety and the other CAST co-chair, said that organizations having a strong safety management system (SMS) would benefit as they attempt to resume normal operations; nevertheless, the return to normal will be challenging, he said.
Keith Yaddaw, corporate pilot for JP Morgan Chase, agreed that adherence to SMS, especially as it involves safety policy, will help operators in developing new rules for pilot health and safety in the post-pandemic world. Each flight department will need to make its own determination of the level of risk that its members are willing to take, he said.