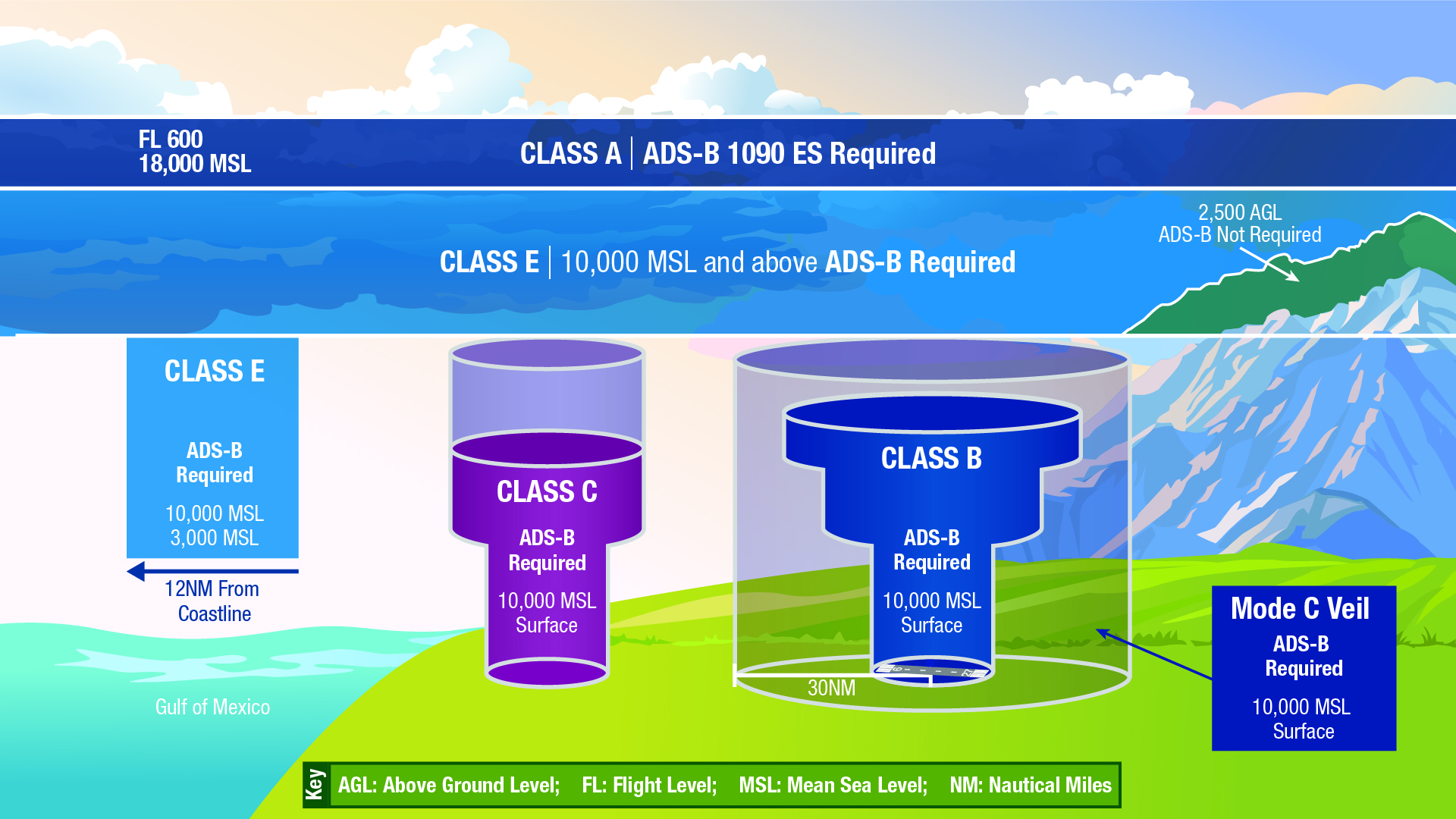 As of Jan. 1, aircraft must be equipped with ADS-B Out to fly in most controlled airspace. (Source: FAA)
Facing a Jan. 1 deadline, 76 percent of U.S. commercial air carriers have equipped their aircraft with ADS-B Out — the satellite-based GPS technology that will enable more efficient management of air traffic — but smaller commercial operators and general aviation lag behind, the U.S. Transportation Department's Office of Inspector General (OIG) says. Starting Jan. 1, 2020, aircraft must be equipped with ADS-B Out to fly in most controlled airspace:
In a Sept. 12 letter to lawmakers, Inspector General Calvin Scovel said that, as of June 1, 81 percent of mainline carriers had installed ADS-B Out in their aircraft, compared with 73 percent of regional carriers and 44 percent of general aviation operators.
ADS-B — or automatic dependent surveillance–broadcast — is a key element in the transition to the Federal Aviation Administration's Next Generation Air Transportation System, known as NextGen, in which the satellite-based system will replace existing ground-based radar.
ADS-B relies on new GPS technology for pilots in the form of ADS-B Out, which sends an aircraft's position data to the ADS-B ground system and to air traffic control (ATC) displays, and for ATC in the form of ADS-B In, which displays flight information in the cockpit, including the locations of nearby aircraft, provided those aircraft are themselves equipped with ADS-B Out.
Although the deadline for installation of ADS-B Out equipment is Jan. 1, ADS-B In is not currently required and there is no timetable for its adoption.
The letter followed a request for information from leaders of the U.S. House of Representatives Transportation and Infrastructure Committee and its aviation subcommittee, who have expressed concern about compliance with the 2020 deadline.
The letter to the chairmen and ranking members of the committee and subcommittee noted that, as of June 1, 73,421 commercial, international and general aviation aircraft had complied with the ADS-B requirement. The number reflects a 69 percent increase since May 1, 2018.
Scovel told the lawmakers his office would complete a safety audit of the matter and issue a final report in several months.