5th annual Singapore Aviation Safety Seminar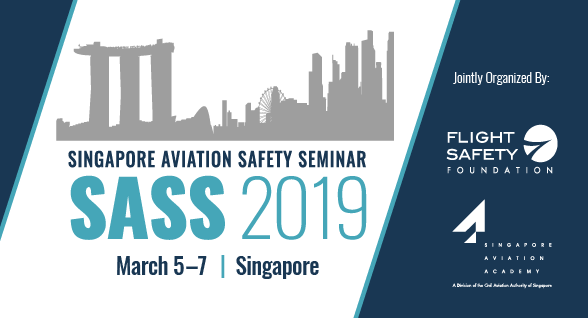 View some of the companies attending SASS
A
Aerobytes
Air Line Pilots Association – Singapore
Air Mauritius
AirAsia X Berhad
Airbus
Ameco Beijing
Asia Flight Data Services
Association of Asia Pacific Airlines
B
Banjul Accord Group Accident Investigation Agency (BAGAIA)
Batik Air
Boeing Commercial Airplanes
C
Cape Verde Civil Aviation Authority
Cathay Pacific Airways
Cebu Pacific
CGE Risk Management Solutions
Changi Airport Group (Singapore) Pte Ltd
China Airlines
Civil Aviation Authority of Singapore
Collins Aerospace
D
Department of Civil Aviation, Myanmar
DHL Aviation EEMEA
E
El Al Airlines
ERGOSS – SARA
F
Federal Airports Authority of Nigeria
Federal Aviation Administration
Flight Data Services Ltd.
Flight Safety Foundation
H
Honeywell Aerospace
Hong Kong Airlines Ltd.
I
IFG Air Safety
International Air Transport Association
M
Modern College of Business and Science
N
NATS Services (Asia Pacific) Pte. Limited
Q
Quntaslink
R
Republic Polytechnic
Rolls-Royce Plc
Royal Aeronautics Society
Runwaysafe
S
Safety Line
Shell Aircraft Limited
Singapore Airlines
Singapore Institute of Technology
Singapore Youth Flying Club
ST Aerospace Services Co Pte. Ltd.
ST Engineering Aerspace Ltd.
T
The MITRE Corporation
V
Vienna Airport PLC
W
William R. Voss LLC