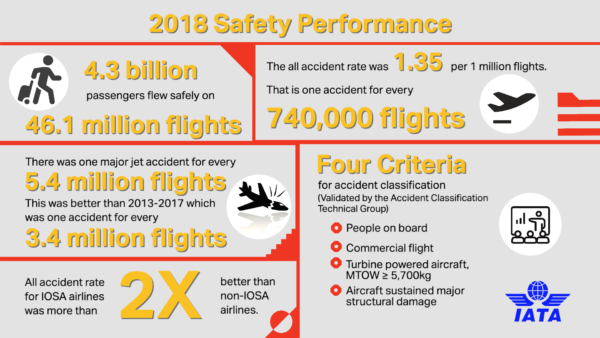 Despite a year-to-year increase in accidents, the commercial airline industry showed continuing long-term safety improvements in 2018, the International Air Transport Association (IATA) says.
In safety performance data made public Thursday, IATA reported a total accident rate in 2018 of 1.35 per million flights — the equivalent of one accident in every 740,000 flights. In comparison, the 2017 rate was a record low 1.11 accidents per million flights; however, the 2018 rate represented an improvement over the previous five-year average for 2013–2017 of 1.79 accidents per million flights.
IATA Director General and CEO Alexandre de Juniac conceded that 2018 was "not the extraordinary year that 2017 was."
Nevertheless, he noted that 4.3 billion passengers flew safely in 2018 on 46.1 million flights and that "flying is safe, and the data tell us that it is getting safer. For example, if safety in 2018 had remained at the same level as 2013, there would have been 109 accidents instead of 62, and there would have been 18 fatal accidents instead of the 11 that actually occurred."
Data showed that the 2018 rate for major jet accidents was 0.19 per million flights, the equivalent of one major accident for every 5.4 million flights. In 2017, that rate was 0.12 per million flights, and the five-year average for 2013–2017 was 0.29 per million flights.
Commercial jet airliners were involved in 11 fatal accidents in 2018 with 523 on-board fatalities. In comparison, six accidents occurred in 2017 with 19 fatalities — a record low; in addition, one accident in 2017 killed 35 people on the ground. The average annual rate for 2013–2017 was 8.8 fatal accidents with 234 fatalities.