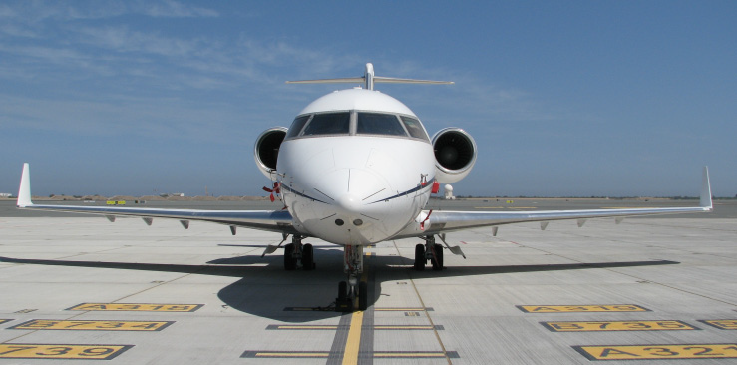 The pilots of a Bombardier Challenger 604 have told accident investigators how they lost control of the aircraft in a January encounter with wake turbulence from an Airbus 380 that caused the CL604 to drop 9,000 ft and roll through "several rotations," according to an interim report from the German Federal Bureau of Aircraft Accident Investigation.
The report said the temporary loss of control occurred about one minute after the A380 passed overhead, headed in the opposite direction, about 1,000 ft above the CL604, in Indian airspace over the Arabian Sea.
As the CL604 rolled left, its autopilot and a number of instruments and cockpit displays failed, including the inertial reference systems, the flight management system and the attitude indication, the report said.
The pilot-in-command told accident investigators that, "since the sky had been blue and the ocean's surface almost the same colour, he had been able to recognize the aircraft's flight attitude with the help of the clouds," the report said.
The airplane experienced "large control surface deflections and acceleration," and its left engine had to be shut off because of increases in the inter-stage turbine temperature, the report said.
The crew told air traffic control in Mumbai about the occurrence and declared an emergency, then restarted the left engine and diverted the flight to Muscat International Airport in Oman.
The CL604 was headed from Malé, Maldive Islands, to Al-Bateen, United Arab Emirates, with three crewmembers and six passengers; two passengers were seriously injured, and two other passengers and a flight attendant received minor injuries. The report characterized the airplane as substantially damaged, and added that Bombardier had said that the airframe "could not be restored to an airworthy state."
The A380 was en route from Dubai to Sydney, Australia.
Investigation of the event is continuing.
Source: German Federal Bureau of Aircraft Accident Investigation