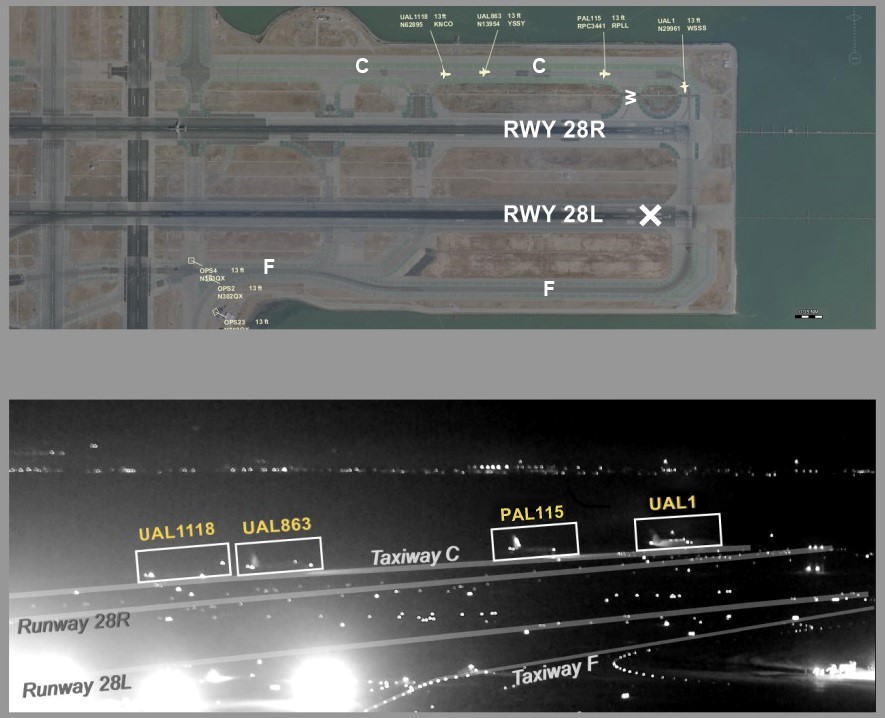 The image at top shows the configuration of Runways 28L and 28R, and Taxiway C at San Francisco International Airport. The "X" at the threshold of 28L indicates that runway was closed. The bottom image shows the four airliners that were lined up on Taxiway C as Air Canada Flight 759 approached. Source: NTSB
The U.S. National Transport Safety Board (NTSB) has opened a public docket as part of its investigation into a July 7, 2017, incident in which an Air Canada Airbus A320, on a nighttime approach to San Francisco International Airport, mistakenly lined up with an occupied taxiway instead of parallel Runway 28R. Air Canada Flight 759 descended below 100 ft above the ground before the flight crew initiated a go-around. NTSB said the go-around was initiated after the Air Canada jet overflew the first of four aircraft on Taxiway C.
The docket contains a security video that shows the A320 approaching the airport and then going around. Other material in the docket includes factual reports for operations, human performance, air traffic control, aircraft performance and the flight data recorder, as well as interview summaries, photographs and other materials.
"No conclusions about how or why the overflight occurred should be drawn from the information in the docket, as the investigation is ongoing," NTSB said. "Analysis, findings, recommendations and probable cause determinations related to the incident will be issued by the NTSB at a later date."