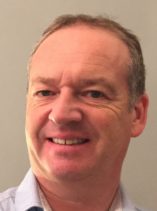 TAIPEI — Capt. Conor Nolan, director of safety and security at Aer Lingus, is the new chairman of Flight Safety Foundation's Board of Governors. The announcement was made Monday in Taipei during the Foundation's 72nd annual International Air Safety Summit.
Nolan, who is an Airbus A330 captain, succeeds Boeing Commercial Airplanes Vice President and Chief Engineer John Hamilton, whose two-year term as chairman ended with Sunday's Board meeting in Taipei. Hamilton will continue to serve on the Foundation Board.
"I am honored to have been chosen by my peers to carry on the important work of the Foundation," said Nolan. "I want to thank John Hamilton for his leadership, which has seen the Board of the Foundation transformed, and I am excited about the next steps in reestablishing the Foundation as the leading voice of global aviation safety."
Nolan began his career with Aer Lingus as a cadet pilot in 1989 and later became flight safety officer and then safety manager. He currently is responsible for all aspects of safety and security at Aer Lingus, including aviation security, occupational health and safety, and emergency response planning. He has served on the Foundation Board of Governors since 2015 and was treasurer before being elected chairman.
"I want to thank John Hamilton for his service to the Foundation and to aviation safety," said Dr. Hassan Shahidi, president and CEO of the Foundation. "I'm looking forward to working with Conor on the Foundation's global campaign to enhance aviation safety."
Aer Lingus, which was founded in 1936, is part of the International Airlines Group (IAG), which also is the parent company of British Airways, Iberia, Level and Vueling. IAG carriers operate more than 570 aircraft, fly to 268 destinations, and carry 113 million passengers per year.
###
About Flight Safety Foundation
Flight Safety Foundation is an independent, nonprofit, international organization engaged in research, education, advocacy and communications to improve aviation safety. The Foundation's mission is to connect, influence and lead global aviation safety.
Media Contact:
Frank Jackman
Vice President, Communications
+1 703.739.6700, ext. 116
jackman@flightsafety.org