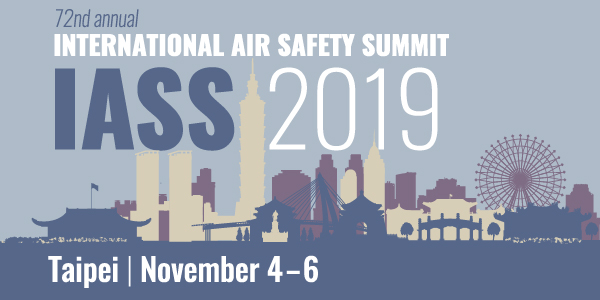 ALEXANDRIA, Virginia — Flight Safety Foundation today unveiled its lineup of featured speakers for the 72nd annual International Air Safety Summit (IASS), scheduled for Nov. 4–6 in Taipei.
The opening keynote address on Nov. 4 will be made by Chow Kok Wah, assistant honorary secretary of the Association of Aerospace Industries (Singapore). Chow has more than 30 years of experience in airline and engineering and maintenance operations, and has held numerous management, executive and board positions with Singapore Airlines and related companies and joint ventures.
The opening session's featured speaker will be Prof. Temel Kotil, president and CEO of Turkish Aerospace. Kotil, who has published a number of scientific articles and research papers, has a Ph.D. in mechanical engineering and experience in academia and industry. During his career, he also worked at Turkish Airlines (THY), where he served in a variety roles. While at the airline, Kotil served on the International Air Transport Association (IATA) Board of Governors, as well as on the boards of the Association of European Airlines, Turkish Technic and Sun Express, among others.
Robert A. Pearce, acting associate administrator of the U.S. National Aeronautics and Space Administration's (NASA's) Aeronautic Research Mission Directorate, will kick off IASS Day 2 on Nov. 5. At NASA, Pearce manages the agency's aeronautics research portfolio and guides its strategic direction, including research in advanced air vehicle concepts, airspace operations and safety, integrated aviation systems, and the nurturing and development of transformative concepts for aviation.
Day 2's second featured speaker will be Cyriel Kronenburg, who is vice president of Aviation Services for Aireon, where he leads regulatory, marketing, product development, commercial data services and partner development activities. Kronenburg previously was global head of air traffic control charges at IATA, where he led global air traffic management efficiency campaigns.
For more information on the IASS 2019 program or venue, or to register, please consult our website.
###
About Flight Safety Foundation
Flight Safety Foundation is an independent, nonprofit, international organization engaged in research, education, advocacy and communications to improve aviation safety. The Foundation's mission is to connect, influence and lead global aviation safety.
Media Contact:
Frank Jackman
Vice President, Communications
+1 703.739.6700, ext. 116
jackman@flightsafety.org