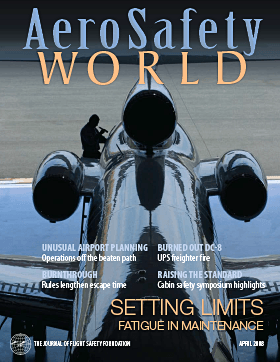 Entire Issue
AeroSafety World April 2008 68 pages. [PDF 4.1M]
Features
Working to the Limit 5 pages. [PDF 306K]
Slowly but surely, operators and regulators are implementing programs to prevent fatigue among aviation maintenance personnel.
Singapore's New Show 2 pages. [PDF 234K]
Novelty marked the 2008 air show in the heart of aviation's high-growth region.
VFR in the Himalayas 5 pages. [PDF 786K]
A challenging flight required painstaking preparations.
Fire in the Hold 6 pages. [PDF 327K]
The DC-8 flight crew received little warning of the impending conflagration.
Departure Deviations 2 pages. [PDF 285K]
Problems arise when the assigned SID differs from the one in the FMS
Blanket Protection 5 pages. [PDF 285K]
Upgraded thermal acoustic insulation should afford extra minutes to escape a fuel fire before fuselage burnthrough.
Flawed Report  2 pages. [PDF 189K]
Questions about the overrun accident in Toronto went unanswered.
Winning Formula 5 pages. [PDF 552K]
Symposium's unflinching focus on concerns raised by flight attendants influences airlines worldwide.
**Web Exclusive** Winning Formula [Expanded version of article]
**Web Exclusive** Full-Scale Insights [Expanded version of sidebar]
Departments
President's Message | Beyond Competition [PDF 87K]
Editorial Page | Protecting Confidentially [PDF 71K]
Air Mail | Letters From Our Readers [PDF 167K]
SafetyCalendar | Industry Events [PDF 74K]
In Brief | Safety News [PDF 535K]
Foundation Focus | Honored in Singapore [PDF 179K]
Foundation Focus | Call for Nominations [PDF 93K]
Data Link | Maintenance Check [PDF 342K]
Info Scan | Culture Shock [PDF 157K]
On Record | Bogus Stall Warning [PDF 284K]